DISCLOSURE: This post may contain affiliate links, meaning I get a commission if you decide to make a purchase through my links, at no cost to you. Please read my disclosure for more info.
Pinterest is a powerful visual search engine that has the potential to drive significant traffic and revenue for your website — but where do you start?
With over 445 million monthly active users, Pinterest is a valuable platform for businesses and individuals looking to monetize their content and expertise. We understand that branching into a new platform can be intimidating, so we're here to help you explore the different ways to make money on Pinterest and decide which is best for you.
From creating affiliate blogs and sharing shoppable Pins, there are plenty of fun options to pursue. Stay with us as we touch on a few options for making money on Pinterest.
Can You Make Money on Pinterest?
Yes, it is possible to make money on Pinterest. There are a few ways to monetize your presence on the platform, including blogging, selling products online, partnering with brands, and more.
The potential for monetization on Pinterest is high because of its large user base, strong visual focus, and e-commerce features. Additionally, Pinterest users are highly engaged and often use the platform to plan and make purchasing decisions. These factors make Pinterest a valuable platform for businesses and individuals looking to monetize their content and expertise.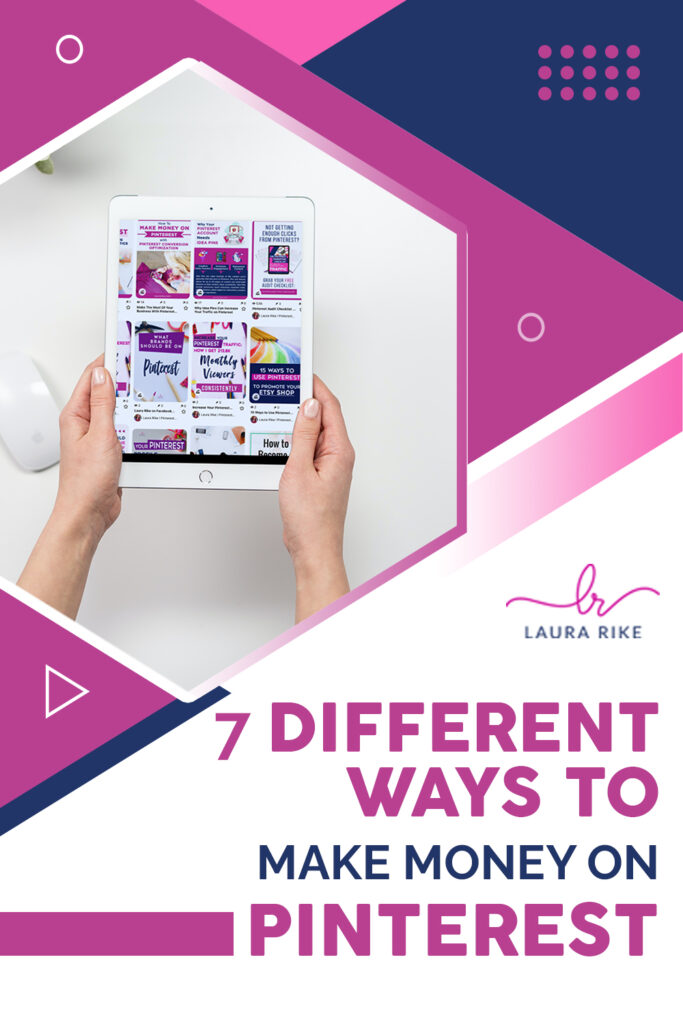 How to Make Money on Pinterest
Now getting to the exciting part, let's explore some of the most effective ways to make money on Pinterest.
1. Write a Blog
If you have the necessary skills, starting a blog can be a great way to share your knowledge and experience with others while also earning an income — especially when you have Pinterest to help your cause.
To guide you on the correct path, consider the following steps.
Create a Useful and Relevant Blog
Creating a blog that is useful and relevant is crucial to making money on Pinterest. A blog that is well-researched and provides valuable tips, tricks, and information on your area of expertise will attract more readers (and potential customers). By consistently creating quality content tailored to your target audience, you can establish yourself as an authority on the topic and build a loyal following.
Make sure to incorporate visual elements, such as images and infographics, to make your blog more engaging and increase the chances of your content being shared and repinned.
Link Your Blog With a Pinterest Business Account
A Pinterest business account is free to create and gives you access to analytics, which can help you understand your audience and create more effective content. It also allows you to create Rich Pins for your blog posts, which allows users to view more information about your post directly from the Pin. Rich Pins also have more visibility on the platform, increasing the chances of them being repinned and driving more traffic to your blog.
Having a business account also allows you to run ads on the platform, which can help you reach a larger audience. By linking your blog with a Pinterest business account, you can gain valuable insights, increase your visibility, and drive more traffic to your blog, leading to more potential income opportunities.
Create Pinterest Boards and Pins
Creating Pinterest boards and Pins that align with your blog's niche and target audience is key to making money on Pinterest. By organizing your Pins into relevant boards, you can make it easier for users to find the content they're looking for, increasing their chances of visiting your blog. Crafting visually appealing Pins helps to grab users' attention, increases the chances of your Pins being repinned, and drives more traffic to your blog.
When you create content, make sure to include keywords in the Pin title and description to make them easily searchable on the platform. Also, it's important to update your boards and Pins regularly, so they stay relevant and fresh to your audience.
Expand Your Pinterest Network
Joining group boards and creating new personal boards are effective ways to expand your Pinterest network and make more money from your blog. Group boards allow you to share your Pins with a larger audience and connect with other bloggers and businesses in your niche. By joining group boards relevant to your blog's niche, you can reach a new audience and drive more traffic to your blog.
Creating new personal boards that are themed and focused on specific topics can help you to attract a more targeted audience, who are more likely to be interested in your blog's content. When creating new personal boards, it's important to choose a niche and specific topics, use keywords in the board titles and descriptions and make sure the boards align with your blog's content.
Make money using affiliate links
Affiliate marketing is performance-based marketing where a business rewards one or more affiliates for each visitor or customer brought about by the affiliate's own marketing efforts. By including affiliate links in your blog posts and Pins, you can earn a commission for any sales made through those links.
When using affiliate links, it's important to disclose that the link is an affiliate link, as per Federal Trade Commission regulations. Make sure only to promote products or services that you believe in and align with your blog's content, as promoting irrelevant or low-quality products can harm your reputation.
2. Generate Traffic to Your eCommerce Products
By creating boards that showcase your products and including a link to your eCommerce store in the board description or on your website, you can drive potential customers to your store. Your Pinterest strategy for eCommerce should also include Rich Pins for your products, where users can view product information, pricing, and availability directly from the Pin, increasing the chances of users visiting your store.
Pinterest also offers a Promoted Pin feature to increase the visibility of your product Pins and reach a larger audience. By targeting your Promoted Pins to users likely to be interested in your products, you can increase the chances of driving sales.
Make sure to leverage Pinterest SEO by using keywords in your board titles, descriptions, and Pins, so your products can be easily found when users search for related keywords on the platform. Finally, creating visually appealing and high-quality images of your products can help attract users to your boards and eCommerce store.
3. Create Pins for Your Affiliate Partnerships
Every time you create beautiful Pins, you encourage users to click on the post. This strategy works very well when promoting an affiliate partnership, as you encourage users to click on an affiliate link and make a purchase, thereby giving you a financial kickback.
When creating these pins, it's important to include a clear call-to-action that directs users to your affiliate link. You can also include a brief but compelling product or service description and pricing information in the pin's caption or as a comment, helping users understand the value of the product or service and encouraging them to click through to learn more. Make sure to take advantage of all of Pinterest's features, such as Promoted Pins, Rich Pins, keywords, and more.
4. Share Shoppable Pins for Your Products
Whether you're selling digital products, handmade items, or you're drop shipping, Pinterest is a powerful social media platform for businesses to promote their products and make money. One way to do this is by creating Shoppable Pins, which allow users to purchase products directly from Pinterest. To create Shoppable Pins, businesses need to link their products to their Pinterest account and create Pins that include pricing information and a "Shop" button.
These Pins can then be shared on boards, in search results, and in ads to reach a wide audience of potential customers. Businesses can also use analytics tools to track the performance of their Shoppable Pins, such as the number of clicks, purchases, and revenue generated.
5. Manage Pinterest Accounts for Other Businesses
Another way to make money on Pinterest is by managing Pinterest accounts for other businesses. As a Pinterest account manager, you would be responsible for creating and curating content, engaging with users, and analyzing data to drive results for the businesses you work with.
Some of the key skills required to be successful as a Pinterest account manager include knowledge of Pinterest's features and best practices, strong writing and editing skills, and the ability to analyze data to track progress and make strategic decisions. With the right skills and experience, managing Pinterest accounts for other businesses can be a profitable way to make money on the platform.
Pinterest offers various advertising options to reach new users and promote products or services. One way to do this is by creating Promoted Pins, which are regular Pins that businesses can pay to have shown to a larger audience. These ads can target specific demographics, interests, and keywords to reach the most relevant users.
Another option is to create shopping ads, which are Shoppable Pins, that allow users to purchase products directly from the ad. These ads can target users who have shown an interest in similar products.
Additionally, businesses can also use video ads, which can be used to tell a story or show a product in action. Don't forget to use Pinterest's Audience Insights tool, which allows businesses to understand their target audience and create ads tailored to their interests. By generating more traffic to your website, you increase the chance of conversion and subsequently increase the chance to make money.
Don't have time to manage Ads? That's where a Pinterest advertising manager comes in handy!
7. Partner With Brands
As a Pinterest influencer, you can use your large following and engagement to promote products or services to your audience. Brands often pay influencers to create sponsored content, such as Pins or boards, that feature their products. Brands may also offer affiliate marketing opportunities, where influencers can earn a commission for each sale made through a unique referral link.
To start working with brands, you can reach out to companies whose products align with your interests and audience and create a media kit to showcase your reach and engagement on the platform. You can also use influencer marketing platforms to connect with brands and find sponsored opportunities. It's important to be transparent with your audience about sponsored content and always disclose any sponsored partnerships.
Expert Assistance in Making Money on Pinterest
Are you excited to start making money with Pinterest? Streamline your efforts and maximize your opportunity by connecting with a Pinterest coach who can guide you through the different options and opportunities. Sign up for our Pinterest Rockstars course today, or listen to our Pintastic podcast with Laura Rike for more juicy tips!