DISCLOSURE: This post may contain affiliate links, meaning I get a commission if you decide to make a purchase through my links, at no cost to you. Please read my disclosure for more info.
Pinterest is the third-largest social network in the United States (behind Facebook and Instagram)? If you don't have a strategy for Pinterest in your marketing plan now is the time.
Pinterest is an outlet for education. Yes, Pinterest is all about the pictures, but it's what those pictures link to that's important, which is why it's so great to use for promoting your blog.
When you use Pinterest for blogging, you promote posts, products, drive traffic to your blog, and engage with your followers.
Is Pinterest good for blogging?
The key to getting more people to visit your blog is to get more exposure for your content. Pinterest is one of the many social media channels that allows you to effectively market your blog.
In fact, Pinterest drives more traffic to websites than YouTube, Reddit, and LinkedIn combined. So to say that Pinterest is important for bloggers is an understatement.
There is some massive power behind using Pinterest to drive traffic to your blog.
Pinterest posts have a

3-month lifespan

compared to Facebook's 5-6 hour and Instagram's 48 hours. Twitter posts only have about 15-20 minutes before they become irrelevant.
A pin is

100x more spreadable

than your average tweet.
Pinterest also doesn't restrict viewership of links to blog posts like Facebook does.
So not only do you have a dramatically longer life span of the posts, you have potentially more impressions and views.
"Pinterest is one of the many social media channels that allows you to effectively market your blog."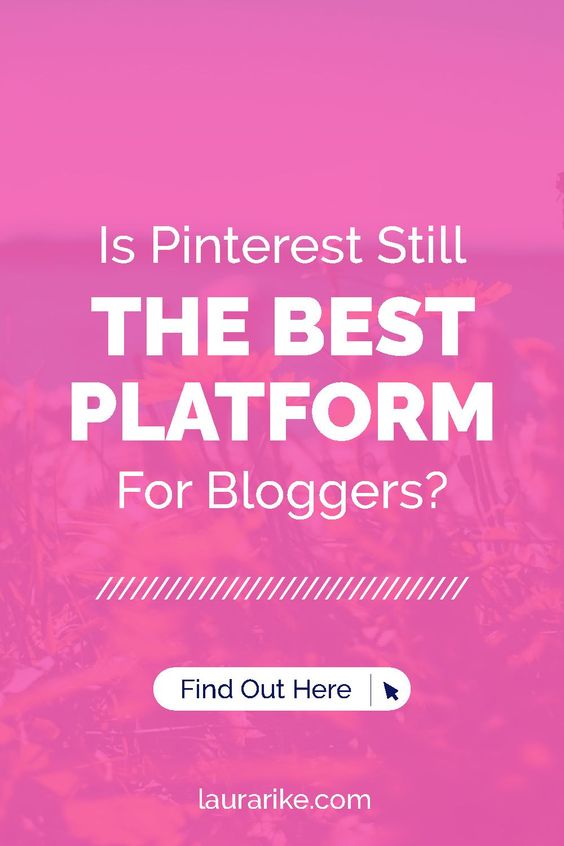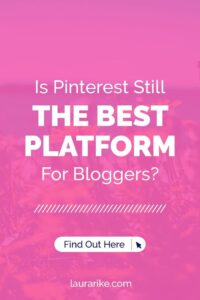 How do Bloggers use Pinterest?
Pinterest creates a visual teaser of your blog content to get the attention of your target audience.
When you write a blog post, create shareable pins to go along with it. Include a brief summary or quote from the article, a few great images that represent your post, and a link to your blog article.
Once you generate content, people will start to pin your content to their own boards. Then other people will see it and visit your blog too. Eventually, your Pins will generate more and more traffic to your website as more people discover your blog content.
How do I get more blog traffic?
These are a few of our favorite tips for getting more traffic for your blog. We use these strategies for our own high-end clients too.
Images, Images, Images! Pinterest is all about the images, so having high-quality images for each blog post is a must.
Create 4-6 pins for every blog post that you create. Pinterest loves fresh content, so having more than one image allows you to consistently share fresh pins that link to the same blog post.
Keywords. This is also known as optimizing. Pinterest is actually a search engine like Google, Bing, or Yahoo.
When a user performs a search based on a specific keyword, it returns the best match based on that query. So make sure you are including plenty of keywords in your description, title, boards, etc.
Best times to pin. Knowing the best times to Pin (when your target audience is on Pinterest) will help you be more successful in driving traffic to your blog.
Make it easy! Making it easy for users to Pin content from your blog to Pinterest will also help increase your traffic and conversions.
Adding a hovering "Pin It" button to the images on your site, makes it simple for your site visitors to check out your Pinterest account or actually pin your site's content to their own accounts.
Overall, the key to making your blog successful is to gain devoted readers and followers. You want them to keep coming back week after week to read your content.
Using pictures and snippets from your blog on Pinterest is what will capture their attention.
Users will then have to visit your blog to find out more information. Once they read your post, the hope is that they stay on your website and explore other content on your site, subscribe to updates, and follow your blog for future posts.
Does blogging for Pinterest really work?
We used these same strategies to help with our client www.CityForMillenials.com. Within 7 days, we saw an increase in impressions of over 80%.

Within 30 days, they were up over 300% by implementing the strategies. They not only had more traffic on Pinterest, but they also had increased traffic to their website.

The scalable power and potential of Pinterest to market your blog posts are undeniable. Using Pinterest to drive traffic to your blog and website is a must-do!
Do you have a blog that you would like to promote on Pinterest?
Do you need to bounce ideas off someone?
Dive into your current strategy and come up with a game plan for how to stay on top of the changes?
Maybe you have a big launch coming up and you aren't sure how to best leverage Pinterest.
I'm here to help!
Book a consultation so we can tackle your questions and maximize your Pinterest efforts to make the most of your time and strategy.