DISCLOSURE: This post may contain affiliate links, meaning I get a commission if you decide to make a purchase through my links, at no cost to you. Please read my disclosure for more info.
You already know that Pinterest is a social media platform that behaves more like Google than Facebook. I actually prefer to consider it as a search engine. Pinners go to Pinterest to search for products, ideas and inspiration. But whether using the search bar or just scrolling through their feed, Pinners are looking for relevant content to address their needs. And one of the ways Pinterest determines what to show people is through your Pinterest image descriptions.
Whether or not the pinner notices your description, Pinterest definitely will, so you need to be strategic about how you are using them.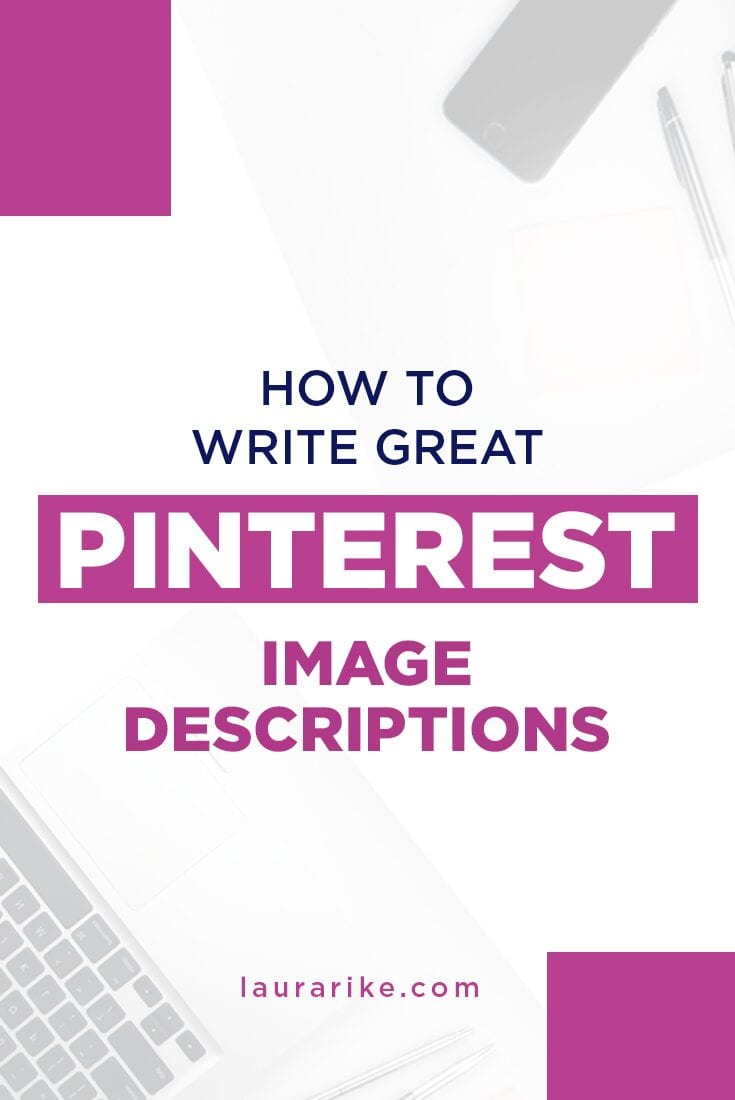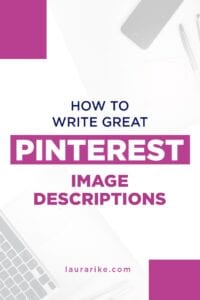 What is a Pinterest Image Description?
When you create a pin in Pinterest, you add your title, the image, and the link. Next is a field that says "Tell everyone what your Pin is about." This is the pin description. This is where you add a great caption telling your client (and Pinterest) what they can find in your link and why they should look there. The description can be up to 500 characters.
After you publish your pin, your description will show up next to your pin in the feed. If the pinner is viewing your pin on mobile, the description will appear under the pin, beneath your title.
If on desktop, the description will be visible when the pin is selected. It's possible that most of your description won't be visible at all in the viewer's feed, but that doesn't mean Pinterest isn't using it behind the scenes to determine the pin's relevance.
Are you looking for help with keywords, writing descriptions and designing the perfect Pinterest pin? Check out:
Pintastic Pinterest Toolkit
What should I write in my Pinterest description?
Since Pinterest is using your pin descriptions to determine how relevant a pin will be, you need to be smart about what you include.
You need to include relevant, appropriate keywords with a natural sentence structure. Consider what words a potential client uses to search for your content on Pinterest. These are the words you want to include in your description.
Do not use irrelevant keywords. This will only cause your pin to be shown to the wrong people and potentially be reported as spam. And nobody has time for that!
It's a good idea to include your brand name near the front of your description. Including your business name in the first sentence, leads to a 54% higher conversion rate of email signups.
Use enticing, clear and actionable language in your description. Include details that will make your reader want to know more. Include a call to action so your client knows what to do next. Be straightforward about what your link offers, which includes adding the price, if applicable. Adding a price in the description led to a 28% increase in sales.
What is the best way to write a Pinterest pin description?
Pin descriptions should include a short, keyword-rich description of the content or link behind your pin to engage viewers. You should use pin descriptions to tell a story and explain what is in your pinned content or link.
What is alt text on Pinterest?
When you create a Pin, you can add alternative text to your Pin which will make it accessible for people who have visual impairments. Alternative texts are used by screen readers and alternate ways of using Pinterest like on the web or with mobile devices that don't work well with images.
Why are some Pinterest pins missing titles?
The person pinning either hasn't added any or haven't optimized their website to make sure this information is automatically added so when someone saves a pin from their site it may end up being saved with blank information.
What happened to descriptions on Pinterest?
This doesn't mean that descriptions are not important for Pinterest SEO – you still have to use those 500 characters to the max capacity and include all of your keywords. They are just not being shown to the followers – obviously, because the majority of Pinterest users are on mobile devices and there simply is not enough space to show the descriptions.
How do I change the description of a pin on Pinterest?
While I don't personally recommend taking time to do this in your strategy, you can make edits by:
Open the Pinterest app on your device and log into your Pinterest account.
Tap your profile picture at the bottom-right of your screen.
Tap on a board.
Tap on a Pin to open it.
Tap the ellipsis icon in the bottom-right corner.
Tap Edit Pin.
Edit the Pin's board, section, title, description or website