DISCLOSURE: This post may contain affiliate links, meaning I get a commission if you decide to make a purchase through my links, at no cost to you. Please read my disclosure for more info.
If you're regularly creating pins, you may have been tempted to repin the same one multiple times, causing you to use a duplicated pinterest pin description. But publishing the same content over and over does nothing for your pins.
Why?
Pinterest prioritizes fresh content with new images, new titles and new descriptions. Your audience doesn't want to see the exact same pin over and over again either.
Although it can take more effort to create more versions of the same pin, it improves your SEO which is the most important thing for a successful Pinterest profile.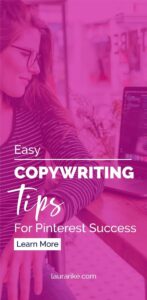 How do you write a pinterest pin description?
Each pin should have a unique pinterest pin description and image associated with it. Your description can be up to 500 characters and should include a few relevant keywords at the very beginning, using normal sentences. Compelling Pinterest pin descriptions should entice the reader to click for more info and should include a direct call to action.
Looking for a complete Pinterest pin description guide that makes it easy to get noticed, get re-pinned, and blow up your website traffic (and sale) in MINUTES with highly ranked keywords for your niche?
Check out my
Pintastic Toolkit.
Whether you're just starting out or you're in need of a new approach on Pinterest, I pour my industry experience, expertise, and unique value proposition in the toolkit & you'll be sure to achieve the results you've been looking for.
When creating a pinterest pin design, make several versions that have different fonts, different photo angles, or varying background colors. This is a simple way for each pin to be considered new content. Pinterest prioritizes unique content – and your audience appreciates it too.
When refreshing successful evergreen content, you can update a pin's look and description to make sure your audience will see it. Include some different keywords in the description.
The different versions give your pins better SEO. Because each pin will have slightly different keywords in each description, they will show up in more searches.
Even though it takes more work and time, it's worth it to have your pins show up in the search bar.
How do I clean up my Pinterest board?
If you have been using duplicate pins and descriptions, it's a good idea to take the time to clean up your Pinterest boards so your profile is as searchable as possible.
There's a few things you want to do.
First, make sure your Pinterest branding matches your branding everywhere else. Your colors, your font, your photos should all match your website. You want to make sure it's very clear what your business is about with your bio and the images you use.
Then, go through each of your boards. They should be specific and include titles filled with keywords that make sense. The more descriptive you can make your titles, the better.
Next, put your most successful pins at the top of each board to make them easy to find.
Lastly, if you have duplicate Pins or pinterest pin description, make some updates – to your FUTURE ones. I personally don't suggest putting too much effort into updating past pins that have already published.
What happens if you delete a Pin?
You may have heard that you should be deleting underperforming pins, or you may have made an effort to delete duplicate pins.
Is it necessary?
With duplicate pins, you should be focused on avoiding them going forward. Don't worry about going through everything to delete old duplicate pins. Pinterest doesn't penalize your board for having them, but your pins have a better chance of being found in searches with different descriptions.
What about underperforming pins?
The thing about Pinterest is you never know when a pin will take off. Pinterest can show older pins at any time if they're relevant to a search, so you shouldn't delete a pin just because it hasn't done well yet. It doesn't hurt your overall profile or your other pins' performance and who knows, it might go viral.
Wondering if you need to make some improvements to your Pinterest account and strategy? Overwhelmed with where to start?
With a Pinterest audit, my team takes a close look at your overall Pinterest strategy and account to give you a clear picture of where you need to improve your Pinterest strategy.
Every Pinterest audit is tailored to the individual content creator or brand. The finished Pinterest audit can include items such as:
Establish your your goals
PDF breakdown of every board and areas for improvement.
Analysis of your daily pinning strategy.
Individual board optimization, group boards, profile optimization, boards that need added or removed, scanning of the recent few hundred pins to check for issues like spam, and more.
Analysis of group boards and Tailwind Tribes.
Analysis of what type of content resonates the most with your audience on Pinterest, for future content planning.
Suggestions for changes to pin graphics based on what your niche engages with, with examples or even layered PSD custom branded templates.
Custom content for descriptions, board titles, keywords and more to use for your specific niche
List of actions to take immediately.
GET IT TODAY FOR ONLY $197
Originally $297