DISCLOSURE: This post may contain affiliate links, meaning I get a commission if you decide to make a purchase through my links, at no cost to you. Please read my disclosure for more info.
Where they started
When we started with this client, they were already getting about 100k views a month on their Pinterest account. They were looking to increase their views a minimum of 100k/month, but ideally 200k/month.
We more than quadrupled their views in 6 months! They went from 100k to 423k views!
After the first 6 months, they then asked that we increase their views to 570k in 90 days. Our team went to work and their engaged audience was 599.46k within the 90 day period.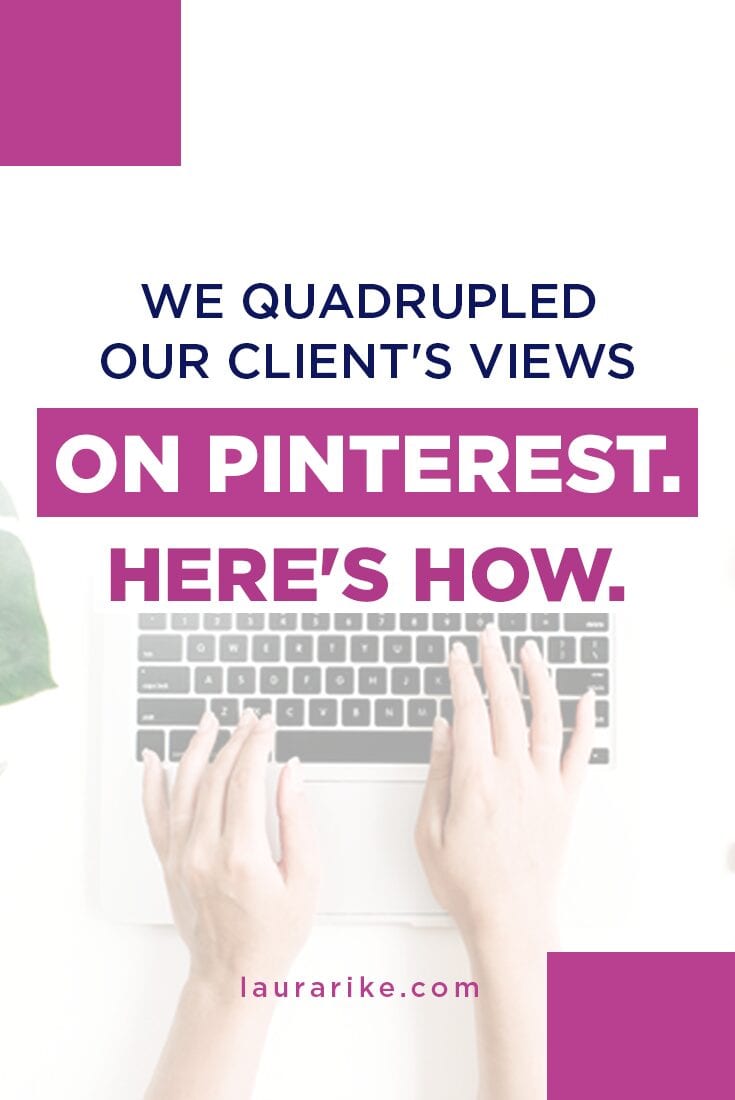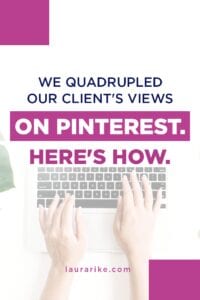 Why we were successful
There were several things our team did to be successful and overdeliver for this client.
Some of the specific strategies we used were:
Used various pin designs and tested them against Pinterest's visual search engine
Added a call to action to their pin design itself
Created new boards to the account to better support the topics on their blog
Created solid pin descriptions with keywords and a call to action
Here are two pin versions we tried with the same content. The second pin with a longer ratio (not shown below) was the clear winner!
How many monthly views is good on Pinterest?
The number of monthly unique viewers is simply the number of times any one pin you shared appears in a Pinterest feed. A high number of monthly views may be an indication that your pins are consistently being shown for certain keywords, so if this sounds like you then congrats on doing a great job at key-wording your pins! However, while having many different users viewing and considering what they see might sound good to some people it's not enough unless there' s also traffic coming from those who visit because more often than not visitors won't continue on with whatever site or page was visited before.
How to tell who views my pinterest page the most?
Login into your Pinterest Account. Get on your Pinterest Search Bar. And input the URL; https://www.pinterest.com/source/yourdomain.com/ This will show you the complete details of those who repinned your pins.
Does Pinterest have a recently viewed?
There is not an option on your Pinterest profile that notes or records who your visitors are. If you have a business profile on Pinterest there is another way for you to get to know your audience and to see more in-depth information about them. You just need to check under your analytics – AUDIENCE INSIGHTS.
How to build a mass following on Pinterest?
A powerful strategy to generate followers is strategically following your competitor's followers. Since you both have the same target audiences, chances are if they followed your competitors - they'll more than likely follow you too!
A quick way to find competitors:
Search for terms that may be on your competitors profiles in the search bar. For example, if your content is about blogging, you might search for ''blogging tips''.
You'll see four different options – click on ''People''.
Anyone who has ''blog'', ''blogging'', or a related term in their profile will show up under ''People'':
How to know who is following me on Pinterest?
When on your Pinterest profile, Simply click "xx followers" to see who is following you.
Log into your Pinterest account.
Click on your profile picture in the top-right corner of the screen to go to your profile.
Click Followers under your name to see your followers.
Are you looking for results similar to the account we highlighted above?
We help our clients achieve amazing results on Pinterest. Whether you have a big launch coming up, want to adjust your strategy, or need to bounce ideas off someone, we can help! Schedule a consultation so we can tackle your questions and maximize your Pinterest efforts to make the most of your time and strategy.