DISCLOSURE: This post may contain affiliate links, meaning I get a commission if you decide to make a purchase through my links, at no cost to you. Please read my disclosure for more info.
The best way to gain traction with your Pinterest page is to understand what your prospective audience does and does not want to see. This is particularly important for business users who are trying to draw in potential customers.
Thankfully, the Audience Insights function Pinterest built into the Analytics page can help you track what your potential audience is most interested in, based on their previous behavior on Pinterest.
In this article, we'll be exploring how you find your audience insights and what you can do with that data to make your page more attractive to visitors.
How to Find Your Audience Insights?

Finding your audience insights page is remarkably easy. Simply log into your Pinterest business account and navigate to your Analytics page. You then click the Analytics button at the top of the screen and select Audience Insights.
From there, you'll be able to access a full suite of data analytics for the last thirty days.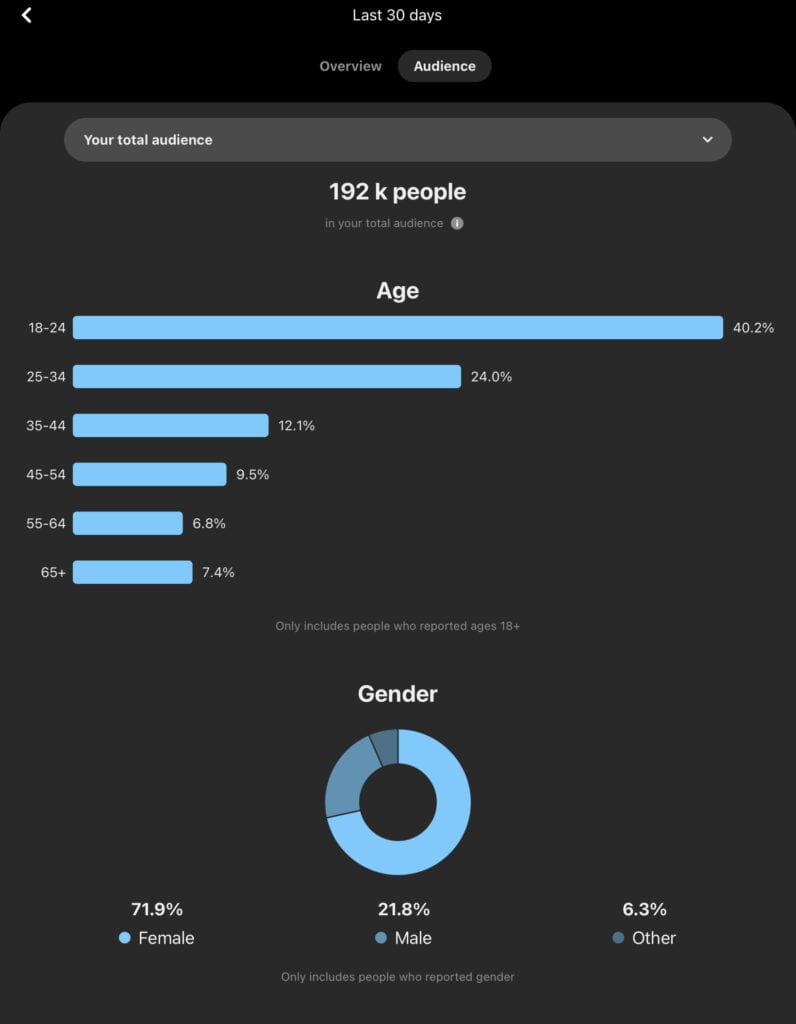 Pinterest Audience Demographics
This survey found that people aged 18-29 years make up 34% of those using Pinterest in the US, with 35% being 30-49 year olds and 27% being 50+! This means that 37.5 million members are younger than 29 – a number larger than any one country's population except for China or India (both over 1 billion!). It also seems as if there is an increasing amount of interest from older users too; whereas only 41 percent making $75k+, 38 percent have at least college degree+.
Can you see when someone views your Pinterest?
Oh, you mean the one that says "who are these people" in giant red letters? 😀 The answer to that question is NO, you can't. There are not options on your Pinterest profile that note or record who your visitors are.
But, there is a way for you to see who saved (formerly called repinned) your Pins. That means who saved your Pin and to which board the Pin was saved. The only condition to do that is if you have verified your website on Pinterest. Without this connection it would be impossible for us to see what I'm talking about! If you need help converting your account to a business profile check out Your Pinterest Profile Can Be Your Money-Making Machine for Your Business.
Using Data Within Pinterest Audience Insights
Once you have access to the data contained in the audience insights tool Pinterest, you can turn it into actionable insights that can help you grow your business.
You can sort the data provided to target certain demographics. This includes your engaged audience, which is the number of people who have engaged with your Pins; or your total audience, which is the total number of people who have seen or engaged with your Pins.
Your total audience also includes Pins you've created or saved, both organic and ads, as well as any Pins that have been saved from your claimed website or claimed accounts.
You can also see the total number of people who have seen or engaged with Pins across Pinterest and the total number of people who have engaged with Pins across Pinterest.
You can use Audience Insights data to compare two audiences against each other, see the top categories and interests for your audience selection, check the demographic breakdown of your audience selection by age, gender, location, and device, and export this data as a CSV file.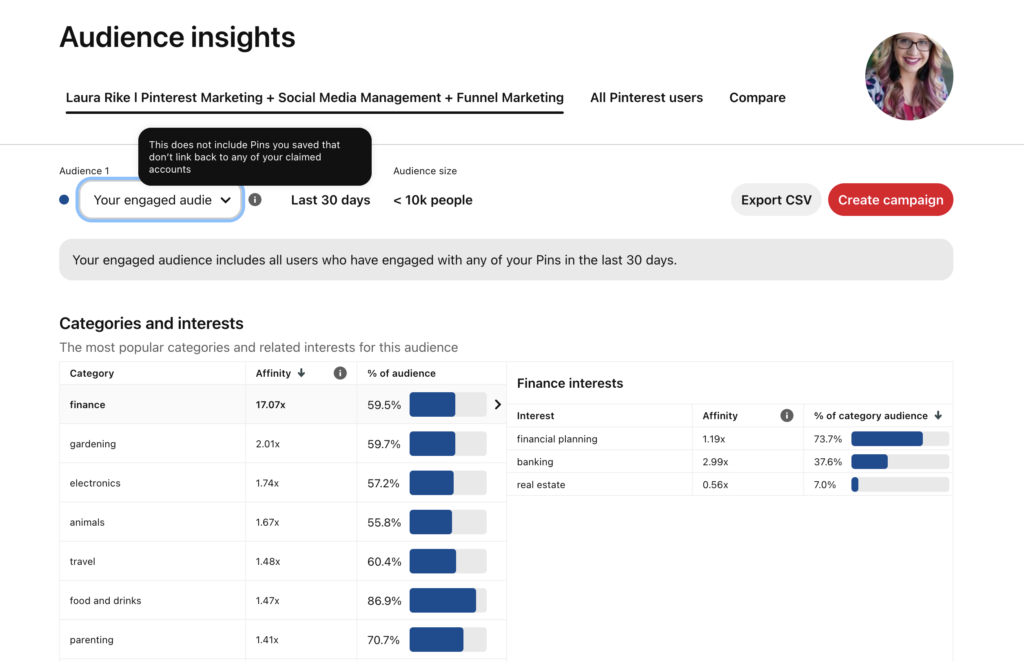 How Do You Target a Pinterest Audience?
Once you know how to access the audience data and demographics held within Pinterest's audience analytics, you can use it to focus your efforts on a particular audience.
For example, when you look at the Audience Affinities section and see the top categories and interests for your audience selection, you might then choose to use that data to run a targeted Promoted Pin campaign aimed at uses with a high affinity for that particular content.
Essentially, Pinterest's audience analytics gives you an insight into what your potential customers are most interested in and gives you the opportunity to produce attractive content that syncs up with their interests.
You can also use the data from Pinterest analytics to grow your audience. By comparing your engaged audience with your total audience, you can see which section of your total audience didn't engage with your content.
You can then break your unengaged audience down by demographics and see what those demographics are engaging with across Pinterest. It's then just a matter of including more of that specific content.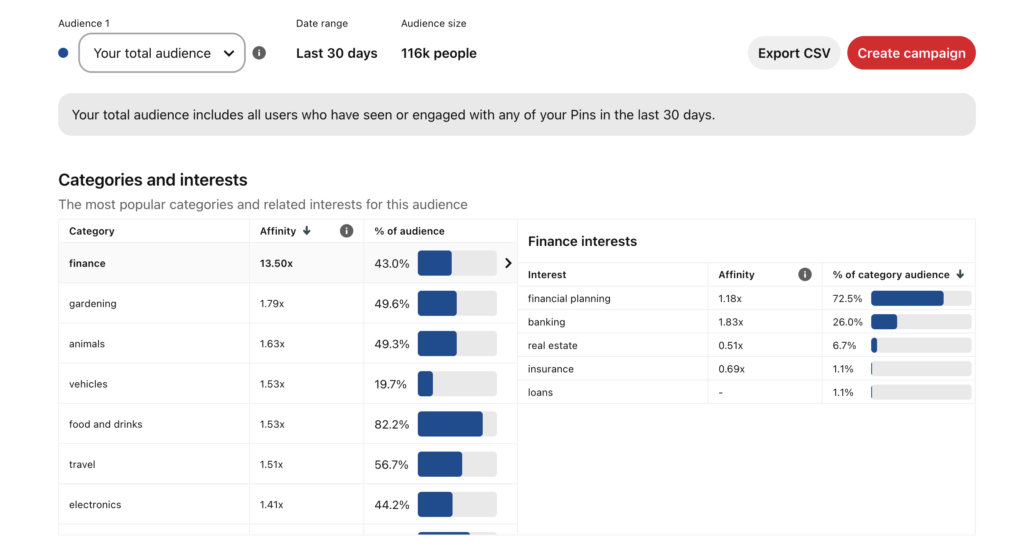 Pinterest Trends
Pinterest Trends is a keyword tool that helps you see what's popular right now so you can create content that people actually want to read. If you want to know what the next big thing is, just check out Pinterest trends. It tells you which topics are popular and gives suggestions on how to use them in your marketing campaigns. If you want to know more about Pinterest trends and how to use them effectively in your strategy check out Pinterest Keyword Tool & How to Rank on Pinterest.
How Do I Track Traffic on Pinterest?
As part of your Pinterest analytics, you can also track how much traffic Pinterest is sending to your website. The Visits Metric can be used to chart how much of your audience on Pinterest went on to visit your website. 
To access the data on how many visitors and visits to your website came from Pinterest, simply scroll to the bottom of the Site Metrics tab and look at the graph titled Clicks (now sessions) and Visitors.
The ability to track the traffic that Pinterest sends to your website is an important tool in helping to determine what kind of content is most effective at driving traffic to your website.
Having access to the data on which content drives the most traffic to your website can also help you understand if actions like a Promoted Pin campaigns have been successful and where you can tweak future campaigns to be more effective.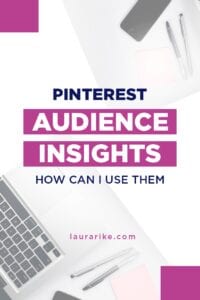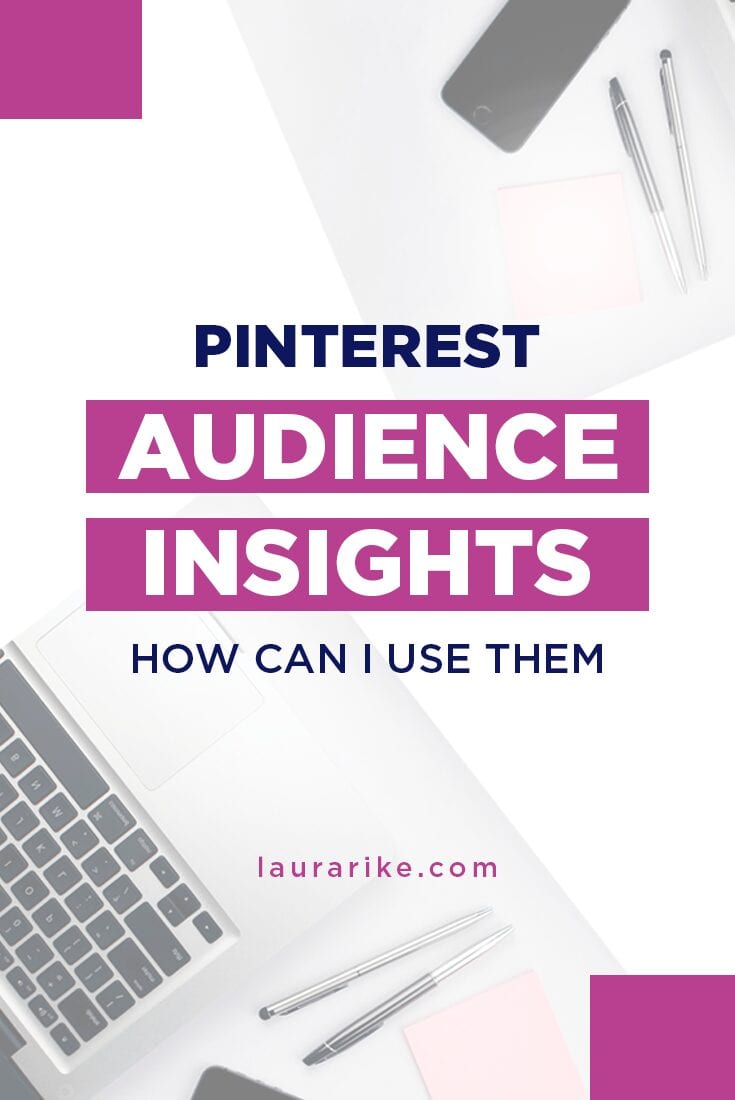 Pinterest Audience Insights Helps You Grow Your Audience
Access to Audience Insights helps you plan your content calendar, guide your content creation, optimize your ad spend, and is the driving force behind creating effective marketing plans.
Turning the data contained in the Audience Insights into actionable insights helps you grow you audience, drive more traffic to your website, and create campaigns that promote exactly the kind of content your audience is most engaged by.