DISCLOSURE: This post may contain affiliate links, meaning I get a commission if you decide to make a purchase through my links, at no cost to you. Please read my disclosure for more info.
If you're a business owner, blogger, or eCommerce site, you already know the value of Pinterest. But how can you figure out if your pins are performing well? Tracking analytics is a key factor in understanding your presence. What tools help you understand your reach on the platform? Stick around. We're going to explain everything you need to know about using Pinterest Analytics. That way, you can test how your business, blog, or eCommerce Pinterest page is doing.
Consider this your ultimate guide to understanding Pinterest Analytics.
What Is Pinterest Analytics?
Pinterest Analytics are an awesome free set of tools, especially for businesses. Anyone with a Pinterest Business account can track and measure performance over time. If you don't already have a Pinterest Business Account, now is the time. Go sign up!
Pinterest Analytics helps you see which pins performed best. You can also measure which ones drove traffic to your site.
It's the best way to understand what your audience gravitates towards. Pinterest Analytics can help you make content decisions before you create. That alone could help transform your Pinterest marketing strategy.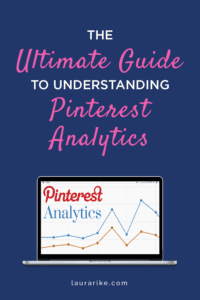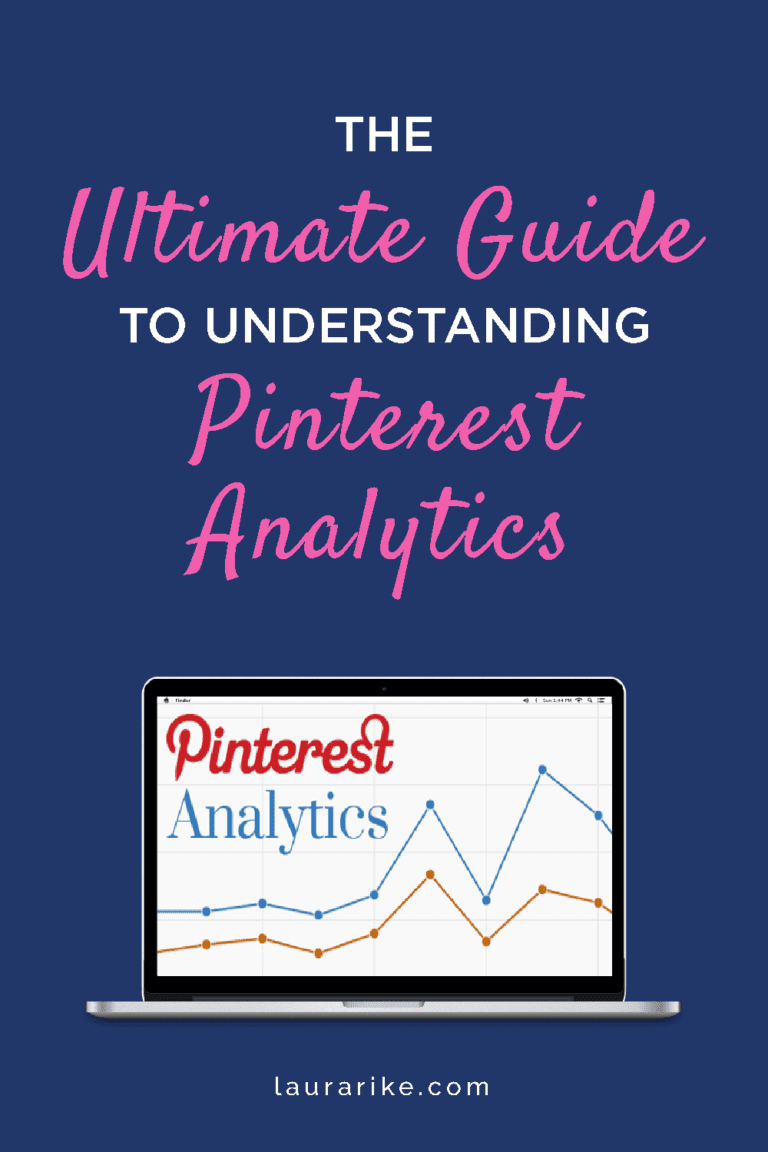 Why Use Pinterest Analytics?
Your marketing dollars should be spent wisely. Using tools like Pinterest Analytics helps you discover content your audience is craving.
Having this knowledge helps you save time, money, and the hassle of guessing.
Knowing how your content performs is essential for any content marketing strategy. It can help you set goals for your business.
Understanding which pins drive specific actions helps you fine-tune your Pinterest marketing strategy. That gives you the best chance for amazing results. It will make your marketing dollars go further.
How to Check Your Pinterest Analytics
To check your Pinterest Analytics, you'll need to create a Pinterest Business account. Need help setting up your Pinterest Business account? Learn how to do it here.
Follow these simple steps to manage your Pinterest Analytics on desktop or mobile.
Desktop
Log in to Pinterest using your Pinterest Business account.
Click on Analytics from the top menu bar.
Click Overview in the dropdown menu.
After that, you can use the dropdown menu to access other data sets.


Audience Insights allows you to check your follower analytics
Conversion Insights helps you track paid ad campaigns
Video let's you check on any video-related statistics
Trends allows you to see what's trending on Pinterest at the moment
If you're curious about a particular pin's performance, you can click on the pin. After that, then select to See More Stats about that specific pin.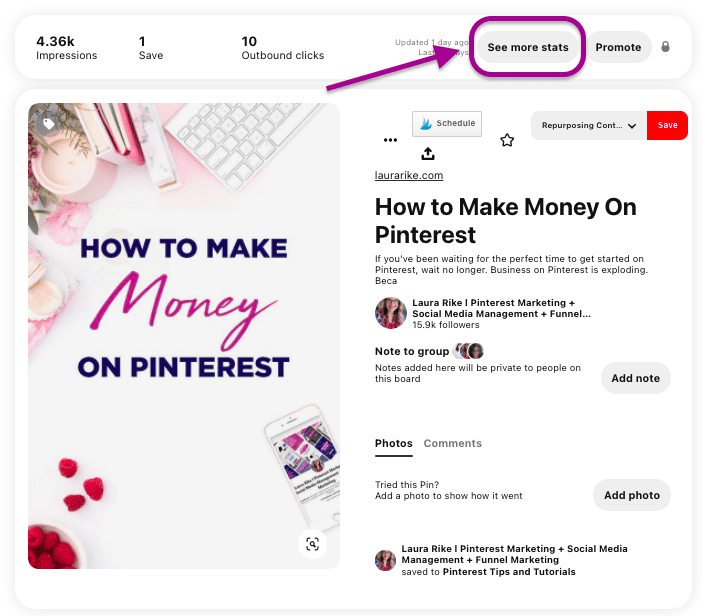 Can You See Pinterest Analytics on Mobile?
Yup! Pinterest Business has made it easy to check your Pinterest Analytics from anywhere. That includes your mobile device.
Here's how to check your Pinterest Analytics using your mobile device:
Tap to open your Pinterest App.
Tap your profile photo. It's found in the bottom right corner.
Scroll down until to find the Your Analytics section. Tap See More.
You can also tap Business Hub from your profile to see how your pins are performing.
Remember that Pinterest Analytics provides an estimate about how your content is performing. Some data may not reflect your content's total performance.
How to Read Pinterest Analytics
Your pinterest analytics tools dashboard has three important sections. These sections are impressions, saves, and outbound clicks (formerly sessions). Let's take a look at each one.
Impressions

The impressions feature tells you the number of views your pin has over time. This tool is helpful because it tells you how often your pins appear on Pinterest.
Pins with high impressions show that your content is relatable to your audience. It may also show that your hashtags, Pinterest keywords, or timing matched Pinterest's algorithm.
Saves

Another word for saves on Pinterest is repins. The Saves feature shows how many times people saved your pin on their boards.
The reason why this is important is that a re-pin or save shows people like your content.
Outbound Clicks (Formerly Sessions/Clicks)

The Clicks feature shows the total number of clicks to the destination URL within your pin.
A good click-through rate shows that people want to know more about your content. It also shows that your call-to-action is working. Is your company using Pinterest for conversions? Link clicks are an effective measurement for your marketing strategy.
These are great tools for helping you visualize your data in a macro sense. It can help inform your Pinterest marketing strategy as you move forward.

Important Metrics to Track With Pinterest Analytics 2021
When it comes down to key metrics to check, these seven are important. It will help you assess how well your content is performing. Depending on your goals, some may be more important than others.
1. Impressions
Yup, we're back to impressions again. Impressions are essential if you're analyzing your content marketing strategy on Pinterest. Like any social media site, your content only matters if it's building traction.
Impressions show if your pins appear in someone's feed, search results, or some other category. You'll want to look for patterns in your best-performing pins.
You might notice a particular font in them or a particular style of pin that works best, like humor. It could be that certain keywords or hashtags are performing best. The data helps your marketing strategies moving forward.
2. Saves
Along with impressions, saves show how your audience engages with your content. It shows that your pin was relatable enough to share with others.
It's more important than an impression because it shows the user took action with your content. Also, the more repins you get increases your odds of showing up in people's searches.
3. Outbound Clicks
Like saves, outbound clicks show that your audience isn't only seeing the content but taking action. For many businesses, this may be your most important metric. That's especially true if you're looking to drive traffic to your site.
Most businesses track conversions most. Clicks are a great barometer to see if marketing strategies are working. It shows your content may generate conversions off the platform.
4. Top Pins
Your top pins help you see which pins have gained the most traction over time. You may notice a campaign that struck a chord with your audience some time ago. That knowledge can help you repurpose it in a new campaign.
5. Last 90 Days
Like the top pins feature, 90-day statistics help you see the performance of your pins over time. It's valuable for determining which campaigns have worked best with your audience. You'll want to look for trends to repurpose content.
6. Audience Affinities
This section breaks down the categories your followers engage with most. It's a valuable insight into your audience's interests. You may find a niche audience you never knew about.
7. Engagements
The more people you have to engage with your content, the better. They aren't only engaging with your pins. They may be sharing it with their audience. It's a great indicator that a user may lead to a conversion.
What are good pinterest analytics?
Within my agency we like to answer this on a case by case basis. What is your end goal? What type of conversion are you looking for? Then we together will set Good, Better & Best goals for 90 days and then use pinterest analytic tools and google analytic tools to track them.
Be careful not to spend too much time getting caught up in vanity metrics such as impressions, or Pinterest monthly views. I like to tell my clients 'monthly views don't put money in your bank account'. Focus on what conversions are going to help with the growth of your business and the long term sustainability overall.
How Do I Use Google Analytics for Pinterest?
Google Analytics is a great comparison tool. It helps you test your Pinterest performance against other traffic sources. To use Google Analytics, click on Acquisition, then Social. It will provide how much website traffic comes from each social media network site.
Pinterest analytics rarely match Google analytics and heres why:
Google Analytics is a terrific platform for understanding more about how visitors use your website. However, keep in mind that it is not tracking data the same way that log servers track clicks. Click data is based on ad server logs from the ad exchange(s). Analytics data (such as Google Analytics), is based on cookies or page loads.
Delayed Reporting
Your stats on your pins and in your dashboard aren't up to date. In fact, they're usually at least one to two days behind.
Pinterest loads within app in conjunction with one-tap
One-tap Pins take a user to your site as soon as they click on a pin – skipping the usual close up on the pin. Some of the pins load the site directly in the app which causes it to not trigger the page view with Google Analytics.
A Pinterest user may click on your Pin multiple times
When one person clicks on one advertisement multiple times in the same session, the ad server records multiple clicks while Google Analytics recognizes the separate pageviews as one visit. This is a common behavior among visitors engaging in comparison shopping.
A Pinterest user may click on your pin, but then change his/her mind and leave so the page does not fully load
This can happen by clicking to another page or by pressing the browser's stop or back buttons. In this case, Google Analytics won't register a visit, but the ad server still counts this as a click.
---
Google Analytics also helps you which website pages are most popular. The data can inform your Pinterest marketing strategy. I also highly suggest using UTM code parameters to help really narrow down what efforts are working or not. If you are looking for a great, easy to understand and implement training on how to use UTM codes with Pinterest then Grab my Pinterest Toolkit!
Need Support With Your Pinterest Marketing & Pinterest Analytics?
Using Pinterest Analytics can be tricky if you don't have a lot of experience using the platform. Looking for Pinterest management? Follow this link to learn more.