DISCLOSURE: This post may contain affiliate links, meaning I get a commission if you decide to make a purchase through my links, at no cost to you. Please read my disclosure for more info.
It's never too early to start punting your products to holiday-makers and chronic shoppers. Pinterest is a powerful tool to showcase your products to your target audience and inspire them to whip out their credit cards.
As an expert Pinterest coach and Pinterest ad strategist, I've put together an effective guide on how to advertise on Pinterest to generate holiday sales.
Why Use Pinterest for Promoting Holiday Sales?
As a visual platform doubling as a search engine, Pinterest allows shoppers to search for keywords and receive visual results. Shoppers can navigate directly to the e-commerce website, buy products within the platform, and group gift ideas on Pinterest boards.
Consider the following consumer behavior on Pinterest;
67% of Pinterest users plan holiday purchases on Pinterest
62.7 million people use Pinterest for holiday ideas and inspiration
70% of Pinners use the platform to find new products
From a business aspect, Pinterest offers brands many benefits when promoting holiday sales. The social media platform is an inspirational source of gift ideas, making Pinterest the ideal place to promote products.
Pinterest also has Rich Pins, which sync information from your website to your pins, organically driving engagement.
There is also the option of Promotional Pins and Buyable Pins, which drive sales and help acquire customers. Promotional Pins work similarly to paid advertisements, while buyable pins allow customers to purchase the product directly on the platform — but more on that later.
The earlier you begin your Pinterest marketing strategy, the better. Make sure to adjust your messaging to focus on gift-giving and bringing joy to your loved ones, and keep an eye on Pinterest holiday trends to leverage.
Holiday phrases
Some key phrases to include in your product descriptions, product names, and boards include;
Stocking stuffers (or stocking fillers)
(Adjective) gifts for men, such as Awesome gifts for men
(Adjective) gifts for women, such as Unique gifts for women
(Adjective) gifts for kids, such as Fun gifts for kids
When preparing your holiday marketing plan, consider these words to inspire consumers to navigate to your website and support your business.
Holiday imagery
In addition to festive wording, you can also include iconic holiday elements in your Pinterest designs. Combine holiday colors with your brand image, and incorporate a few holiday motifs, such as the following;
Christmas lights
Stockings
Elves
Santa hats
Holly berries and mistletoe
Candy canes
Wrapped gifts
Christmas trees
Snowflakes
It's time to let your creative juices flow and create heart-warming Pin content that inspires consumers to buy your products.
Top tip: Make sure to include a strong call to action that encourages Pinners to buy your product and wrap them under the tree!
6 Types of Shopping Ads for Your Holiday Pinterest Campaign
The more familiar with Pinterest's best practices for eCommerce businesses, the more opportunity you'll uncover. Consider the following ad examples for your upcoming holiday Pinterest campaign.
1. Promoted Pins
Promoted Pins are existing pins on your business Pinterest profile that is boosted to reach a specific target audience. Putting a little bit of money behind the Pin increases the chance that it will show up in relevant search results and category feeds.
As the holiday season approaches, small businesses can promote Pins that feature products that they want to push.

2. Promoted Video Pins
Pinterest launched Promoted Video Pins in response to user demand. Working the same way as static Promoted Pins, Promoted Video Pins appear in search results for specific keywords.
Marketers can use Video Pins to share product demonstrations, tell heartwarming stories to drive a sale, or offer exclusive behind-the-scenes footage (as long as it fits between the 4 – 30 second time limit).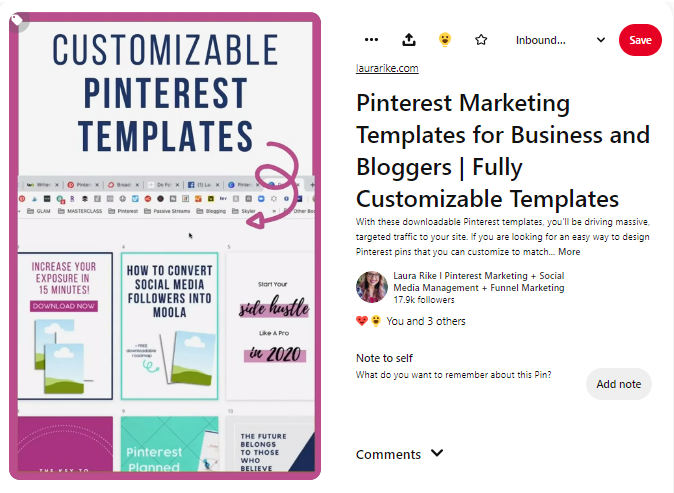 3. Buyable Pins
In its basic form, Pinterest Pins drive traffic to a business website, where they convert buyers. However, some brands have incorporated Buyable Pins into their eCommerce Pinterest strategy, making it easier for the consumer to complete the purchase journey within Pinterest.
After setting up Buyable Pins, a blue price tag and a Buy It button will appear on the Pin. From here, users can complete the purchase without leaving Pinterest.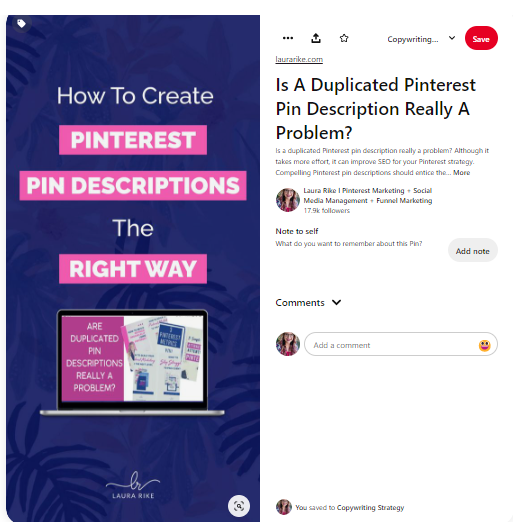 4. Promoted App Pins
Take a moment and consider that 80% of Pinterest's traffic comes from mobile devices. Promoted App Pins take advantage of the high use of mobile users by inviting Pinners to download the business app to their mobile devices.
When sharing Promoted App Pins, marketers can drive app installs directly from Pinterest. During the holiday season, this can be useful for a gift registry or an online store with a mobile app.
5. Rich Pins
Rich Pins create a valuable experience for your audience, adding extra information to the Pin by pulling metadata from linked website pages.
Rich Pins are grouped into four main groups, namely Product Pins, Recipe Pins, Article Pins, and App Pins. Product Pins, in particular, are very useful during the holiday season, featuring real-time pricing, availability, and store location in the post.
6. Shop-the-Look Pins
Pinterest is not only used for visual inspiration but also helps consumers acquire specific products that complete a "look." With these Pins, businesses can highlight specific products within a picture, allowing users to tap on white dots to read more about the individual product (and navigate to the website and make a purchase).
Currently, Shop-the-Look Pins are only available for fashion and home decor pins, making it an effective strategy for retail brands.
Maximize Holiday Performance on Pinterest
It's an unwritten rule that Black Friday kickstarts the holiday shopping season, and research shows that people come to Pinterest first when shopping for deals.
Further research shows that some consumers have even started shopping in April!
As a guideline, the most effective holiday campaigns start between September and October, increasing brand awareness to inspire future purchases.
Six Pinterest Holiday Shopper Personas
If you're looking for ways to refine your target audience, then consider the following holiday shopper personas and incorporate them into your marketing strategy.
The early bird
Early birds plan their holiday shopping months in advance, keeping an eye open for the best deals while hiding gifts in the closet. Appeal to the early bird by offering coupon codes, free gifts, and bundle deals.
The traditionalist
A traditionalist eagerly looks forward to the festive season and, like clockwork, they set up their Christmas tree on December 01 every year. Connect with these Pinners by sharing traditional holiday imagery and motifs.
The self-gifter
Christmas is a season of giving — for both your loved ones and yourself! Self-gifters like to treat themselves over the holiday season, and as a business, you can leverage this mindset by advertising Buy one, get one free offer.
The amateur host
The holiday season is not only a time for gifts but also a time of family, feasting, and festivity. Grab the novice host's attention by sharing simple and creative ideas for decorating the home, preparing meals, and entertaining.
The extravagant host
We all know that one person goes over the top when it comes to the holiday season. Kick the usual party-planning tactics up a notch by sharing festive outfits, photo backdrops, recipes for holiday drinks, and picture-perfect decor.
The admin-free shopper
While some people love shopping for gifts, writing cards, and tying the bow on a parcel, others want a hassle-free experience. As a business, you can save this shopper time and effort by offering specific services such as free gift wrapping, guaranteed shipping times, and free shipping.
Generating Leads From Your Holiday Pinterest Campaign
Pinning inspirational imagery is the first step to generating holiday sales, but the effort needs to be accompanied by lead-generating strategies.
Consider the following Pinterest tools and holiday advertising tips that help boost sales.
Targeting capabilities – target ads according to categories, interests, location, devices, and more
Pinterest tags – conversion tracking tags help to monitor how consumers are contributing to your goals
Pincodes – similar to QR codes, Pincodes help businesses share their Pinterest profile outside of the platform
Advanced Pinterest analytics – evaluate the performance of Promoted Pins and track ad viewability, brand lift, and online and offline conversions
Pinterest's Partner Programs – help advertisers develop creative content with ease
Add a "Save" button – putting a "save" button on the website allows users to save products to their Pinterest boards from your website
Check top holiday keywords – research relevant holiday keywords to incorporate in your strategy and product descriptions
More Tips for a Successful Holiday Season
If this guide has excited you about the festive season, you're not alone! Before you rush off and create a conversion-worthy Pinterest advertising strategy, consider these final tips.
Utilize Pinterest smart feed to discover what users are searching for leading up to the holiday season
Assess your analytics and be strategic about your Pinterest schedule
Ensure that your Pinterest profile and website are user-friendly
Create a gift guide Pinterest board
Use the different features on Pinterest, such as Rich Pins, Video Pins, etc.
Promote Pins that perform well to maximize conversion
Track progress from the start of the campaign
Brands that start their holiday campaigns early tend to see better results on Pinterest, with an average of 4.7 times more conversions by sharing Pinterest ads earlier in the holiday season. Make the most of this opportunity!
Pinterest marketing is made easier with the help of a professional strategist. From advice on pin creation to drafting a holiday marketing campaign, we're here to help your Pinterest account this holiday season!