DISCLOSURE: This post may contain affiliate links, meaning I get a commission if you decide to make a purchase through my links, at no cost to you. Please read my disclosure for more info.
Best Practices When Using Pinterest for eCommerce
Using Pinterest for an eCommerce business offers many benefits. Pinterest marketing can boost your brand (and bank account) by increasing awareness, driving traffic to your product pages, generating leads, and ultimately increasing sales.
If you want to enjoy these benefits, then you need to follow best practices when using Pinterest for eCommerce — such as these.
Why use Pinterest for eCommerce
While Pinterest is largely associated with women, travel, clothing, and design, there's an increased focus on using Pinterest for eCommerce. As a powerful social media tool, Pinterest offers the opportunity for promoted Pins, Pinterest ads, video Pins, and more.
Is posting on Pinterest worth the energy?
Designing attractive Pins takes time and effort, but is it worth it?
Consider the following consumer behavior that shows why two-thirds of Pins represent brands and products.
80% of users are on Pinterest for purchase inspiration
77% of weekly Pinners have discovered a new brand or product on Pinterest
50% of users have made a purchase after seeing a promoted Pin
What types of businesses should use Pinterest for eCommerce?
Whether you sell homemade keyrings or exercise equipment, your business can benefit from using Pinterest for eCommerce. As long as you sell a product that can be bought online, then promoting your products on Pinterest will boost the visibility of your eCommerce store.
What types of consumers use Pinterest for eCommerce?
Understanding your audience is one of the most important considerations when marketing your product. If you want to make the most of Pinterest marketing, then you need to understand the platform's frequent users and how their behavior aligns with your target audience.
60% of the global audience are women
Male Pinners and Gen Z Pinners are up 40% year-over-year
US Millenial Pinners are up 35% year-over-year
45% of people in the US with a household income of over $100K use Pinterest
As you can see, Pinterest is becoming increasingly popular among various demographics, encouraging more eCommerce businesses to join.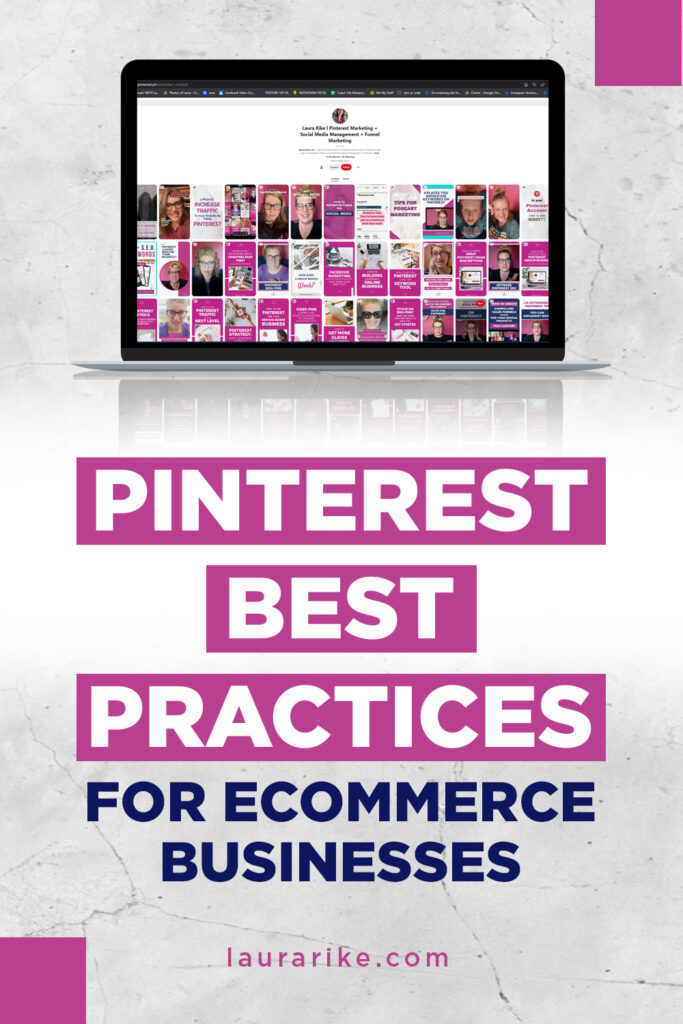 How to set up Pinterest for eCommerce sales
If you want to leverage the market, then you need to set up your Pinterest for business profile.
How to use Pinterest for eCommerce
There are various techniques and methods that help to boost eCommerce businesses and brands. As a social media marketing tool, Pinterest can be leveraged in the following ways;
Add share Pins to your product pages
Post Shop the Look Pins
Use alternating content formats
Share complementary Pins
Write SEO-optimized descriptions
If you need more help to create your Pinterest strategy, then a Pinterest coach can be a major asset.
Text overlay using Pinterest for eCommerce
Using text overlay on high-quality product images helps to increase mobile legibility and advertise key brand features. It's the perfect place to post about sales, discounts, and brand updates.
Rich Pins using Pinterest for eCommerce
Rich pins are product-related pins that eCommerce brands use to attract products. They allow you to include significant details about your product and how to make a purchase in an effort to attract buyers. It's also a convenient place to add a logo and boost click-throughs.
How to sell products on Pinterest
Pinterest empowers eCommerce brands to find success through a shop-orientated platform. Selling on Pinterest is an easy process. Follow these steps to gain momentum.
Create an online store
Establish a Pinterest business account
Link your online store to your Pinterest account
Organize your Pinterest boards according to grouped items
Promote your pins through Pinterest advertising
Analyze your performance and improve where necessary
How to drive sales with Pinterest eCommerce
Pinterest's own research shows that people on Pinterest love to shop and browse, with 64% of people saying that Pinterest is their platform of choice when finding a product that they can trust.
As more and more eCommerce brands are using Pinterest to drive revenue, the platform has responded by producing specific features. Help your customers find what they love and boost your profit by taking advantage of these features.
Strategize a shopping campaign by setting up a shop, adding the Pinterest tag to your site and connecting to Shopify
Build brand loyalty through the verified merchant programme
Scale campaigns for higher returns with shopping ads, collection ads, automatic bidding and dynamic retargeting
Study analytics for results and use this data for future campaigns
If you want to make the most of these features, then your marketing efforts need to incorporate a pinterest strategy for your eCommerce brand.
How can I promote my landing page on Pinterest?
Once a shopper clicks on your promoted Pin, they will arrive at your landing page and it's important to make it worth the effort. Here are some ways to promote your landing page and make it stand out.
Use relevant hashtags
Follow other businesses that are similar to your niche
Include a call-to–action
Use testimonials
Include persuasive and punchy copy
Use brand-aligned, quality images
Optimize your content
The beauty of Pinterest marketing is that the options are endless. Whether you need help to create a strategy, get familiar with the platform or ad management, I'm here to help. Book a consultation with me so that we can get to know one another and see how we can work together to boost your eCommerce business!
Pinterest Best Practices
Pinterest should be considered a search feed platform like Google and YouTube. It is not a social media platform.
People go to Pinterest to search for a solution to a certain problem.
If you really want to reach a wider audience and bring in traffic and sales, take time to research more on the platform. What are people searching for?
Pin Hacking: See what type of designs, titles, and calls to action come on pins when you search for the type of product you offer. Then find a way to fill in the gaps those other companies are not filling.
A/B test your pins by trying two different designs or more for a single product and see which works better. Sometimes a gorgeous picture doesn't give the info a shopper needs to see.
Try different types of pins:

Static images such as text-only, product images, or behind the scenes
Video pins – short & sweet 20-second snippet. Great teasers and can link to products. Simple videos made on your phone are fine.
Story pins (can't link but good for brand awareness and getting followers) – videos of how you make a product, show your process, show your store – use up to 5-7 images

Every pin should include a call to action to lead people to where they can purchase your product.
Pinterest is a redirection site – you search for something, and it redirects you to where you can purchase.
DON'T use link shorteners (they are marked as SPAM). Use the actual link. <– Pro tip!
Be conversational and tell a story in your description, while including keywords. Tell readers in a nice polite way what you want them to do.
When posting the same product or article to different boards, the images and description should be different. The links can be the same but the post must be scheduled at different times (at least a week or more between pins). <– Pro tip!
Focus more on making new pins. Editing old pins that aren't bringing in results is less likely to help.
It's better to pin consistently than to pin tons of pins the same day. <– Pro tip!
Tune in for ALL the Pinterest best practices – including Hashtags, Pinterest ads vs Facebook ads & more!