DISCLOSURE: This post may contain affiliate links, meaning I get a commission if you decide to make a purchase through my links, at no cost to you. Please read my disclosure for more info.
In 2020, Pinterest video pins are becoming one of the most prized tools for businesses and brands who want to skyrocket their growth on Pinterest.
And whether one is planning on using video pins or promoted videos, the return on investment can't be beat.
Here's why.
Why Pinterest Video?
Pinterest video presents a huge opportunity for businesses.
With Hootsuite reporting that a whopping 73 percent of Pinners say content from brands makes Pinterest more useful and 67 percent reported that video inspires them to take action, using video is almost a 'must.'
More inviting, 98 percent of people on the platform have tried something new after seeing the item on Pinterest (compared to only 7 percent on other social media platforms).
Also according to Hootsuite, 67 percent of Pinners said that video inspires them to take action.
But the reason to use video isn't just passing Pinner interest.
Those active on Pinterest spend 29 percent more than non-Pinners. This means, according to Hootsuite, that video brings on average $2 in profit for every advertising dollar spent.
And according to Pinterest, 83% of weekly Pinners made a purchase based on Pins they saw from brands. (later.com)
Using promoted video posts escalates the video advantage even higher.
This data supports that Pinterest video is a smart business choice.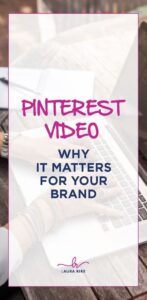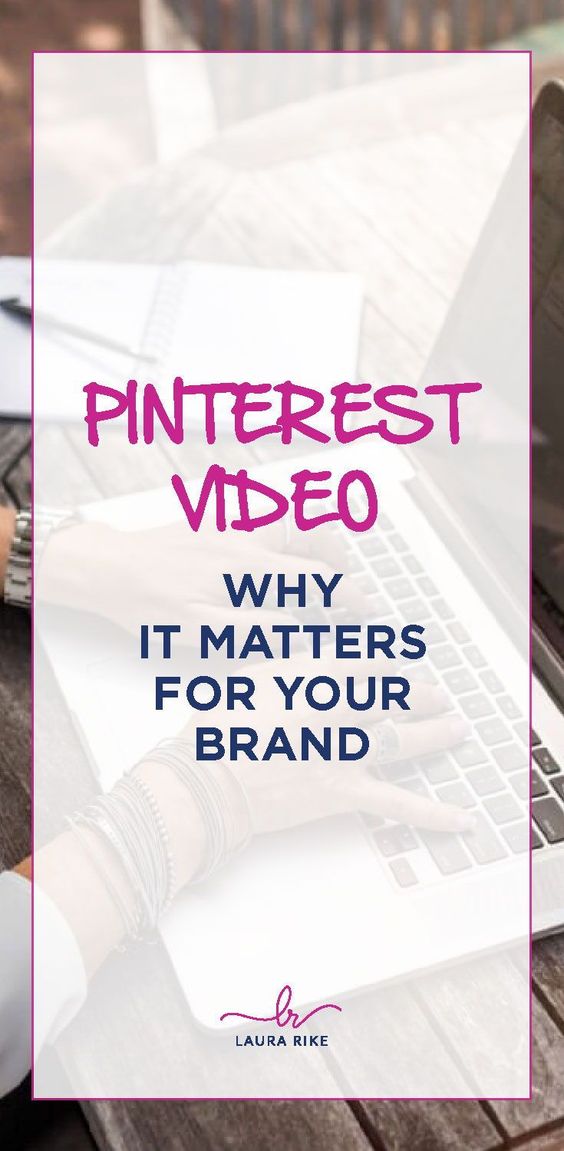 How Do You Create A Video Pin?
Making a video post on Pinterest is easy. Of course, you'll want to make it interesting and engaging for your topic.
And because many Pinterest video viewers watch videos without the sound on, producing videos that either have text in them, contain captions or are not dependent on the spoken word is important.
To create a Pinterest video pin, simply:
Open Pinterest in your browser
Create a new pin by clicking on the + sign
Drag and drop your video into the frame
Complete the video description using SEO searchable words and phrases
Select appropriate tags
Add your destination link
Publish your video pin to the board of your choice
Because Pinterest manually checks all pins, you might need to wait for your pin to go live. Be patient – The Social MS blog has reported that it can take 12 to 36 hours for a pin to go live.
And Pinterest videos start to play automatically once they hit 50 percent.
Now let's cover some video options before heading to the video specs.
What Size Video Is Allowed?
Pinterest handles two sizes for video: standard width and maximum width.
Standard width videos are the same size as regular Pins. As a result, other pins can be seen in the background while playing a standard width video.
Maximum width videos take up the entire feed. Because of this, it limits the viewers ability to view other pins while watching the video. This can help keep your viewers eyes on your video rather than being distracted by what's in the background.
So while maximum video width can heighten focus while reducing background distraction, either video is a better choice over no video.
What Are The Pinterest Video Spec Requirements?
Hootsuite has summarized a number of specifications to pay attention to when creating the video:
The file type is: .MPR or .MOV
The Max. File Size is: 2 GB
The Allowed Video Length: minimum of 4 seconds and a maximum of 30 minutes
The Encoding is: H264
There are several allowed aspect ratios: 1:1, 2:3, 9:16 or 16:9.
Description Length: Max 500 characters
Leverage Your Website To Leverage Your Pinterest Videos
To take your Pinterest video to a new level, consider cross-promoting it from your blog. Doing so can help increase traffic to your Pinterest video pins.
Using a cross-promotion strategy with a WordPress website is easy.
If you want to add the video pin to your post or page, you can either use the pin's url or generate a code in the Pinterest Widget Builder. The Pinterest Widget Builder is especially great for embedding pins in the side of your website.
To use the Pinterest Widget Builder to embed on the side of your website, follow these steps:
NOTE: While there are a number of steps here, they are super simple. So don't let the number scare you.
Make a post or website page on your website

Decide which video pin or board you want to embed

Go to Pinterest's Widget Builder at: https://developers.pinterest.com/tools/widget-builder/

On the Widget Builder page, click the Pin button

Paste the pin url or the board url into the 'Pin Url' box

Select the size of the pin or board
* You can select small, medium or large for a single pin.
* You can select square, sidebar, header or customize your size

Decide to hide or show the pin's description by clicking next to the Pin Size box

Preview your selection

After previewing the pin and under the preview section, the embed code appears

There are 2 embed lines:

The first time you go to embed, you will need both lines
A. FIRST copy and paste the first line of code
B. THEN copy and paste the second line of code right under the first line of code
After that first time of embedding the widget on your blog's sidebar, you will not need to embed the second line of code again

The copied embed code is placed in the Text Widget on your website

To use the Text Widget:
A. on your WordPress website dashboard, go to Appearance
B. then find Widgets
C. there is a Text widget that you can drag and drop into your sidebar or other active widget space
D. paste the embed code into the widget in the text, not visual editor, field
E. click save
F. Close the editor
Of course, you may also want to add a Pinterest sharing button to your site. This will also help cross-promote your Pinterest videos and pins from your website to the Pinterest platform.
Whether you are ready to cross-promote your pins and videos on your website's posts and pages or are just beginning to explore the use of Pinterest video, adding video will provide a huge boost for your audience interaction.
And that will lead not only to more engagement but ultimately more conversions.

Get unlimited traffic so you can scale your business PROFITABILITY the right way with SUSTAINABLE systems, so you can be found first without tantrums over tech and trading sleep for success. The Pinterest Toolkit is a complete Pinterest system that makes it easy to get noticed, get re-pinned, and blow up your website traffic (and sales) in MINUTES! Filled with templates, swipe files for keywords & hashtags, video training, branding blueprints, and more – get your toolkit for only $37 today!