DISCLOSURE: This post may contain affiliate links, meaning I get a commission if you decide to make a purchase through my links, at no cost to you. Please read my disclosure for more info.
Pinterest is a great platform to convert people into buyers. And the Pinterest video is a perfect way to introduce your brand.
Before covering the 5 Strategies to Consider for using Pinterest video, let's take a look at some of the supporting data.
Key Pinterest Data To Consider
Once you see some of the stats on active buyers on Pinterest, it will be obvious why your business needs to have a presence on the platform.
The Pinterest platform boasts a 97% rate of people who use the platform when considering a purchase.
What's more, it has a 96% rate of people actively searching for information on Pinterest when looking to make a purchase.
And Pinterest has an 86% rate of people buying something as a result of their experience on the platform.
Clearly, Pinterest has the ability to deliver the goods for business.
With more than half of Pinterest users holding an income that is $50,000 per year and above, the purchasing power cannot be understated.
And with video performing better across all social media platforms, Pinterest video is an obvious choice for engaging an audience.
The question then is … how do you leverage Pinterest video to make it effective for business.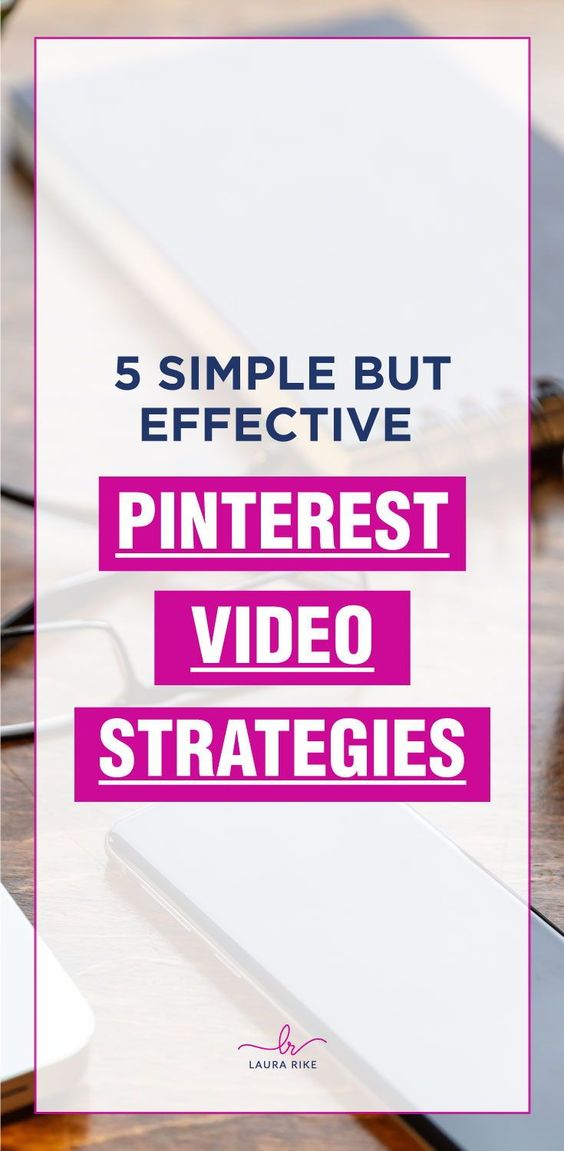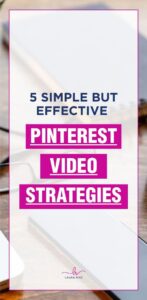 5 Video Strategies
To make video effective on Pinterest, the first step is to create videos of things that people are looking for and want to see.
That means creating videos of topics using Pinterest search engine words are a must.
The next consideration is to create videos that are compelling. Videos need to be engaging and visually grabbing.
But those are just the basics.
Now let's kick it up a notch.
To get your videos reaching the right ideal clients and encourage them to interact with your business and brand, you need strategies to get attention, improve engagement, and then result in conversion.
Here are 5 simple but effective strategies to consider:
1. Show Your Product Or Service In A Way That Provides Comfort, Ease or Inspiration
We're all experiencing the heaviness of what's happening around us. And many people go to social media looking for something that provides a little less heaviness and a lot more comfort, ease, or inspiration.
That makes it smart for a business to provide videos that speak to how the product or service provides the comfort, ease or inspiration they are seeking.
But don't mix topics.
Pick one topic per video – either comfort or ease or inspiration. Not all three topics in one video. If you want to pick another topic, great! Put it into a different video.
Then take it up a notch.
Combine a short story with how your product or service will provide comfort or increase ease. Or show something aligned with what you do that shares inspiration.
2. Show How To Do Something Actionable With Your Product Or Service
People love to see how to do stuff on Pinterest. And many users are on the platform because they are interested in something new.
Showing your audience how to use your product or service – or how to do something that is needed as the step right before using your product or service – in a video can increase connection and engagement.
Create videos that show how to do something step-by-step related to what you sell.
3. Take People On A Journey
The personal journey has grown in its importance over the last couple of years. However, recent events have increased the importance of this even more.
Sharing videos that allow ideal customers to go on a personal journey improves the likelihood that they will continue to follow your business and brand.
Because Pinterest is both a search engine and a social platform that also provides tabs on trending topics, it is easier for businesses to determine what topics are of interest to users to select for the personal journey.
This makes creating personal journey videos that will engage an audience easier and more effective.
To take the personal journey to the next level, create videos with a more human touch. They need to have a focus that speaks with a potential customer, not at them.
4. Invite User-Generated Videos
Pinterest is a platform of highly engaged, loyal consumers.
Across all social media platforms, 80% of people admit that user-generated content influences their buying decisions. Given the search functions of Pinterest and the high percentage of user purchases, user-generated videos have a high potential of success.
Inviting those who have used your product or service to create video content can have a key impact on the decision-making process. It allows users to not only share your business and brand while showing how to use your product or service (Strategy #2 above).
5. Work With Micro-Influencers
Videos with micro-influencers using or promoting your business and brand can give you a big boost.
When micro-influencers use a product or service, they loan the trust they have developed with an audience to your business and brand.
This becomes important for several reasons. Micro-influencers tend to have:
high engagement rates
a targeted fan base
more authenticity and trust
These kind of videos that depict micro-influencers in association with your business or brand can increase your reach and improve conversions.
Video is an important strategy on any platform. But it is extremely effective on Pinterest.
Given the high percentage of purchases from on-platform searches and the loyal buying fan base, sharing videos on Pinterest is a highly effective technique for improving business and brand awareness, connection, and product or service conversions.
Do you need to bounce ideas off someone? Dive into your current video strategy and come up with a game plan for how to stay on top of the changes? Maybe you have a big launch coming up and you aren't sure how to best leverage Pinterest.
I'm here to help! Book a consultation with me so we can tackle your questions and maximize your Pinterest efforts to make the most of your time and strategy.