DISCLOSURE: This post may contain affiliate links, meaning I get a commission if you decide to make a purchase through my links, at no cost to you. Please read my disclosure for more info.
Any old pin at any old time.
That's the approach most creators continue to take on Pinterest. And, what do you know, it doesn't deliver the results they're looking for!
That's because success on this ever-changing platform requires careful planning and forethought. You have to pin the right content, aimed at the right people, at the right time, and in the right quantity.
In other words, it requires strategy.
Trust us, cultivating a well-oiled Pinterest content strategy will get you the best bang for your marketing buck! It'll streamline your systems and skyrocket your results.
Sound good? Here's how to create a strategy that delivers those kinds of outcomes.
How to Use Pinterest for Marketing
Let's begin by detailing 2 primary ways you can use Pinterest to benefit your brand.
Distribute Your Content
Pinterest allows you to a) present your latest blog article, video, or podcast episode to your target audience and b) include a clickable link that drives traffic to it!
There's no limit to how much you can share either. You should create a pin (or multiple pins) for every new piece of content and add them to a set of well-organized Pinterest boards that make it easy for your audience to find what they want.
Of course, you should distribute other Pinterest users' content as well (assuming it's relevant). Want to streamline this content curation process? Consider inviting other contributors to pin to your boards to boost engagement on your profile and increase its reach in the process.
Build a Community
Community is to a brand what Miracle-Gro is to a lawn. Done right, you can expect a bigger and more loyal set of customers that keep coming back for more!
We highly recommend using Pinterest to build one. Interact with people through your boards, comment on pins, send direct messages, and re-pin their content. Back those efforts up with compelling content of your own and you'll end up with a loyal community of Pinterest followers/users who may one day become customers.
Where Can Your Pins Get Discovered?
A crucial part of any Pinterest content strategy is knowing who your audience is and where they hang out. That way, you can create content they'll enjoy and increase the probability of them finding it!
There are 4 primary places they'll find your pins:
Search
This is where Pinterest SEO comes in. Incorporate the right keywords in the right places and your profile, boards, and content are more likely to show up when people search for related terms on the platform.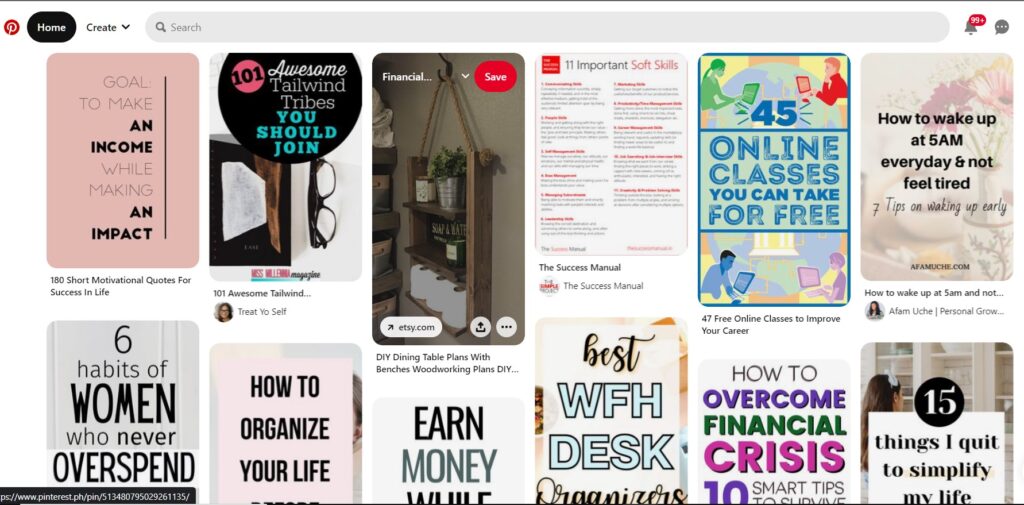 Home Feed
Each user's home feed is a mishmash of things they've searched for, saved, and engaged with. It's also where they'll see content from people they follow.
Today Tab
This is where people go for daily inspiration! It's a curation of trending pins from your fellow creators, as well as other relevant content.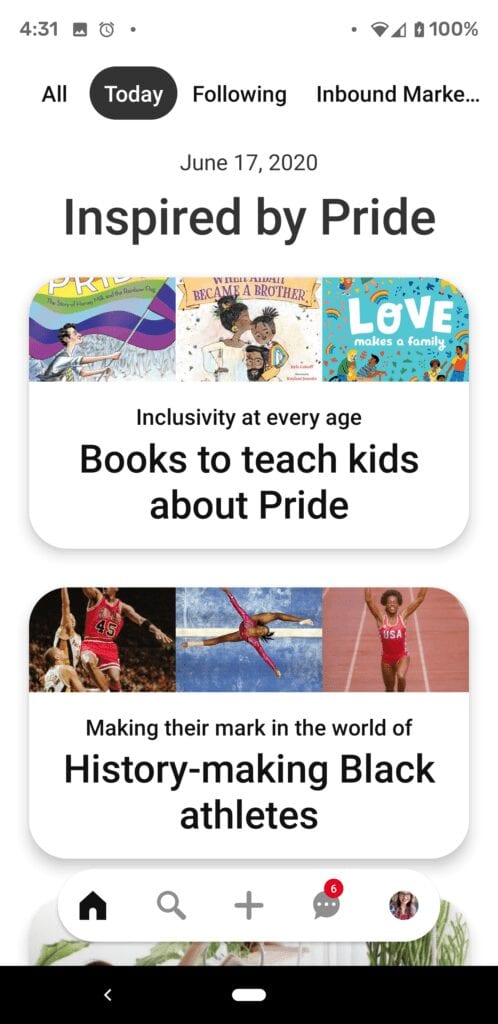 Related Pins
You know on Amazon when it shows you the "Frequently Bought Together" section on product pages? Well, related pins are like that…just on Pinterest. It shows users similar ideas and visuals to what they're currently consuming.
Pinterest Content Strategy
Here are a few quick-fire pointers to inform your Pinterest content marketing efforts. Focus on these and your results will improve:
Make sure your pins stand out – they must be eye-catching
Ensure your images/videos are super high-quality
Create content with your audience in mind (what do they want to see?)
Make new (i.e. fresh) pins for old content
Pin consistently (the algorithm rewards active users)
Find and incorporate relevant keywords in your profile, pin titles/descriptions, and board titles/descriptions
Do a combination of manual and automated pinning
Don't forget seasonality – publish content that relates to the time of year
Leverage analytics to find out what works and what doesn't
Pinterest Inappropriate Content
It's worth noting that not all content's permissible on Pinterest! Here's a list of topics to avoid at all costs:
Adult content
Misinformation (e.g. medically unsupported claims)
Hateful activities (e.g. trivializing violence)
Harassment (e.g. images intended to degrade someone)
Private information (e.g. private contact information)
Self-injury and harmful behavior
Graphic violence
There are many more! Check out the Pinterest community guidelines to see a full list of inappropriate content. Breaking these regulations can lead to your content being removed and/or your entire account being removed.
Pinterest Content Marketing Tips
In this next section, we want to answer some common questions people have when they first put together their Pinterest content strategy. Let's go…
Is It Worth it to Promote on Pinterest?
In a word, yes! There are a host of reasons why Pinterest can be a powerful addition to your overall marketing strategy.
Chief among them is that you can link directly to your website from each pin. Get ready for more traffic, leads, and (with any luck) sales.
How Often Should I Post on Pinterest?
Pinterest marketers have been asking themselves this question forever and a day!
There's still no accepted answer through. Some people pin a handful of times each day; others pin dozens of times per day.
The only point of agreement is that pinning daily is a good idea, but pinning too much (and by that we mean over 50 times) is bad. Looking for a sweet spot? Aim for 15 to 25 high-quality pins (going to relevant boards) and you can't go too far wrong.
Is There a Limit On Pinterest Boards?
Yes – but you'll probably never have to worry about it. Pinterest has set a limit of 2000 boards and 200,000 pins per user, which is an awful lot!
What Is the Best Time to Post on Pinterest?
Unfortunately, there's no clear-cut answer to this one. It depends! Everything from your niche to the location of your audience can impact when is best to post.
Having said that, some US-based creators claim that 0200 to 0400, 1400 to 1600, and 2000 to 2300 as delivering the best results. Want our advice?
Analyze your results. Try posting at different times of the day and tracking what happens. You'll soon start seeing patterns!
Do Hashtags Work on Pinterest?
Yes, they do. Adding a few hashtags to your pins can help people find your content on the platform. There's a "but" though…
While hashtags do a feature on Pinterest, they aren't as important as they are on other social platforms such as Instagram.