DISCLOSURE: This post may contain affiliate links, meaning I get a commission if you decide to make a purchase through my links, at no cost to you. Please read my disclosure for more info.
If you are at all familiar with Pinterest you probably already know that imagery is important to marketing on the platform, but what is the best way to use an image in marketing on Pinterest effectively? Enter Laura Rike with your guide to digital marketing images on Pinterest!
Branded Images
When you are considering marketing your brand on Pinterest, digital marketing images are top of mind. Because there are so many businesses using the platform for marketing, it is important to ensure that your Pinterest images include branding for your business. There are many ways to achieve this, starting with basic design concepts and expanding to the original content.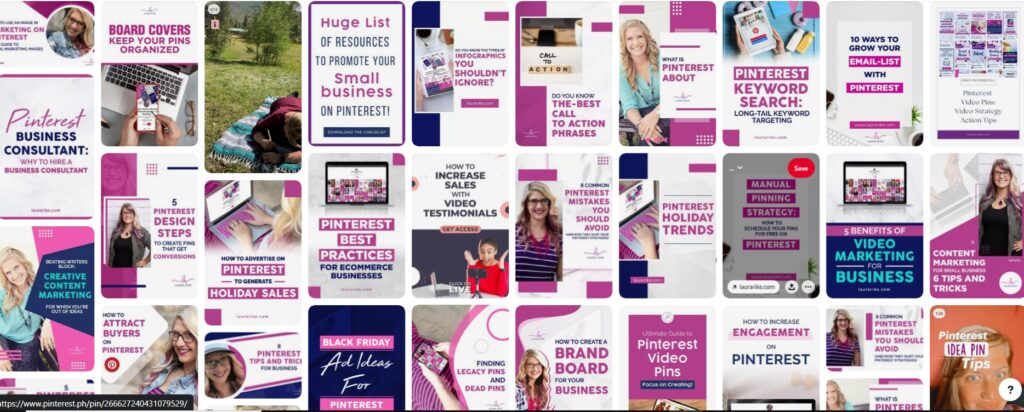 Begin by creating engaging content that incorporates the elements of design that identify your business. This might include colors or themes that match your business, bringing in your logo, or ensuring a consistent theme across platforms. For example, if your website is formatted with curved edges and bright colors, it wouldn't make sense to use hard lines or deep colors in your Pinterest images. The point is to communicate the personality of your brand within your content.
Email Marketing With Images
Did you know that you can incorporate the same image in marketing across platforms? The more marketing channels you use, the more customers you can drive to your website. Incorporate your Pinterest images into your email marketing campaigns to bring cohesion and continuity to your message. This may include providing links to your Pins with a sample Pin or adding a screenshot of your best board.
Social Media Marketing With Images
There is no denying the power of social media marketing in the digital world today. As a business owner, it can be useful to leverage social media to create a network of credibility for your brand. You can share links to your social media pages on your Pinterest page.
It can be a good idea to create variety between platforms. Give your customers a reason to view your Pinterest page through social media links. For example, if you have a presence on Facebook, you can share the cover image of your Pinterest content with an engaging hook that will drive customers to the Pinterest page. Then, provide the meat of the content on the Pinterest page. You can also add infographics or other digital marketing images that are exclusively on Pinterest. The more engagement you can create across platforms, the better.
Infographics
Finally, use infographics to improve the credibility of your business. Customers love to see data, but they don't want to have to search for it. Infographics provide an engaging solution to create informative communication with your customers.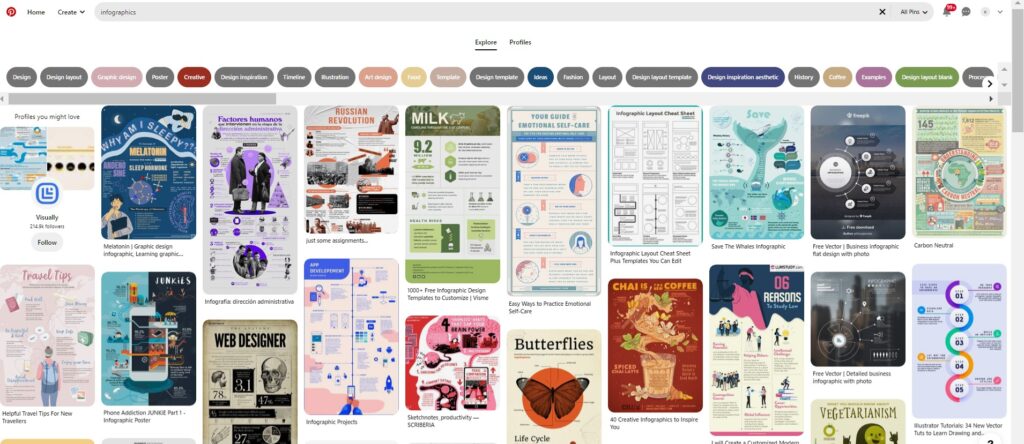 Infographics use images in marketing to inform customers of relevant data, general statistics, or metrics that speak to your clients. Any industry can utilize infographics for this type of marketing. For example, a gardening company could use infographics to communicate the benefits of different types of fertilizer while a finance company may use them to illustrate customer satisfaction with their products.
Now that you have an idea of what types of digital marketing images to use on Pinterest, you are sure to boost your visuals to speak to your customers!