DISCLOSURE: This post may contain affiliate links, meaning I get a commission if you decide to make a purchase through my links, at no cost to you. Please read my disclosure for more info.
Of the many debates that rage online about Pinterest best practices, there's one that stands out from the crowd:
Manual vs scheduled pinning.
Or, more specifically, whether one approach achieves better results than the other!
This can be confusing for newbies to the platform. With some Pinterest users advocating passionately for manual pinning and others who claim scheduling's the secret to success, it can be hard to know which tack to take.
In reality, there are pros and cons to either approach! That's why we recommend having a strategy that leverages both.
With this in mind, today we'll be talking about your manual pinning strategy while also offering some key insights to help you experiment with scheduling (without having to spend a cent!). Sound good?
Let's dive in.
What is Pinterest Manual or Live Pinning?
Manual pinning (also known as live pinning) is when you're on the platform, actively pinning and repinning content to your personal or group boards on a regular basis.
You could be pinning content from your website or someone else's, or uploading new images directly onto Pinterest. In either case, you're the one doing the work! Like taking a postcard and sticking it on the notice board in your kitchen, it's a manual process that involves your input.
Setting Up Your Pinning Schedule and System
What is a Scheduled Pinning Strategy?
A scheduled pinning strategy is the opposite. Rather than being on Pinterest and adding each Pin yourself, you employ a scheduling tool/service to do everything for you automatically. The tool pins the content you want, at the time(s) you tell it to.
This means you can "set it and forget it", ensuring you pin a specific number of Pins to your boards each day with minimal effort. In this instance, it'd be like asking someone to stick that postcard on the noticeboard for you at a particular time of day, while you got on with other things!
How to Schedule Your Pins on Pinterest for Free
When most Pinterest users think about scheduling Pins, they think about paid platforms, like Tailwind (more on these a little later). However, you don't have to spend money to experiment with a scheduled pinning strategy!
Thanks to Pinterest's very own Pin scheduler, you can do it for free.
You'll need to set up a business account to use this feature. From there, though, you're able to schedule up to 100 pins up to 2 weeks in advance (in your current time zone), whether you're on the Pinterest app or on your desktop.
The process is really easy.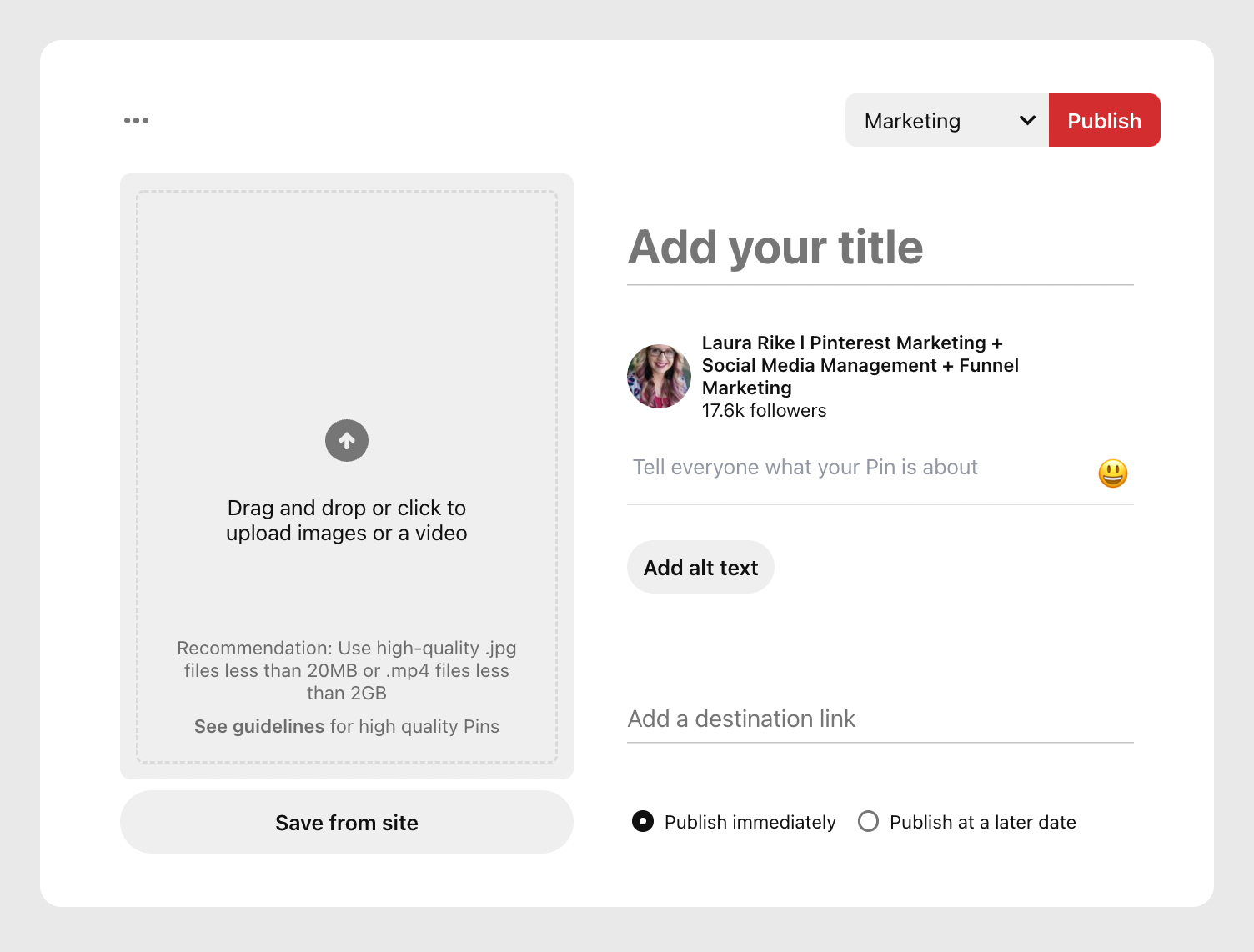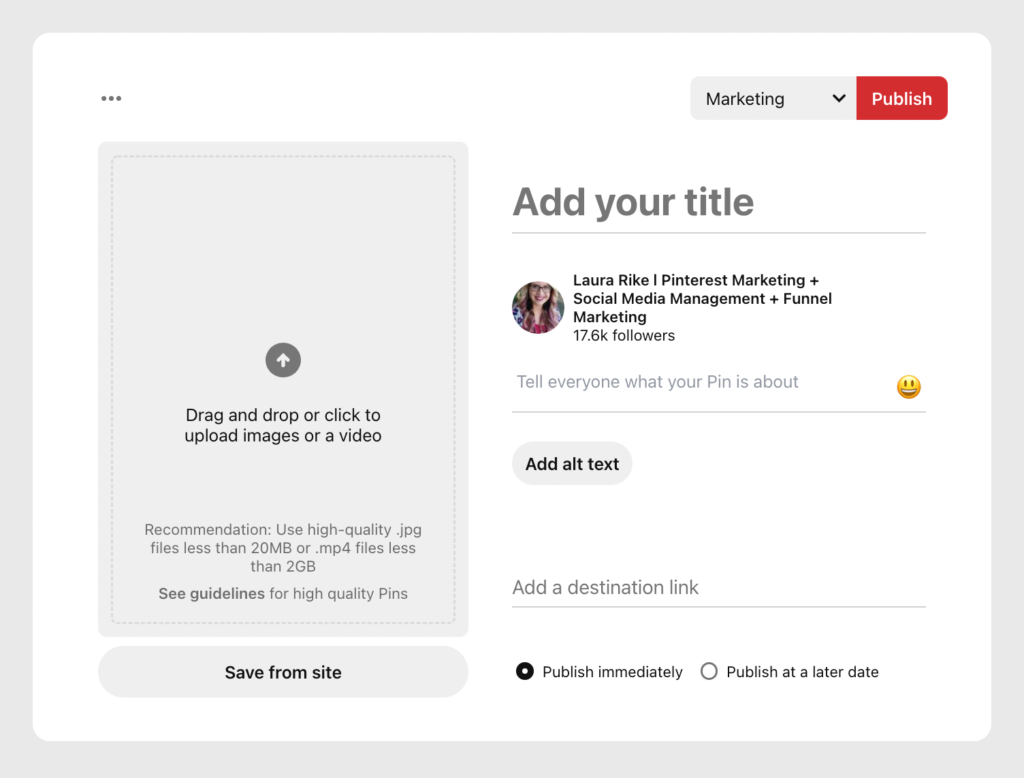 Having logged in, you hit "Create" and "Create Pin" as normal. After uploading your content, picking a board for it, and adding all the usual details (i.e. a title, description, and link), you select "Publish at a later date". Finish by choosing the date and time you want it to land on the platform and hitting "Publish".
The Pros and Cons of Manual Pinterest Pinning Strategy
As we said in the intro, both manual pinning and scheduled pinning have upsides and downsides! In this section, we'll explore those relating to a manual pinning strategy in comparison to scheduling.
The Pros
You Understand the Platform
Manual pinning's the way to go if you want to understand the ins and outs of Pinterest. Ideal for anyone who's new to the platform, you'll learn the different processes involved, the types of high-performing content other people are posting, and the topics that are currently trending. Ultimately, you'll discover what works and what doesn't.
The Pinterest scheduler may be free, but most tools of this nature are not! Manual pinning doesn't cost a dime. You can pin as much as you like, without having to dip into your marketing budget. That's good news for anyone who isn't quite ready to invest hard-earned cash in their business.
You (Might) Get Better Results
Many Pinterest users (both new and experienced) claim to achieve better results (e.g. greater reach, engagement, and link clicks) from a manual pinning strategy versus relying exclusively on scheduling tools. In truth, all sorts of variables could explain this- from simple luck to piggybacking on a trending topic.
The Cons
Without a doubt, the single greatest disadvantage of manual pinning is that it's time-consuming! You can spend hours each day researching relevant topics, creating new pins, pinning them to multiple boards, and repinning other peoples' content. It's far more stressful than scheduling tools, which allow you to pin content on autopilot for days and weeks on end.
The Scheduled Pinning Tools
Pinterest Pins Schedulers
Want to experience the convenience of scheduled pinning and/or experiment with a new pinning strategy? The following online tools will help:
Tailwind is the most popular Pinterest scheduling tool available and the only approved Pinterest partner. Versatile and powerful, it boasts an array of useful features as well as analytics to help you track results. You can also team up with other creators via Tailwind communities.
The Free Forever plan lets you schedule 20 pins each month and partake in 5 communities. That's great for trialing the software, but it isn't many pins! To access more, you'll have to upgrade to a paid plan.
Unlike Tailwind, Buffer's neither an approved Pinterest partner nor purpose-built for the platform. It offers a highly-rated scheduling tool, but it can also be used to schedule posts to other social media platforms, such as Facebook, Twitter, and LinkedIn.
Buffer lets you schedule up to 10 Pins in one go and offers 2 strategies to do so: from your website via the Buffer Chrome extension and the scheduler on Buffer itself.
What to Pin for Optimal Growth
Focus on Fresh Pins
Whether you use a manual pinning strategy or a scheduled one, it pays to know what types of Pins work best! These days, fresh content is essential.
Regardless of your niche, repinning your old Pins over and over is unlikely to deliver the results you need. Try creating multiple Pins for each blog post and brand new Pins for older content that's been gathering proverbial dust on your boards.