DISCLOSURE: This post may contain affiliate links, meaning I get a commission if you decide to make a purchase through my links, at no cost to you. Please read my disclosure for more info.
Have you been wondering how to conduct a Pinterest account audit? Wondering what the benefits of having quarterly pinterest account audits are? If so, this blog post is for you!
A Pinterest account audit is a great way for any business to make sure that they are maximizing their time on the social media platform. It's also great for ensuring that your pins are optimized and not spammy. In this post, we will be discussing everything that you need to know about Pinterest account audits and the benefits they bring.
In December, we did an account audit for Judith & Charles and found several areas for improvement, including:
Archiving older boards that were no longer helping the brand
Updating the keywords used to target their ideal audience
Optimizing the Pin descriptions with the new keywords
By the end of December, we saw a great improvement in their impressions and traffic from Pinterest to their website. The numbers continued to rise in January.
What is a Pinterest audit?
At its most basic, a Pinterest audit is a way for you to take a step back and look at how your Pinterest account is currently performing. It's a good idea that should be done about once every three months, depending on the size of your following.
Why do you need to do a Pinterest account audit quarterly?
The primary reason to conduct a Pinterest audit is to keep a track of your progress and make sure that everything is going well with your Pinterest account. It's important to regularly audit yourself because it will help you identify bad pins, follow through on ideas for improvement, and stay focused as you work towards growing your following.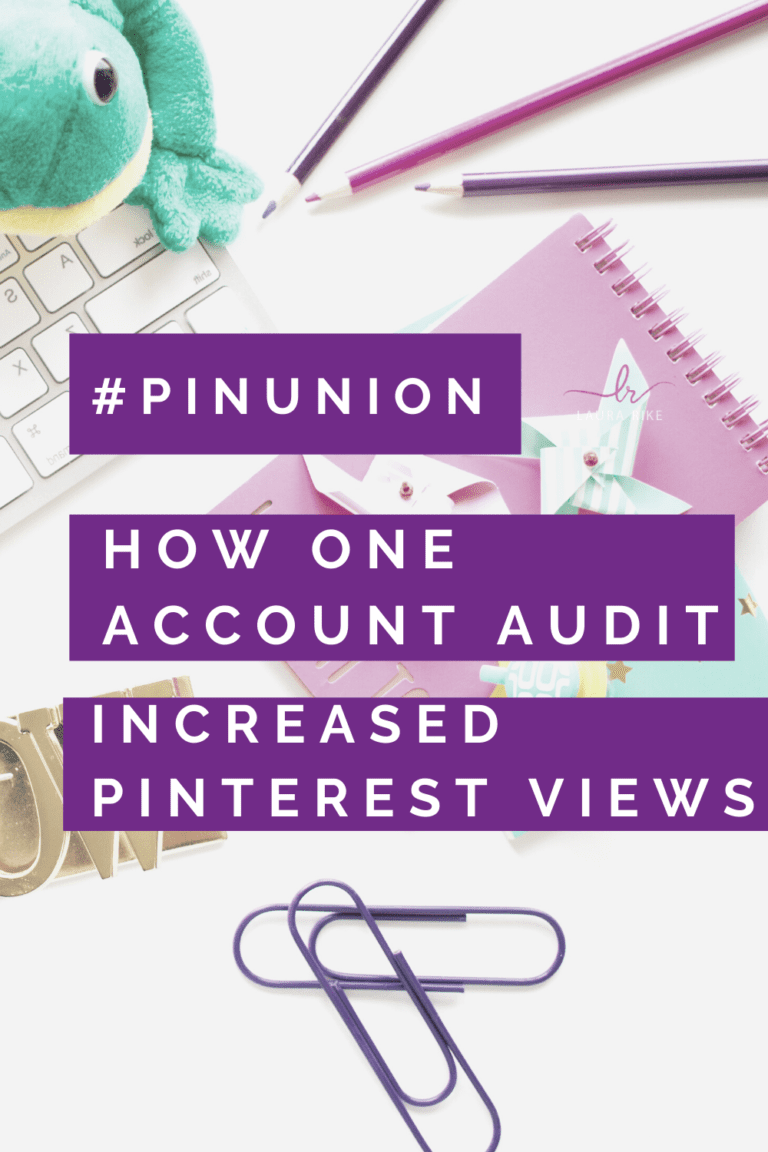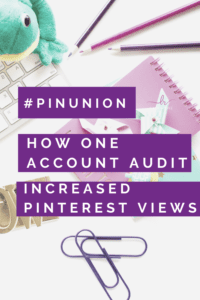 Pinterest audit checklist and how to conduct an audit with it?
To make conducting your Pinterest Audit easier, we've put together a quick checklist of what you need to do during your quarterly audit. This will help you stay organized and on track during the process.
1) Review the content of your boards
Look through your boards, and make sure that everything is up to date. If you see something that's no longer relevant or hasn't been repinned in a while, then either replace it or update it
2) Check your follower list during your Pinterest account audit
Make sure that your follower list is current and complete. If you have any dead or inactive accounts, then remove them
3) Review your following list
As with your followers list, you'll want to go through the people you're following and remove any dead or inactive accounts.
4) Make sure you have boards set up properly
Your boards can be set up in a variety of different ways and how they are set up should reflect the purpose of the board.
5) Look at analytics data
Pinterest analytics is an excellent way to check the demographics of your followers and how your content and pins are being received.
6) Optimize images by checking them against best practices
Optimize your images for Pinterest best practices so that they are being seen to their full potential.
How to improve your Pinterest marketing with an account audit?
A regular audit of your Pinterest account will help you to improve your marketing on Pinterest by assessing and improving upon the following:
Your content and images are of the best possible quality.
You are only following, and being followed by, active accounts.
Your pins and marketing are connecting with the right audience.
Your boards are set up to best suit their function.
A Pinterest audit is like taking your car in for a maintenance check-up. Doing it regularly keeps things running smoothly and prevents problems that might come up later.
Our Organic Agency December 2020 Stats:
Monthly Views: 27,882,580
Impressions: 64,199,030
Saves: 377,591
Clicks: 659,268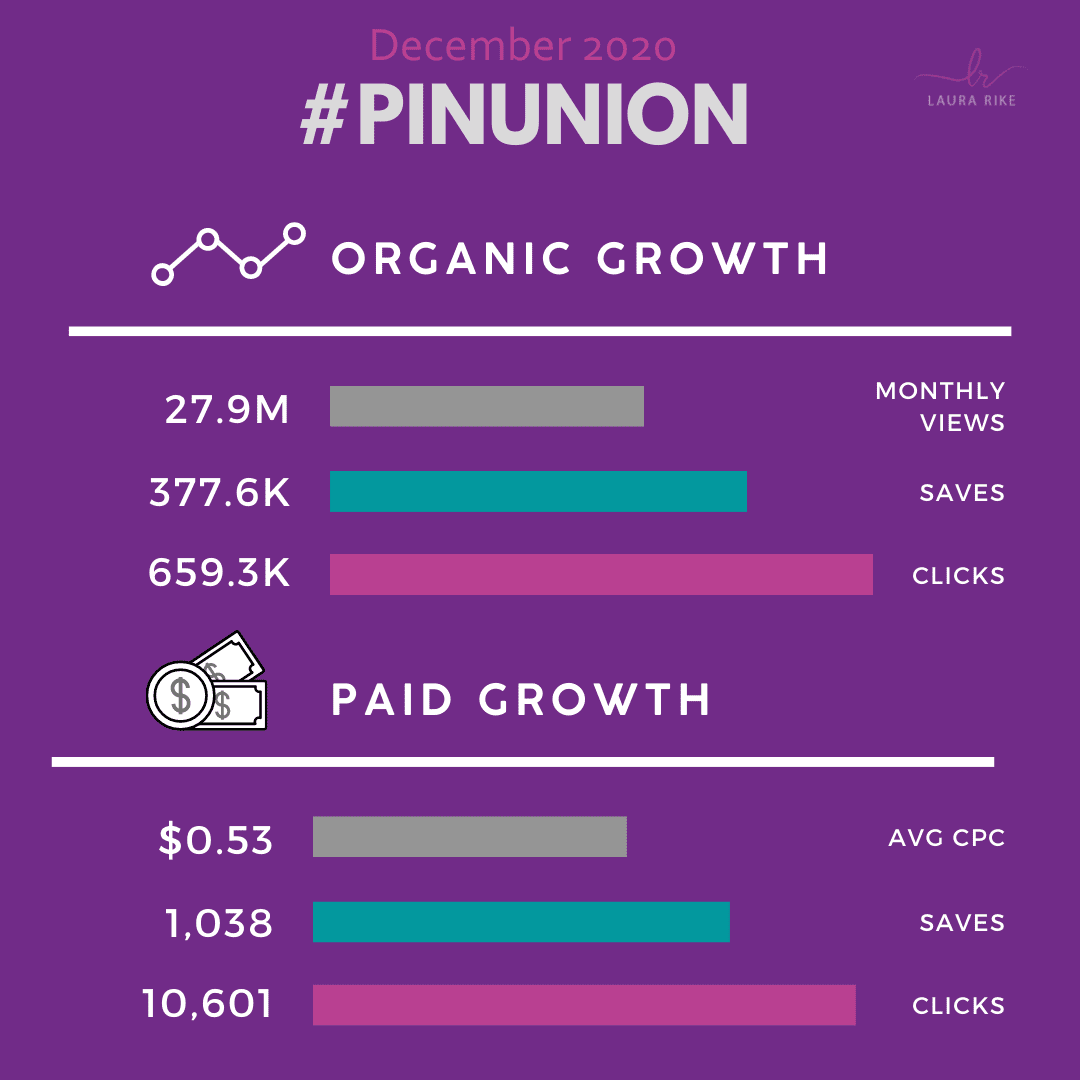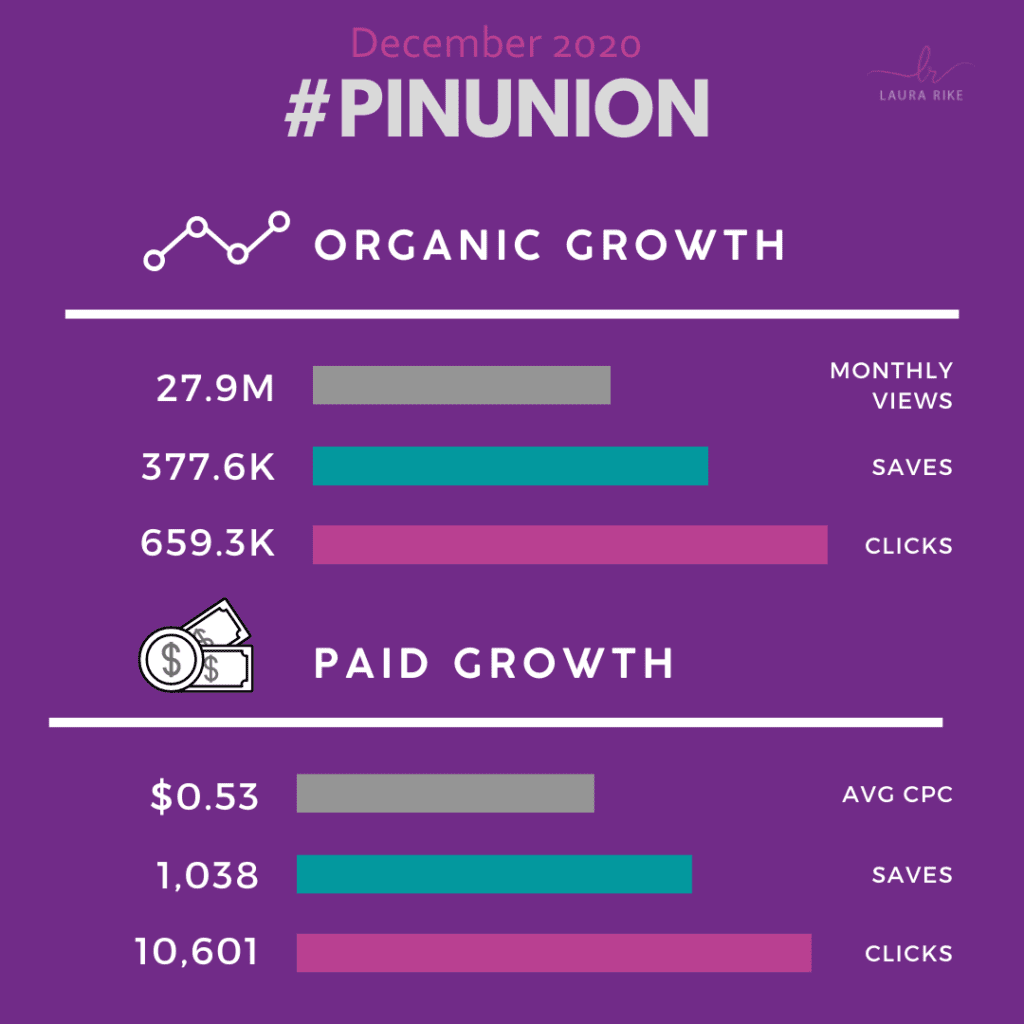 For Paid December 2020:
Impressions 856.658,
Saves 1,038
Clicks 10,601
Avg. CPC $0.53
Avg. CPM $4.93
Full Month Ad Spend: $3,744