DISCLOSURE: This post may contain affiliate links, meaning I get a commission if you decide to make a purchase through my links, at no cost to you. Please read my disclosure for more info.
Pinterest is a visual discovery tool that lets users connect with other users, discover new content of interest, pursue fashion styles, redecorate their interiors and create new hobbies by following various boards that use Pinterest categories to organize them all. The platform has more than 100 million users and 50 billion pins to date.
While Pinterest has a helpful categories page on its website, not all of these categories show up in your Pinterest feed. In fact, there are only a few categories that you see organically. Read on to learn more about Pinterest categories and how to use them to improve your user experience.
What Is Pinterest Interest?
While browsing on Pinterest, you might come across what appears to be a list of pins from People interested in the topic. Interests are a new feature that Pinterest has added to its platform. These interests can be "added to your account" or "given to your friends". Once there's an additional interest created, members will start to see related content in their feed.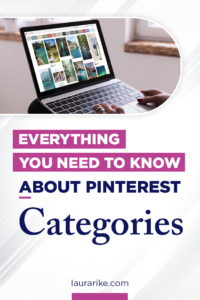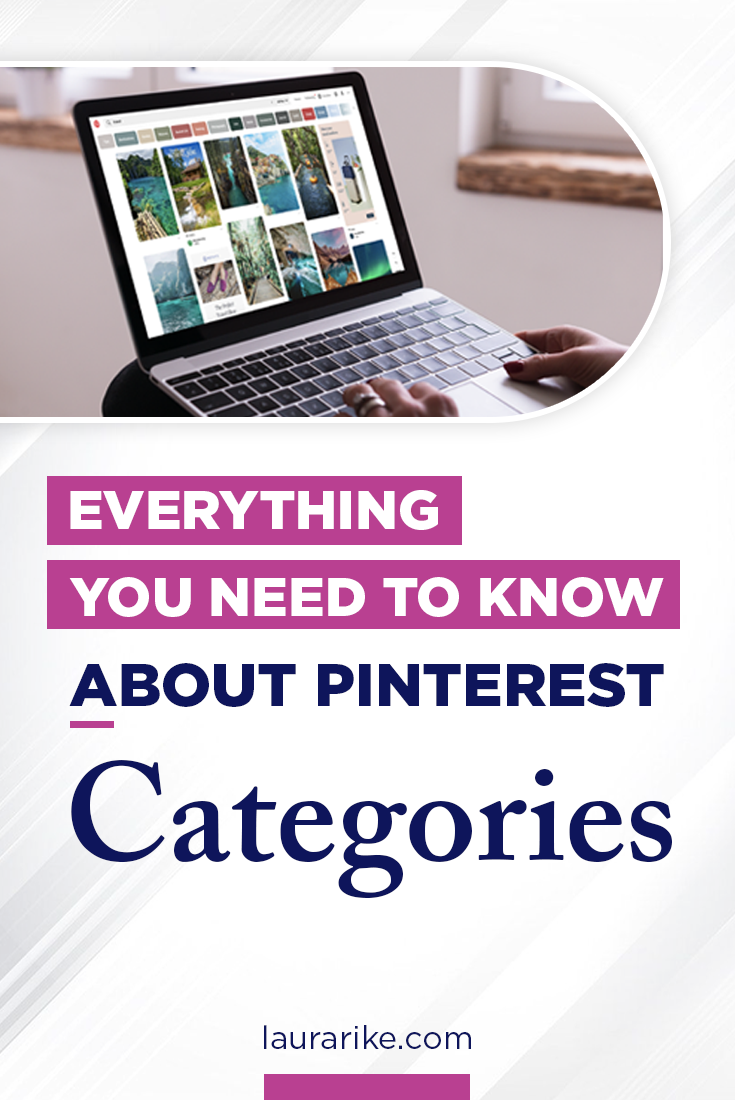 What Are Pinterest Categories?
A category is a board on Pinterest that displays related pins. If you are familiar with Twitter, a board would be like a Twitter list. There are currently 21 categories, each full of pins. Below is a sample of how Pinterest lists them. Check out the complete list here.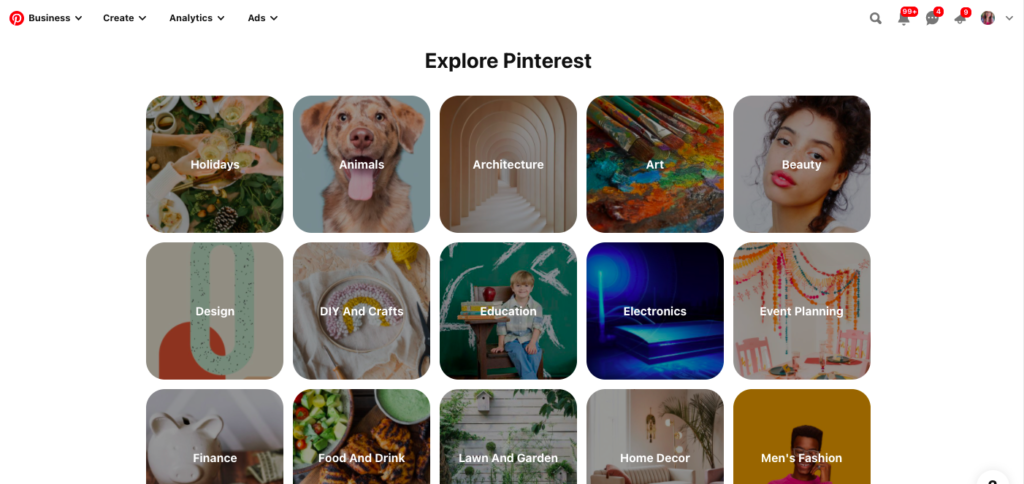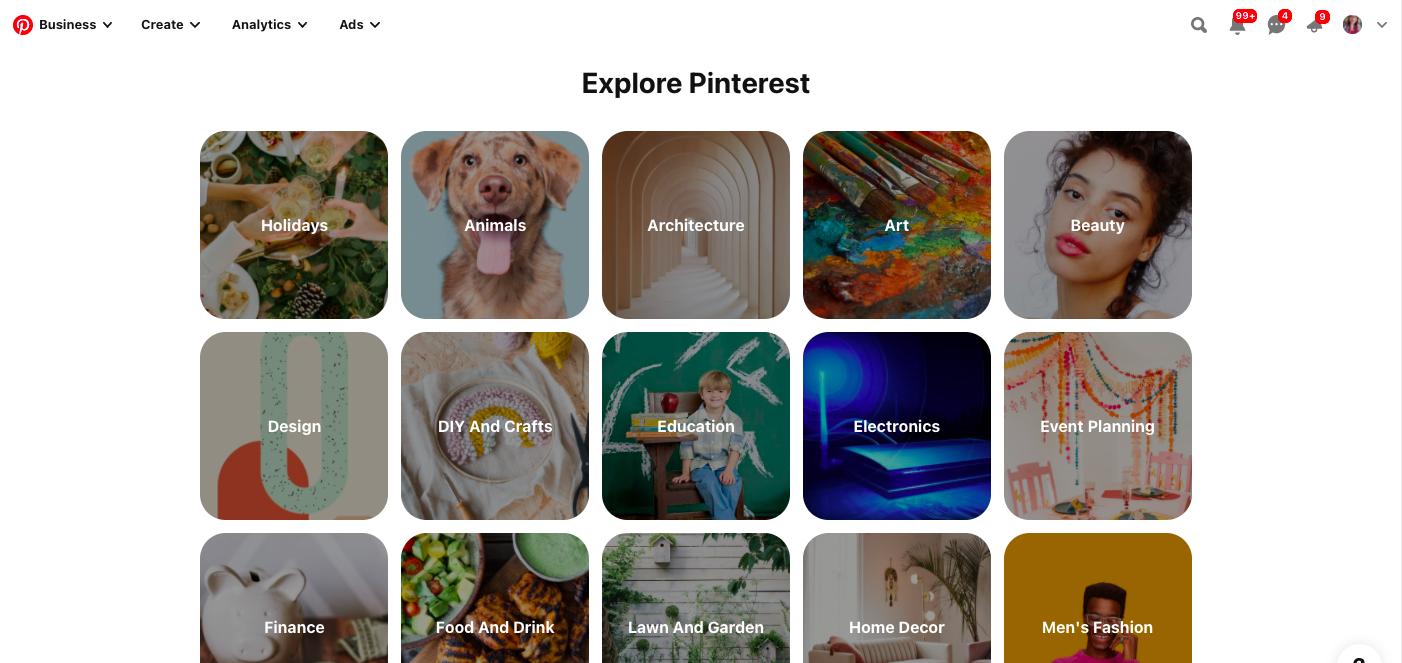 Highest-Ranking & Most Popular Pinterest Categories
Pinterest's most popular categories change constantly. Below are the highest-ranking categories so far this year. Other than Pinterest everything category which is diverse, this list is data from the number of people who have saved specific things to their Pinterest boards.
Home Decor
DIY And Crafts
Women's Fashion
Food And Drink
Quotes
Lawn and Garden
Travel
Photography
Weddings
Education
Here's how to locate a list of Pinterest board categories on different platforms.
1. Using The Desktop Version
If you open a pin on the desktop, you can sort by dropdown list and choose a category by clicking on the row's heading. This is very different from how searching works on a mobile site.
2. Using The Mobile App Version
On mobile, you have to tap on the little X next to the board name. This will bring up a window that lets you choose options for All or Pinterest. You can also navigate categories by using the menu option at the top right.  Once you have found a category, click on it to get started.
Why You Should Care About Pinterest Categories
Pinterest is actually a pretty good tool for generating traffic to your website. It's great for driving both paid and organic traffic. This is because you can target specific demographics with the help of Pinterest categories.
Each Pinterest board has a specific theme. Therefore, certain boards are more relevant to particular markets. For example, if the Pinterest board for fashion is all about beach clothes, you're going to want to post items and pictures related to that theme. You can target different markets with the help of Pinterest board categories.
When you learn about various Pinterest boards, it becomes easier to select the one that best fits your needs.
Optimizing Your Pinterest Boards for Success
It's easy to get bogged down by how many boards you have created or how many categories you might have a chance at. However, not all boards are similar.
Different boards have different levels of interest and utility. So how do you decide which boards to promote and maintain? By using these ​tip​s, you'll learn how to optimize your Pinterest boards for success.
5 Tips and Tricks for New Pins
Tip 1:
Use this Pinterest "board optimization" checklist to list off each board as you create it. You can update these as needed as you expand your Pinterest site. You may find these tips helpful when creating new boards too.
Tip 2:
Don't get too hung up on specific boards. Pinterest displays boards in a SERP order. If desired, visitors can reorder boards based on their interest level. Thus, it's often unnecessary to put too much effort into creating new boards for your business. That's if you don't plan on using them as primary channels for distribution. Instead, focus on creating "interesting" boards. Then link them to other pages on your website, and rely on images and video to look into your audience.
Tip 3:
Each board has a unique set of rules about how you can use the pins. By convention, the most important thing you need to know about a Pinterest board is the "kind" of pin that it contains. You can determine this by the header text at the top of the board and informs other users what content is doable on the page.
Tip 4:
Pinterest often showcases insights into niche topics. This can provide definite ideas on how to promote certain products. You can view the insights from their analytics page.
Tip 5:
Get creative with your pin shapes, sizes, and colors. Often, pins that are highly viewed will be the most highly re-pinned. The trick is to find consistent, powerful topics that people will relate to as being similar to.
How do I find categories on Pinterest?
Answer: From the Pinterest homepage, you'll see a navigation bar on the left side of the screen. Click "Explore." This will take you to a scrollable list of categories that are popular on Pinterest with smaller icons towards the bottom that allow viewers to jump directly to more specific types within them. These can be narrowed down by rating or search.
You can also filter boards and pins by type (e.g., fun boards, food pins) from this part of your home feed as well as following other users in order to explore their individual boards that they've created for different topics related to your interests or ideas for things about which you're curious if others have found success with one way or another.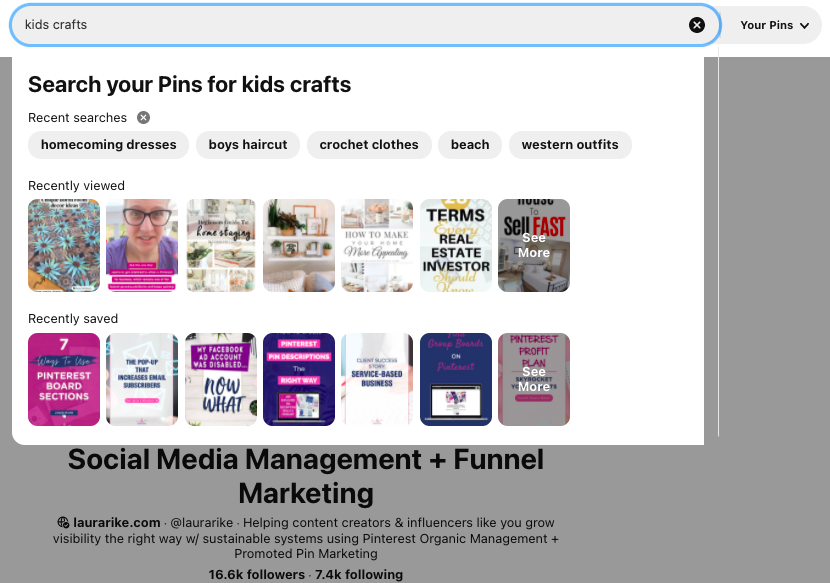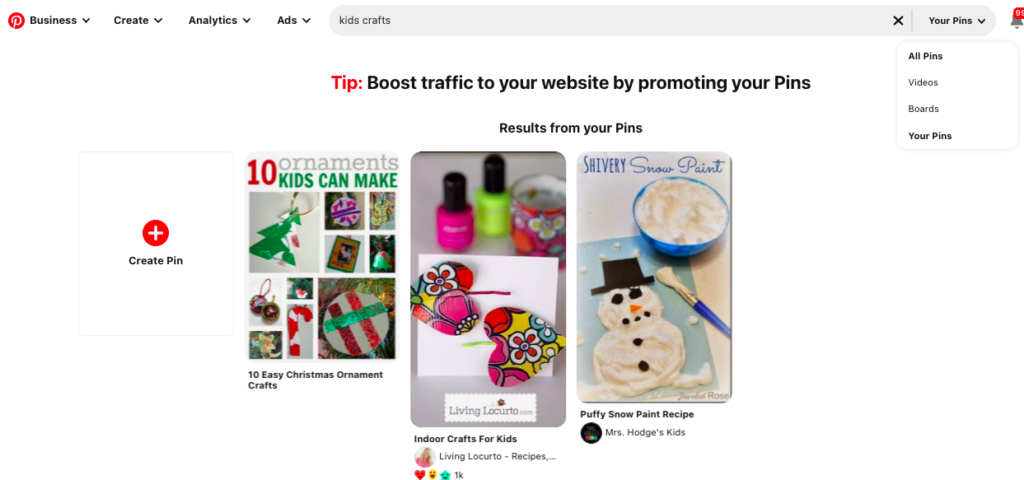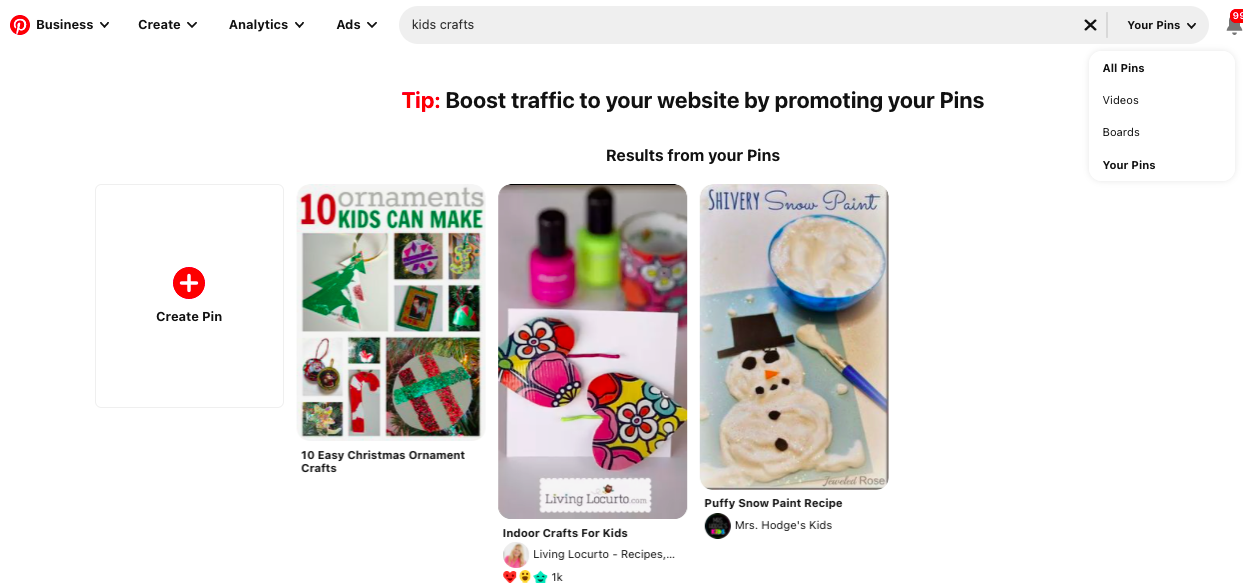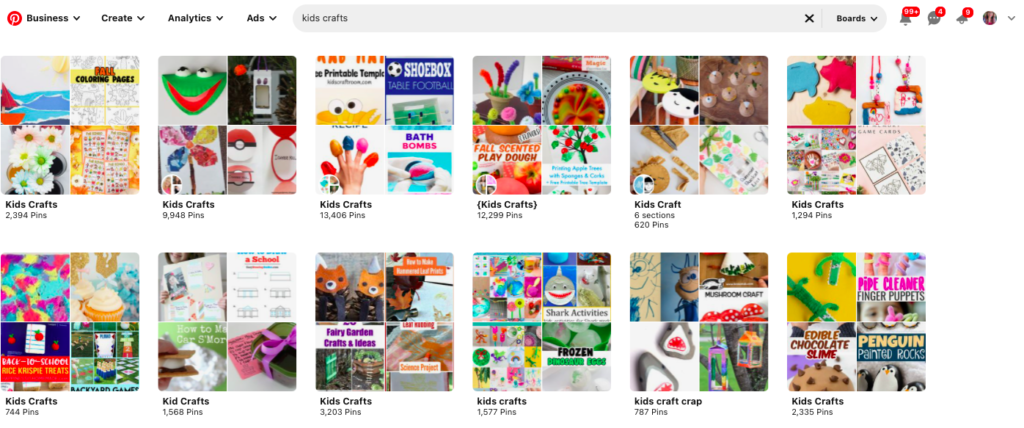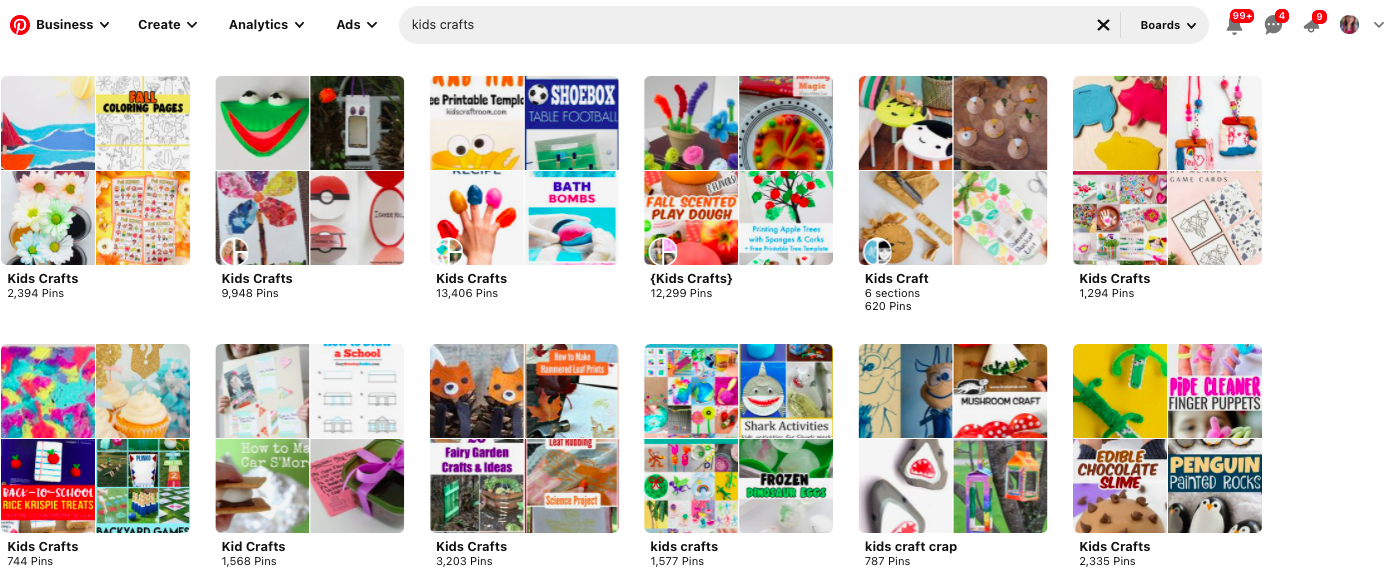 How do I add categories on Pinterest?
There used to be a categories menu to search with on Pinterest, but that is gone now. Pinners can only use search bar on Pinterest web or the mobile app – shown in the above images.
Need More Tips?
Pintastic Rockstars is a step-by-step guide to building an empire with Pinterest. You can learn how to direct traffic to your site with Pinterest and also how to scale it easily with valuable tips and tools.