DISCLOSURE: This post may contain affiliate links, meaning I get a commission if you decide to make a purchase through my links, at no cost to you. Please read my disclosure for more info.
Pinterest is an excellent way to drive traffic to your website and convert its 454 million monthly active users worldwide into a whole new audience for your content or potential customers for your goods and services. However, Pinterest traffic doesn't just magically translate into followers on social media or email subscribers, both of which are super important for growing your business. The good news is that there is a tool available that can help you do exactly that. Enter MiloTree!
What Is MiloTree?
Simply put, MiloTree is a pop-up tool that encourages visitors to your website to follow you on social media, Pinterest, join an email list, or like a Facebook page. It's a simple and easy to implement way of passively turning the traffic that is directed to your website into followers on social media or additions to your mailing list.
Milotree has a set of website pop-ups you can use to show targeted messages on your site. The company offers multiple types of pop-up windows and banners for various uses. For instance, there are slide in or fade in sidebars that help draw attention to your message while visitors browse your pages; fly out notifications to get your visitors' attention quickly; and exit pop-ups to capture the email addresses of people who are leaving without signing up.
You can also use milotree's webinars, video ads, or welcome mats for more ways to keep your website fresh with engaging content while staying top-of-mind in a subscriber's mind.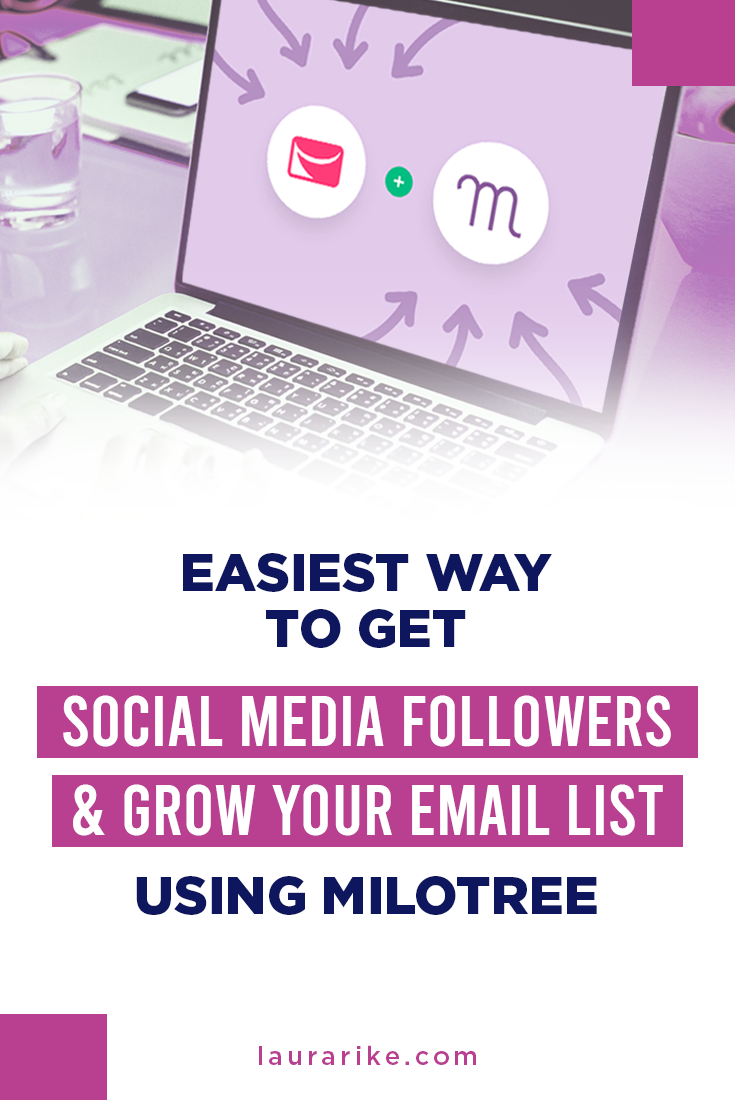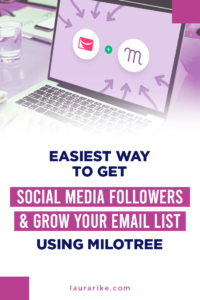 Why Do I Like MiloTree?
I love milotree popup program because it helps me do work in a more efficient way. It's so simple to use milotree popup. I just create my menus, add my links, and it takes care of the rest. milotree popup has features that are really helpful, like tracking your visitors and automatically collecting emails. milotree also lets you set up exit popups which is a really great way to promote something you're selling or offer an incentive for email sign-ups. milotree is definitely a website pop-up software worth checking out!
There are a whole range of reasons to like MiloTree, but some of the most compelling are:
It's an excellent way to grow your email list and social media followers by taking advantage of the traffic sent to your website through Pinterest.
It's unobtrusive and not pushy, in the way that some pop ups can be.
It can be used to increase your conversion rate on ecommerce platforms like Shopify or Etsy.
It's easy to install, easy to use, and the dashboard is very easy to navigate.
It comes with a range of analytics you can use to optimize your website.
What Can You Do With MiloTree?
The primary thing you can do with MiloTree is save time.
If you're running a business, time is money and MiloTree means you don't have to spend hours each day on Facebook groups and social media platforms trying to get likes or signups.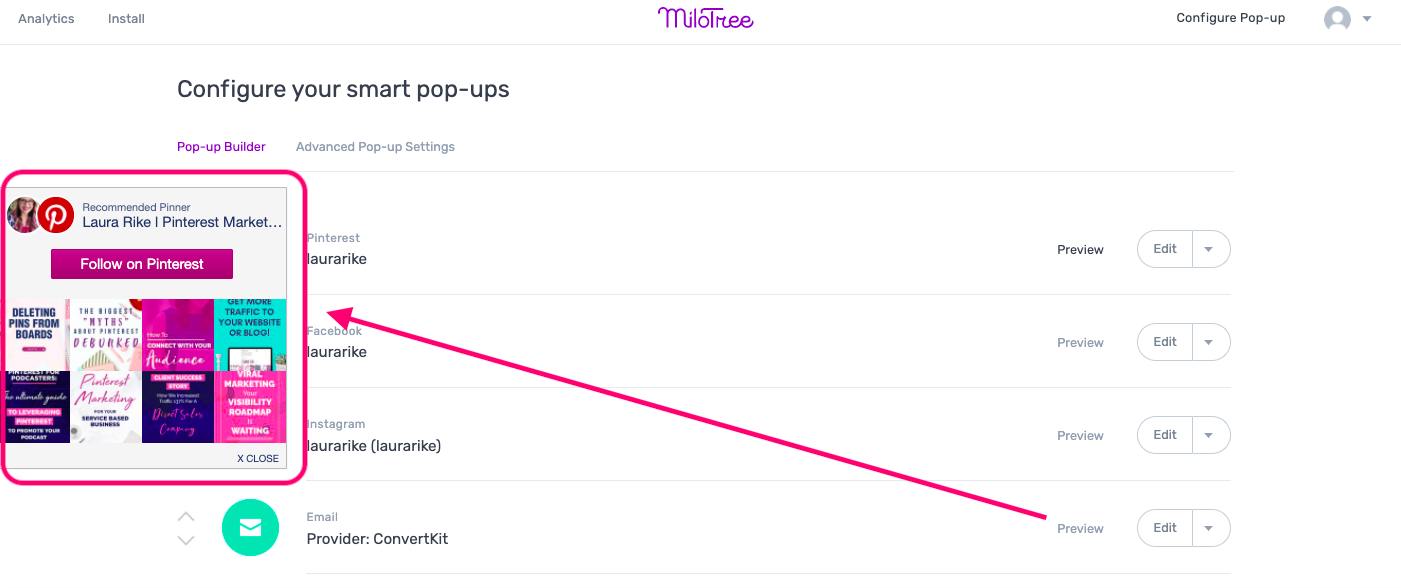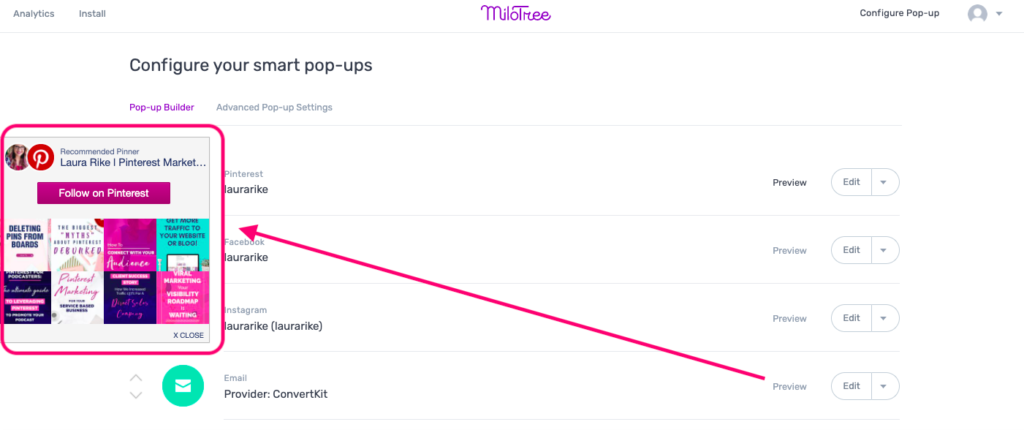 MiloTree allows you to use the traffic that is already coming through your website to passively boost your social media following and fill out your email list while you concentrate on other business critical tasks.
Essentially, MiloTree takes all the efforts you are putting into generating increased traffic for your website, through social media, marketing, and ads, and converts that traffic into new social media followers, new Facebook page likes, and new contacts on your email list, without needing any oversight.

All you need to do is sit back and let it work!
What Services / Accounts Can You Use With MiloTree?
MiloTree can be used with a range of different services and accounts, including:
Pinterest
Youtube
Facebook pages
Instagram
An Email List
Etsy Shops
Shopify Stores
What Settings Can You Control?
MiloTree.com also gives you complete control over the messages you want to show and timing. You can choose the time intervals at which pop-ups appear, modify the timing of each window, and set milotree to display messages for visitors who have been on your site for a couple of seconds or those who have visited it multiple times.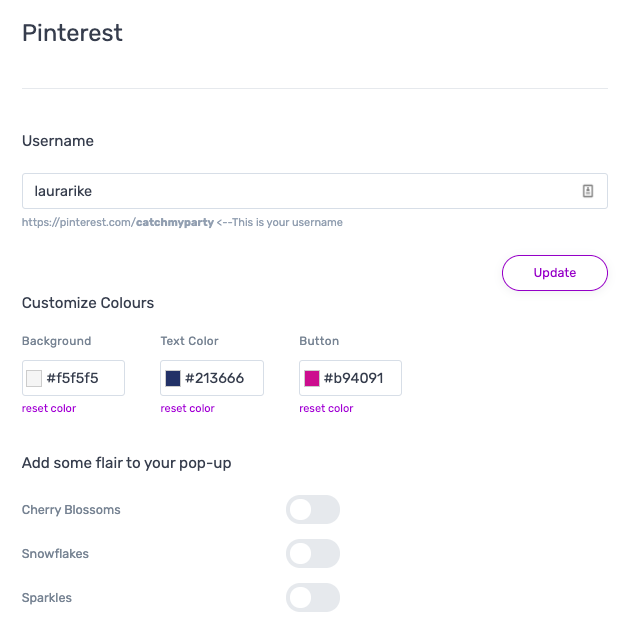 Customizing milotree features is an easy way to make sure your messaging is tailored to suit your needs and your website visitors. Just a few of the ways in which you can customize the popup are:
Customizing how the fill-in form appears with your brand's colors.
Determining where the pop up appears on your web page.
Customizing how often the pop up appears.
Set specific URLs that won't show the pop up.
Determining whether the popup will appear immediately or after the visitor has started scrolling through your site.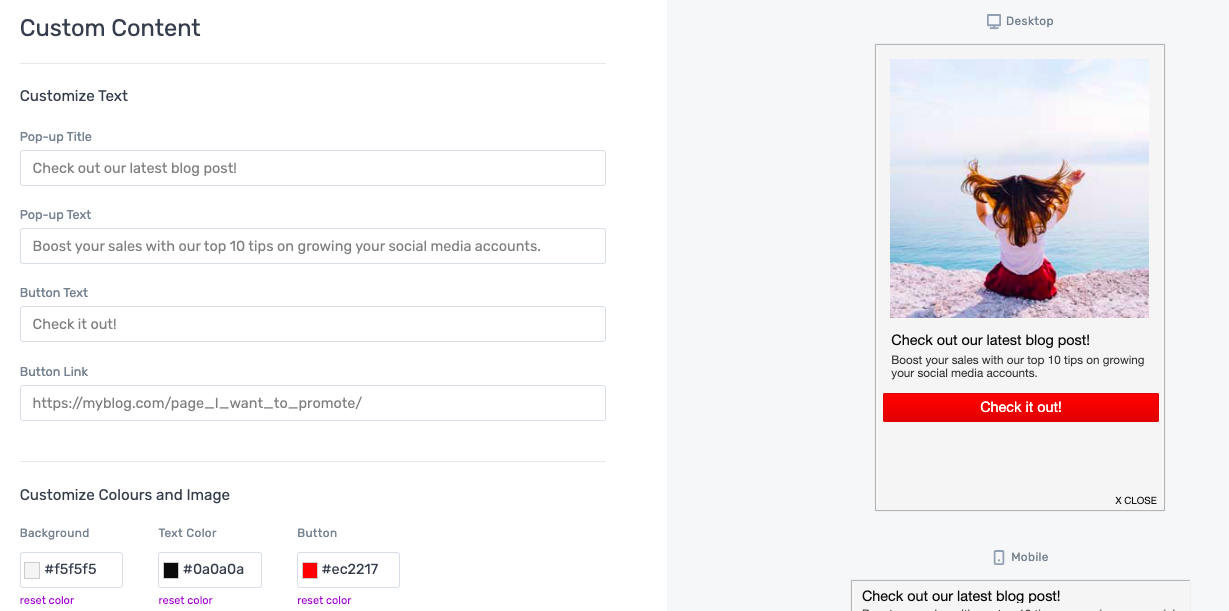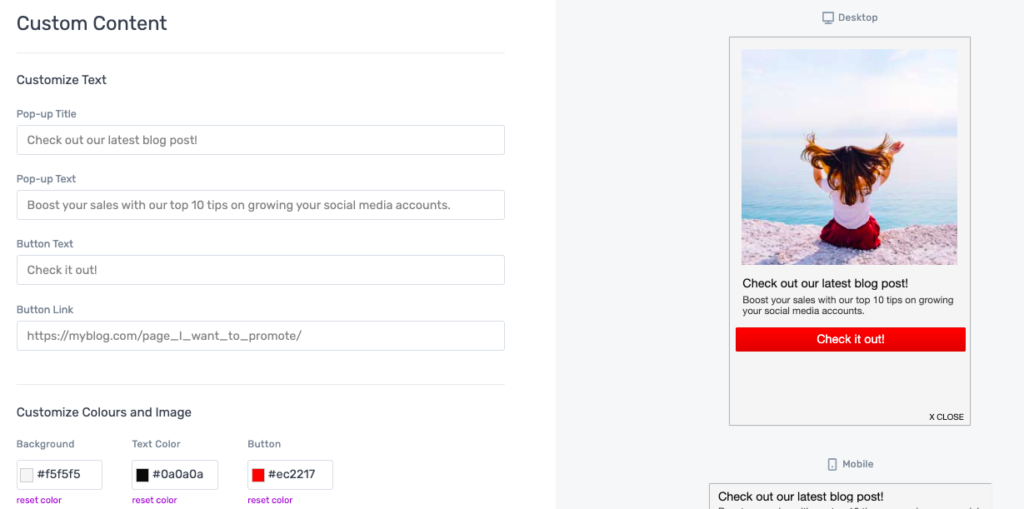 Setting Up MiloTree
How Do You Install MiloTree?
Installing MiloTree is as simple as creating a new account, linking your social media accounts to it and then installing the MiloTree Plugin. Navigate to the milotree.com website and select an account type to get started.
Installing the MiloTree Plugin
The WordPress MiloTree Plugin can be downloaded and installed directly for WordPress. Simply download the plugin and then, on your dashboard, select Plugins – Add New – Upload – Activate to install it.

If you're using another platform, you can find detailed instructions on how to install the pop up as a line of Javascript.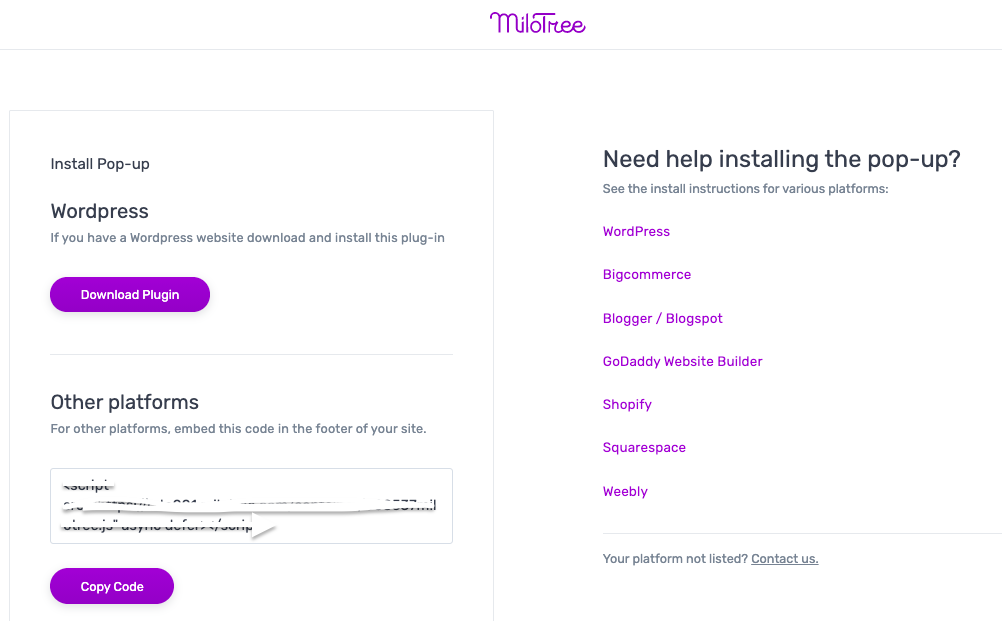 How Does MiloTree Look on Mobile?
Milotree is fully mobile optimized, using a smaller Google-friendly, popup for mobile users and a larger one for desktop users. MiloTree renders great on mobile devices. We have a responsive design, so you'll never be left with a milotree pop-up that don't work on your screen size. Load times are also fast, making it perfect for people on the go!
How Do You Get Free Followers With MiloTree?
MiloTree helps you gain free followers by passively converting the traffic to your website into new social media followers or additions to your mailing list.
Typically you would have to pay a lot money for advertising to get more followers and leads. With this platform, you get followers without having to spend a dime on advertising. The pop-up entices your blog readers to sign up and follow, instead of reading and leaving.
How Does MiloTree Help Grow Your Pinterest Page?
When visitors scroll through your website, the MiloTree popup will actively encourage them to subscribe to your Pinterest page.

This creates a positive circle in which your Pinterest content sends visitors to your website and MiloTree convinces them to follow your Pinterest page and other social media accounts.
How Does MiloTree Help Grow Your Facebook Page?
As with your Pinterest Page, the MiloTree can be set to ask you visitors to like your pages on Facebook, taking advantage of your pre-existing traffic to grow the number of followers your pages have on Facebook.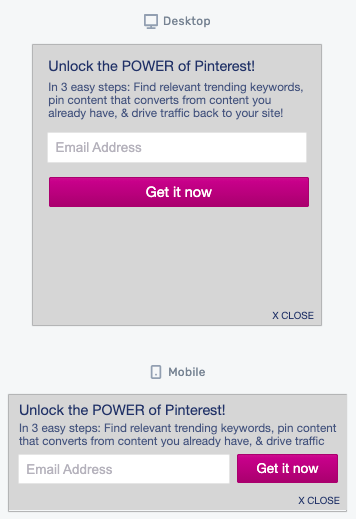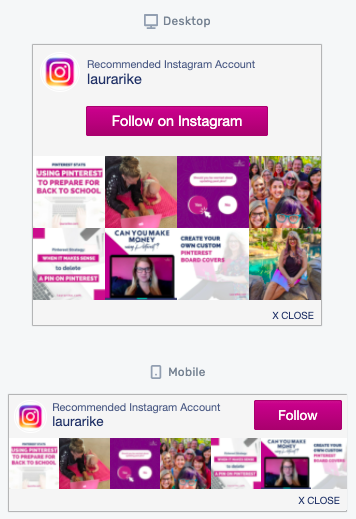 How Does MiloTree Help Grow Your Email List?
Instead of, or as well as, directing visitors to follow your social media pages and account, MiloTree can also ask visitors to sign up for your mailing list.

This means MiloTree acts as a form of lead generation, collecting contact information from visitors that you can then use in your marketing efforts later.
MiloTree Integrates With the Following Email Providers
As part of growing your email list, MiloTree Integrates with the following email providers
ActiveCampaign
AWeber
Campaign Monitor
Constant Contact
Drip
FeedBlitz
GetResponse
GoDaddy Email Marketing
iContact
Infusionsoft
Mad Mimi
MailChimp
MailerLite
ONTRAPORT
SendinBlue
How Much Does MiloTree Cost?
If you have a website, or blog (or both), then milotree is a popup program you can't live without. It will help you increase your traffic and grow your email list! miloTree makes it easy for anyone to create high converting popups on their site. The free version lets you add two popups and track two different campaigns. milotree lets you add your popup to a webpage by inserting code into the html, or even through an easy-to-use WYSIWYG editor! miloTree also offers more advanced features for users that upgrade.
Currently, MiloTree costs a flat rate of $9.00 per month. However, they do have a 30-day free trial that you can use to determine if MiloTree is right for you, before spending any money.
How to cancel MiloTree?
To cancel your subscription, login to your MiloTree account, click on the "Edit Account Settings" button, then click the "Cancel Subscription" link.