DISCLOSURE: This post may contain affiliate links, meaning I get a commission if you decide to make a purchase through my links, at no cost to you. Please read my disclosure for more info.
Facebook and Twitter get all of the attention when it comes to social media, and they probably should. They're still the most used social platforms, and you want your business in front of the most possible eyeballs. But the one that seems to get sidelined too often is Pinterest for business, which remains one of the fastest growing platform and keeps gaining in strength from a wide range of users, businesses included.
Without getting into the myriad of reasons why your business should be establishing and maintaining a solid Pinterest presence, and there are plenty, suffice it to say that you should add Pinterest marketing to your social strategy if you haven't already. And once you have, here are 8 things that can give you an edge on the platform.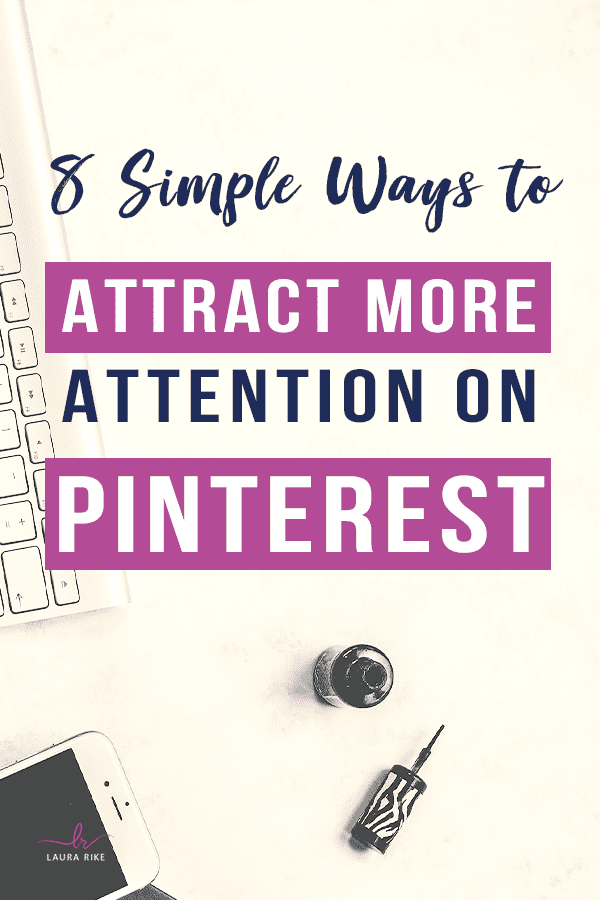 1. Pay for Promoted Pins
It should be well established at this point that the days of "free" social media marketing are essentially done. If you're a business, you're going to have to pay for the kind of engagement and reach you're looking for.
That being said, Promoted Pins give you more bang for your buck than many other sites, and are less expensive. You only pay for click-throughs with Promoted Pins, and on Pinterest the engagement with pins lasts much longer than, say, a post on Facebook. You may find that you really start seeing the most engagement a few months down the road.
2. Use Rich Pins
The number one reason to use rich pins in your Pinterest for business content management strategy is that they're free for businesses. That's an offer you shouldn't refuse. Rich pins are simple to set up, and they give your viewers detailed information on your products, including availability and real-time pricing information.
3. Collaborate With Popular Pinners
Group Boards give you the capability of inviting others to post with you on the same board. Inviting users or other businesses that have sizable followings can bring many new followers into your Pinterest fold. This is another free and effective strategy that can grow your presence quickly and easily.
4. Make Your Style Recognizable
You need to distinguish your pins from others', and a recognizable style is the simplest way to do that since Pinterest is a visual medium. You could include your logo in your pins, use a recognizable angle or color scheme, or any other technique that will let users identify your brand in your pins with a quick glance.
5. Use the Trends
Create pins that reflect the most popular topics on Pinterest, even if they have nothing to do with your business. It's best to try and incorporate these topics visually into your pins if possible, but you can even just set up separate boards that use these topics to just to engage, even though they don't directly promote your brand or products.
[feature_box style="25″ only_advanced="There%20are%20no%20title%20options%20for%20the%20choosen%20style" alignment="center"]
If you really want to up your game and capture more followers fast – check out MiloTree. Now you can grow your email list and followers quickly and effectively with this tool. You will be able to convert blog visitors into followers, subscribers, and customers.
Best news, they have pop-ups for not only Pinterest but also Instagram, Facebook, YouTube, and email for ONLY one $9 subscription. CLICK HERE to get a 30 day trial and test it out for yourself!
[/feature_box]
6. Always Repin Other Users' Pins
Don't go all over the board with this. Keep it relevant as much as possible to your brand, but Pinterest for business definitely has a community mentality, and repinning is the norm. You may also be able to create some strategic partnerships this way (see #3).
7. Optimize Pins for Mobile
More and more, social sites (and the web in general) are accessed from mobile devices. It's becoming a cardinal sin to post any content online that can't be read as easily from a smartphone as from a 24″ monitor. Google also punishes content that isn't mobile-ready.
8. Properly Name Your Boards with Keywords
SEO has changed a lot over the years, but keywords are still vital for search rankings and helping potential customers find you. Make sure your Pinterest boards include your preferred keywords in their names.
These are by no means the only tactics to consider when posting on Pinterest for business, but they are easily the most underutilized tactics and can definitely give your presence a boost.
Pinterest is known for its organic marketing, and using the right tactics makes it easier to increase your visibility. Like any worthwhile effort, Pinterest marketing takes time and energy. You want to find, curate and share the right content that aligns with your brand.
What methods have you found to be the most successful for your business on Pinterest?