DISCLOSURE: This post may contain affiliate links, meaning I get a commission if you decide to make a purchase through my links, at no cost to you. Please read my disclosure for more info.
In today's digital age, the realm of marketing has grown to accommodate new mediums, transcending traditional boundaries and venturing into social platforms like Pinterest. If you're a business owner or blogger looking to leverage this platform, consider hiring a freelance Pinterest Manager. But why?
Let's delve into the 10 compelling reasons why you should hire a Freelance Pinterest Manager and unravel the magic they can create for your online presence.
1. A Wealth of Pinterest-Specific Expertise
First things first, what does a Pinterest manager do? Simply put, a Pinterest manager is an expert who specializes in promoting your content, products, and services through Pinterest. They are up-to-date with the platform's latest trends and algorithm changes, enabling them to craft a Pinterest strategy that drives engagement and traffic to your site. This expertise is invaluable when maneuvering the platform's nuances, especially if Pinterest marketing isn't your forte.
2. Time-saving with a freelance Pinterest manager
As an e-commerce business owner, or a business coach, their primary pain point is typically time management. A freelance Pinterest manager can ease this burden significantly. With a Pinterest manager handling your Pinterest marketing strategy, you'll have more time to focus on core business operations without compromising your digital marketing efforts.
3. SEO Optimization
Pinterest managers not only design pins but also optimize your account and pins for SEO. Pinterest, like Google, has its own algorithm and utilizes keywords to show relevant content to users. A proficient Pinterest manager will conduct thorough keyword research and strategically incorporate them into your pin descriptions, board titles, and profile to boost visibility.
Untapped Potential of a Pinterest Manager for Your Business Success
In the modern era, businesses seeking to build their online presence have more opportunities than ever before especially with a pinterest manager. The vast landscape of social media offers countless avenues for exposure and growth, but knowing which platforms to prioritize can be a daunting challenge. Enter Pinterest, a platform frequently overlooked yet teeming with
4. Tailored Pin Design
Aesthetic appeal drives Pinterest. Users are drawn to visually stunning and engaging pins, which can significantly influence your click-through rate. Freelance Pinterest managers are adept at designing customized pins that align with your brand's image and resonate with your target audience. They are skilled in platforms like Canva and Adobe, ensuring every pin is an eye-catcher.
5. Weekly Account Maintenance
Just like any other social media platform, Pinterest demands regular attention. An experienced Pinterest manager will maintain your account, ensuring fresh content is pinned consistently, boards are neatly organized, and user engagement is monitored and responded to timely. This level of commitment is vital for the platform's algorithm, promoting higher visibility and engagement.
6. Data-driven Decision Making
What distinguishes an exceptional Pinterest manager is their ability to interpret and leverage Pinterest analytics. They analyze data, such as your top-performing pins, user demographics, and trends, to refine your Pinterest strategy, ensuring it aligns with your business goals and delivers results.
7. The Advantage of a Freelance Pinterest manager
Freelancers often offer flexibility, scalability, and affordability. Hiring a freelance Pinterest manager means you have the freedom to scale services up or down, depending on your needs, without the long-term commitment and overhead costs of a full-time employee. This makes a freelance Pinterest manager a cost-effective solution.
So, how much does a Pinterest VA cost? The cost varies depending on their experience level, the complexity of the tasks, and the time commitment. But generally, you can expect to pay between $25 to $75 an hour for an experienced freelance Pinterest manager.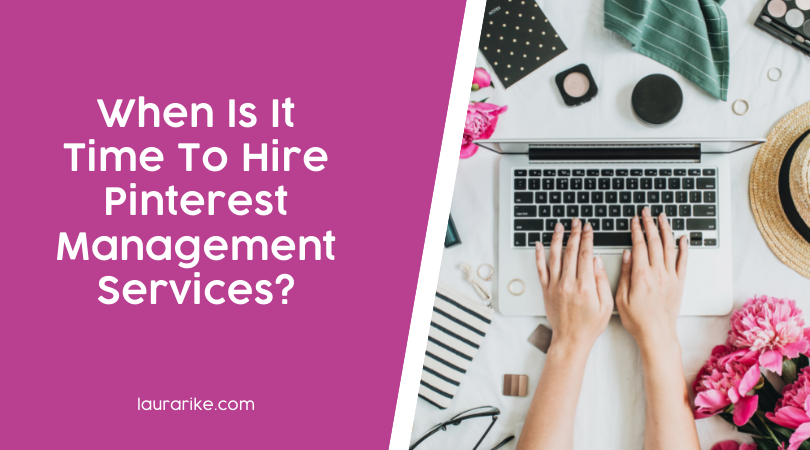 When Is It Time To Hire Pinterest Management Services?
Pinterest is amongst one of the most invaluable arms of any digital marketing strategy. For many who are looking to expand their online presence, Pinterest management services allow you to maximize your marketing strategy while freeing up time for all of your other responsibilities. But when is it the right time to use Pinterest management
8. A Virtual Assistant Specializing in Pinterest
A Pinterest manager is similar to a virtual assistant (VA) who assists you with your business. The crucial difference lies in their speciality – they focus on your Pinterest account. Pinterest VAs help create and implement a Pinterest marketing strategy, maintain your Pinterest account, design pins, manage Pinterest SEO, and track analytics. This specialized assistance can be a game-changer for your online business or blog.
9. Increased Website Traffic
A well-executed Pinterest strategy can significantly increase traffic to your website or blog. With over 400 million active users, Pinterest is a treasure trove of potential customers or readers. A Pinterest manager understands how to craft compelling pin descriptions and design attractive pins that inspire users to click through to your website. They also strategically use keywords, categories, and boards to expose your pins to a wider audience. This increased visibility can substantially boost your website traffic.
10. Result-Oriented Strategy
Finally, when should you hire a Pinterest manager? The answer lies in your business goals. If you aim to exponentially grow your online presence, attract high-quality clients or customers, and leverage Pinterest's marketing potential, it's time to consider hiring a Pinterest manager. They will ensure that every pin, every board, and every interaction on Pinterest aligns with your objectives and drives the results you seek.
In conclusion, hiring a freelance Pinterest manager can unlock a plethora of benefits for your online business or blog. They bring specialized expertise, save you precious time, craft tailored pin designs, optimize your Pinterest SEO, maintain your account, and leverage data for decision-making. As freelancers, they offer flexibility and cost-effectiveness. Their focus on increasing website traffic and their commitment to delivering results can propel your Pinterest marketing to new heights.
If you're ready to explore the dynamic world of Pinterest and grow your online presence, hiring a freelance Pinterest manager could be your best first step. Remember, in this digital age, embracing social platforms and their unique marketing potential is not just an option but a necessity for success. So why wait? Jump on the Pinterest bandwagon, and let a freelance Pinterest manager guide you on this exciting journey. Grow your web traffic with a Pinterest manager today!