DISCLOSURE: This post may contain affiliate links, meaning I get a commission if you decide to make a purchase through my links, at no cost to you. Please read my disclosure for more info.
Do you find it difficult to keep up with all the changes in the search algorithms and trends for social media? Do you feel like you are spending way too much time with not a lot of return on that time? You have heard that Pinterest is an important part of your online marketing campaign to increase website visitors and expand your social media influence but how the heck will you find time to learn another online marketing platform, let alone implement everything you learn?!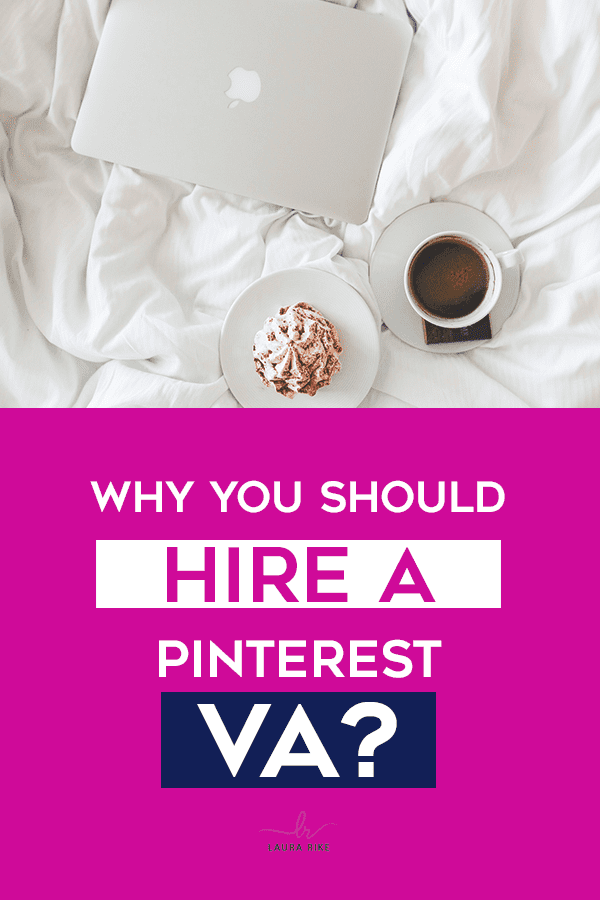 It might be time to Hire a Pinterest Manager / Virtual Assistant
To be successful online you must have a presence on Pinterest. 93 percent of Pinterest users plan their purchases by using the system. About 67 percent report that they discover new products and brands by searching on Pinterest.
Keeping up with all the social media marketing effort can be quite challenging. Investing efforts in building up social media presence takes time away from other important tasks. There just does not ever seem to be enough time to do everything you need to do for your business.
It is clear that so many find success using Pinterest for business to increase website visitors, add email-list subscribers, and make more product sales.
Here are just five things (of the many items) that hiring a Pinterest manager can do:
1. Improve Your Time Management by Focusing on Priorities
When you hire a Pinterest manager you can allocate your precious time to the higher-priority need to create new products or services while at the same time being confident that your social media marketing efforts and Pinterest services are being managed properly.
2. Increase Your Return on Investment of Time
There is the opportunity cost of using your time to complete a task. Even though you may not necessarily pay an hourly wage for your own efforts, you do pay in hourly time. You must be careful that your valuable time is not wasted doing tasks that are better outsourced to others, such as a Pinterest coach, who can do them more cost-effectively for you.
3. Grow Your Business
Even if your business is doing reasonably well, there is always a chance for improvement. Businesses that do not continue to grow usually are the ones that ultimately fail. By working with an expert in Pinterest coaching, you invest in growing your business.
4. Reduce Stress
When you are overwhelmed and stressed, because there is not enough time to do everything, you are not working at your optimal level. You do not have the time to contemplate and come up with your next big idea for your business if you are constantly overworked and dealing with stress. Hiring a virtual assistant that is an expert in what Pinterest is used for takes this load off your back.
5. Improve Pinterest Results
A Pinterest expert working as your virtual assistant knows the Pinterest system extremely well. This means that finding the best graphics, keywords, Pinterest hashtags, and presentations of pins as collections is something they are likely to be able to do even better than you can. An assistant takes care of social media management for Pinterest such as using Pinterest for bloggers.
Almost every business owner benefits from having a Pinterest manager. Let's talk, so we can work together to develop and/or expand a Pinterest marketing program for your company.