DISCLOSURE: This post may contain affiliate links, meaning I get a commission if you decide to make a purchase through my links, at no cost to you. Please read my disclosure for more info.
Much like Pinterest, Etsy is a place where creativity and entrepreneurship come together.  Etsy is a popular online marketplace that allows individuals and small businesses to sell handmade or vintage items, as well as unique factory-manufactured products. As a visual search engine platform, Pinterest encourages users to buy these products.
With over 96 million active buyers worldwide, Etsy offers a huge potential for online sellers to reach a vast audience. Stay with us as we explore the pros and cons of selling on Etsy, the best categories to sell on the platform, and provide tips to help you make the most out of your selling experience.
Pros and Cons of Selling on Etsy
Selling on Etsy can be a great way to reach a large audience and grow your business. Even so, there are also some challenges and limitations to consider. Consider the following insights for selling on Etsy compared to similar platforms, such as eBay.
Pros of selling on Etsy
Etsy offers the following benefits for sellers (and buyers).
A large and engaged user base
Unique and niche focus on handmade, vintage, and unique items
Built-in audience and marketing opportunities using Etsy's brand recognition and marketing features
Customizable shop and listing design to create a unique and visually appealing shop
A supportive community who offer advice and support to help each other grow their businesses
Lower fees compared to other platforms, helping sellers save money and increase profitability
User-friendly interface with useful tools, such as analytics, shipping tools, and marketing tools
Cons of selling with Etsy
Keep the following considerations in mind when selling with Etsy.
Competition can be high, especially in popular categories
Listing and transaction fees can add up
Limited product categories, as Etsy has strict guidelines on what can be sold
Dependence on Etsy's platform, policies, and algorithms
Limited control over customer data as Etsy controls the customer data and information
Risk of copyright infringement
These considerations are easily manageable with proper planning, effective external marketing efforts, and strategic product design!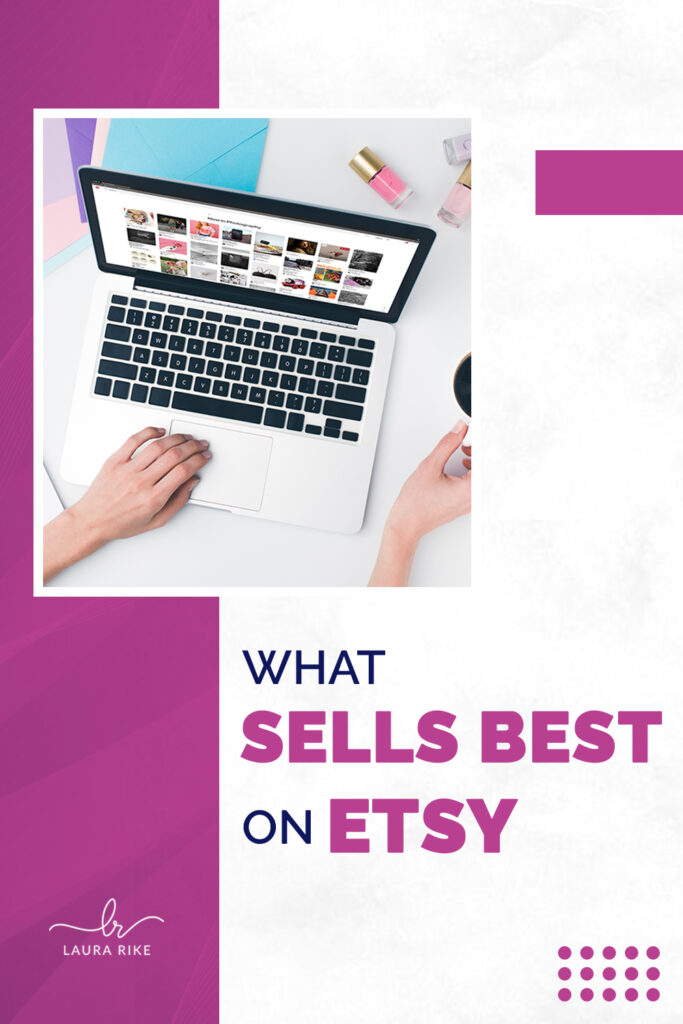 Is It Worth Selling on Etsy?
If you make beautiful handmade products or sell vintage items, then Etsy offers a wealth of potential.
Consider the pros of selling on Etsy
Etsy offers a large and engaged user base, a supportive community of sellers, and a user-friendly platform, making it a great option for many creative individuals and small businesses.
How much do Etsy sellers make?
Depending on efforts and planning, some sellers make a consistent $50 per month, while others earn a full-time income. There's also the opportunity to make several incomes. Consider Caitlyn Minimalist, one of the top Etsy sellers for 2022, who made $45,543 in a 30-day period!
What's the Best Selling Category on Etsy?
Are you wondering what sells best on Etsy? Consider the following list of popular categories and top-selling items on Etsy.
Accessories and jewelry
As Pinterest is a visually-appealing platform, it makes it the perfect place to sell accessories that are beautiful and on-trend. From jewelry and hair accessories to scarves, handbags, and phone cases, Pinterest has the potential to boost your sales.
Accessories that are small, affordable, and easy to ship are especially useful when pushing online sales. Pinterest users enjoy browsing the platform, looking for unique accessories to make their outfit pop. Make sure you use high-quality images and include a few lifestyle shots with the items.
Art and collectibles
If you're in the business of selling art and collectibles, then Pinterest provides a platform to reach a large and engaged audience, increase visibility, and boost sales. As an inspirational platform, it's a great place to showcase unique and visually appealing art and collectibles.
Vintage posters, rare books, antique maps, and unique figurines are all popular types of art and collectibles that sell well on Pinterest. The high emotional value and sense of nostalgia associated with these items make Pinterest the perfect spot to show them off (and encourage sales).
Craft Supplies
Craft supplies allow people to let their creativity run wild. Selling craft supplies on Pinterest allows users to access the items to pursue their creative dreams. For example, scrapbooking supplies, knitting, and crocheting supplies, jewelry-making tools, and paper crafting supplies are just a few of the craft items you'll find on Pinterest.
As craft supplies are normally small and affordable, it's easier to convince buyers to click on the Pin and purchase. Remember to accompany your quality images with descriptive captions to seal the deal.
Home and living
Many users open up Pinterest to find inspiration for the different aspects of their lives, including their homes. By posting trendy, themed home scenes and items, you can evoke a sense of comfort, encouraging people to make a purchase and recreate the aesthetic in their own homes.
Include lifestyle images of home accessories, such as cushions and throws, wallpaper, and lighting fixtures. To make the most of these items, encourage users to buy separate items together for the "full package."
Digital products, printable items, and stickers
Selling digital artwork, printable items, and stickers on Pinterest can be a great way to reach a large audience, increase visibility, and boost sales by connecting with engaged users. Consider digital wall art, printable invitations, planner stickers, and social media templates as a starting point!
These types of items are highly sought after by Pinterest users, who often use them to decorate their homes, plan their events, and enhance their social media presence. Make sure you use inspirational images to stand out from the competition.
Toys
More than three-quarters of Pinterest users are women, making the platform the perfect place to sell toys and connect with maternal instinct. From educational toys and wooden toys to dolls and building sets, the options are endless. Not only do these items evoke a sense of playfulness, but they also tap into family values.
When you accompany quality images of toys with emotive language and strategic keywords, then you boost the chance of making sales (and bringing joy into the home).
Wedding and event supplies
Many users resort to Pinterest for inspiration when planning events, such as weddings, baby showers, birthday parties, and more, making the platform the perfect place to sell event supplies (and planners).
On the one hand, decorations, favors, table settings, and party supplies are the top sellers on the platform. On the other hand, planning schedules and other digital planning tools are also very popular. By posting popular event supplies, you can target brides, birthday planners, and event planners.
Clothing and textiles
Pinterest is the ultimate platform to showcase trendy clothing items and attractive textiles. Consider handmade clothing, vintage clothing, and home decor textiles to promote on Pinterest, evoking a sense of style, comfort, and creativity.
Fashion lovers and interior design enthusiasts often reference Pinterest for inspiration. If your posts are convincing, you may even encourage them to click through to your online store and make a purchase!
Spa products and handmade cosmetics
People come to Pinterest to discover new ways to practice mindfulness and self-care, which is why Pins promoting spa products and handmade cosmetics perform so well on Pinterest. For example, if you sell bath bombs, soaps, scrubs, and skincare products, then it's worth investing time and energy in Pinterest marketing.
Give your products justice by using high-quality images and strategic keywords. While handmade, make sure you prioritize quality and showcase the benefits of your products.
Personalized items
Personalized items have become increasingly popular on Pinterest as users look for unique, one-of-a-kind products that reflect their personal style and interests. Selling personalized items on Pinterest can be a great way to reach and give users what they want for themselves (and to give as gifts to others).
Some popular personalized items that sell well on Pinterest include jewelry, home decor items, and accessories, such as phone cases and bags.
Top Tips for Selling on Etsy
If you're venturing down the Etsy road, keep the following tips in mind to make the most of your selling potential.
Before setting up your shop, research the market and competition to understand the demand for your products and what your competition is doing.
Ensure that your product listings are well-written, include high-quality photos, and are optimized for search.
Set competitive prices for your products, considering the cost of production, shipping, and fees.
Use keywords and tags to help your products appear in relevant search results on Etsy.
Respond to customer inquiries promptly and provide excellent customer service to build trust and loyalty.
Take advantage of Etsy's marketing tools, such as promoted listings and coupon codes, to drive traffic to your shop and boost sales.
Invest in external marketing to drive traffic to your Etsy shop, such as Pinterest.
Boost Etsy Sales With Pinterest
Using Pinterest can be a powerful way to boost sales on Etsy. By creating boards and pins that feature your products, you can drive traffic to your Etsy shop, increase visibility, and attract potential customers.
To get the most out of Pinterest, use high-quality images, incorporate keywords and hashtags, and regularly update your boards with new content. By leveraging the power of Pinterest, you can increase exposure, build your brand, and boost sales on Etsy.