DISCLOSURE: This post may contain affiliate links, meaning I get a commission if you decide to make a purchase through my links, at no cost to you. Please read my disclosure for more info.
It seems like this is being emphasized again with the new "follower" button. Followers do matter, but they are not as important as you think. It's not the number of followers that matter, but the engagement. Pinterest pays attention to how engaged your followers are with your content. You want an authentic audience.
At the beginning of my blogging endeavors, I made a concentrated effort to include good SEO content, include long-tail keywords, and ensure my Google PageRank was high. I used a traditional blog layout with lots of SEO keyword subheadings. After expending loads of energy and investing too much time, I realized this was not the best strategy for me. I decided to ignore the blogging articles and advice about SEO content… at least for the time being.
Instead, I channeled my time and energy into polishing my Pinterest profile and boards. After the first month of prioritizing my efforts, my website views increased by 800% and are still climbing. I truly fell in love with Pinterest. My enthusiasm for blogging really grew after switching to a Pinterest mindset.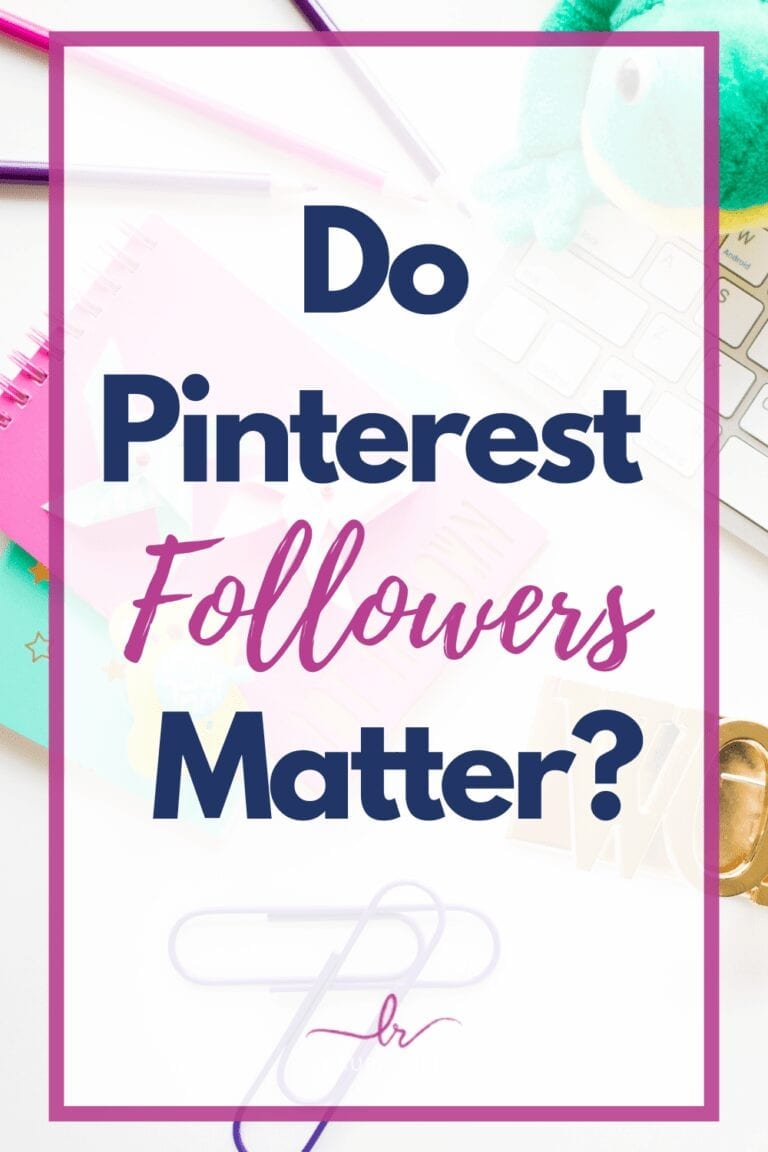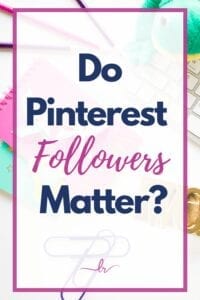 What does it mean when someone follows you on Pinterest?
Your Pinterest followers see your posts on their "Following" tab. From there, they can choose to pin content to their boards, which will be seen by their followers. Pins related to their interests show on their "Home" tab. Pinterest users can also follow topics, not just specific people or businesses.
Keep your existing followers engaged by scheduling pins to post regularly, don't let your boards get stale. For a low monthly fee, you can use a scheduling app such as Tailwind. I suggest you spend around 60-90 minutes a week scheduling your pins. I maintain a secret board to pin content for future weeks when I am short on time.
Do Pinterest followers matter?
Having actual followers doesn't matter. Pins can be seen by a large audience without having many followers. Followers on Pinterest are not the same as followers on other platforms. Think of your followers as the pathway to your audience. Finding followers just to increase your number is a waste of time.
People who see your pins can click through to your blog without following you. Spending time choosing people to follow in hopes that they reciprocate by following you is a huge waste of time. Also, it doesn't matter how many followers you have if you don't have a plan for pinning content.
Let me show you an example of proof that followers don't matter. This particular client we are going to look at when we started managing things for them and implemented our Growth to Greatness framework which does NOT focus on followers for a primary strategy.


Even if we stopped to take a second to look at the monthly views, she was getting 47,000 monthly views with only 318 followers! Right there that is a huge difference. I don't want to stop there though, because monthly views on Pinterest does not equal website traffic or profitability.
So this next graphic will show you how even with the same amount of followers above she achieved 797 total link clicks in 12 days! You can see the significant increase once strategy changes were made even though the follower count barely moved!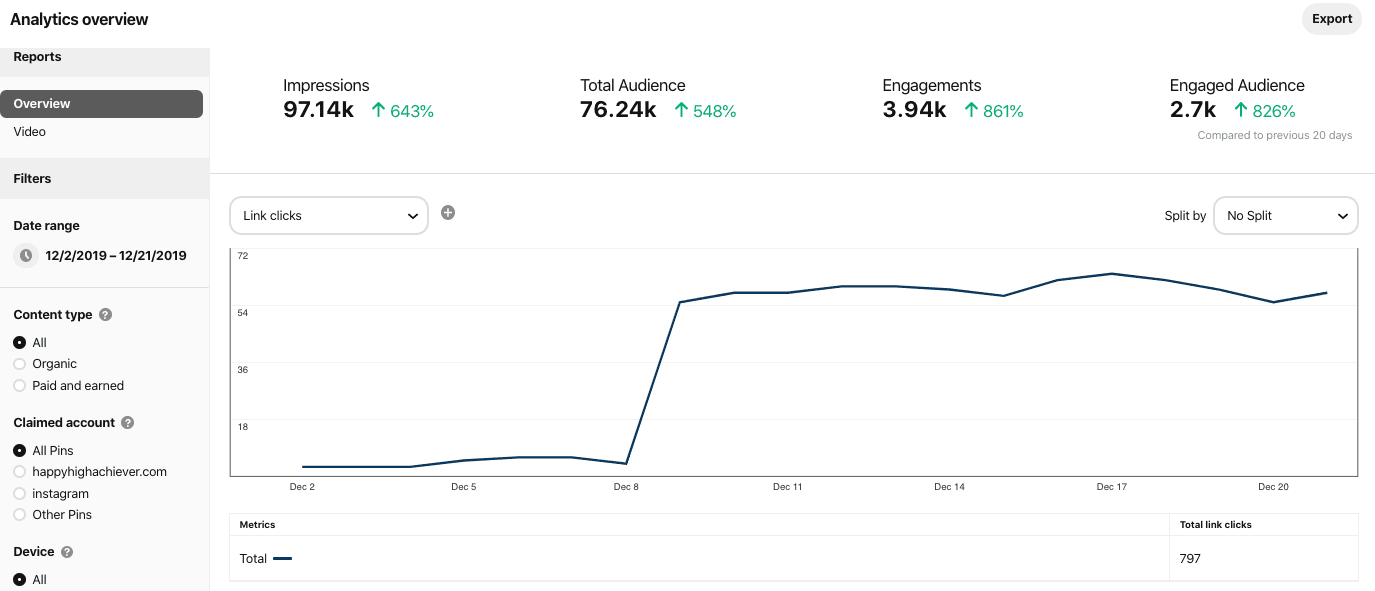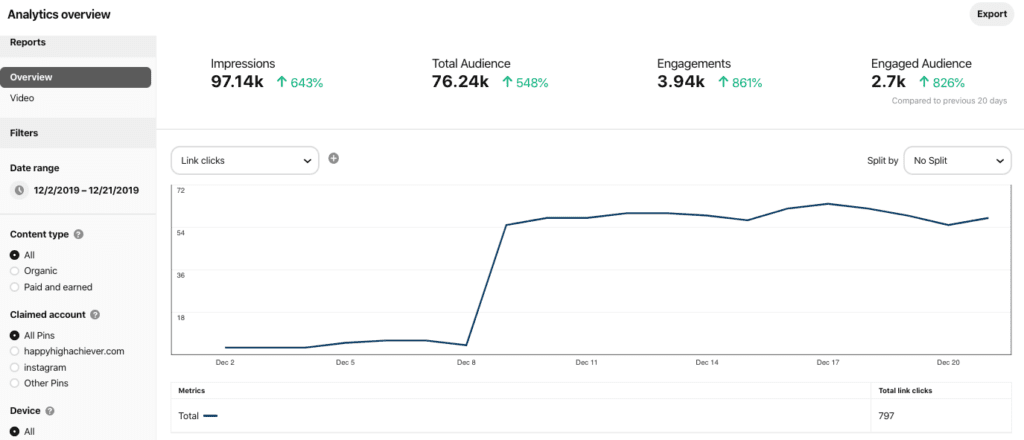 How do I get followers on Pinterest?
Again, the number of followers you have on Pinterest isn't important. If you are truly still looking to get more followers on Pinterest watch my tutorial here of a unique way to do this.
Instead of worrying about that vanity number of followers, place importance on the quality of your Pinterest content. When I say "content" I mean your profile, your descriptions, and your pins. Think of your Pinterest content as a visual representation of your business or website. All of your content should be well organized, blog relevant, quality work with clear pin images.
The Pinterest platform shows columns of visual content. Vertical pictures display better in this format, Pinterest suggests using an image aspect ratio of 2:3. Try using a bright, three or four color palette for each board. Write clear descriptions for your boards and pins. Concentrate on designing, describing, and organizing your pins, your website traffic will soar.