DISCLOSURE: This post may contain affiliate links, meaning I get a commission if you decide to make a purchase through my links, at no cost to you. Please read my disclosure for more info.
Recently, Pinterest announced that it was rolling out a new tool for production recommendations called Shopping Spotlights. This is a helpful Pinterest for business tool that will showcase some of the most popular Pin products. These products have been chosen by famous fashion influencers and publishers. Helping people figure out new ideas in which people are interested.
According to Pinterest, the goal of this feature is to bring expert recommendations directly to their visitors. Pinterest Shopping Spotlights are there to help people as they shop on Pinterest, looking for curated ideas that reflect current trends. When it comes to Pinterest for e-commerce using these Shopping Spotlights, there are a few important points to keep in mind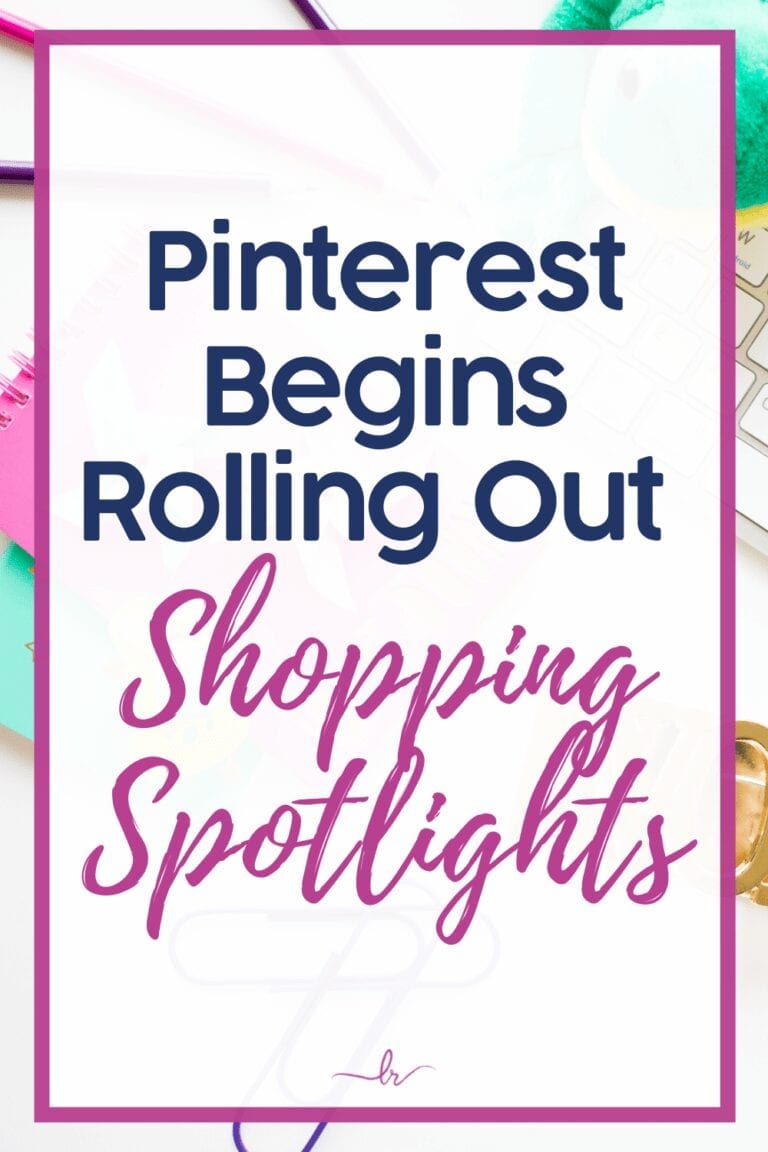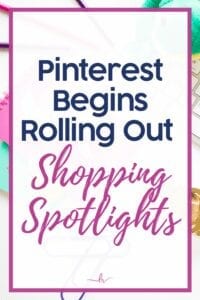 How Can Pinterest Shopping Spotlights on Pinterest Benefit my E-Commerce Business?
There are a few ways that Shopping Spotlights can be used in the world of Pinterest for business, particularly e-commerce. Remember that Shopping Spotlights on Pinterest are used to reflect current trends from some of the most influential fashion and home tastemakers. This means that these Shopping Spotlights are going to reflect what people are interested in right now.
This brings the latest trends to the forefront, helping those who run an e-commerce business figure out what the most popular items are right now. Therefore, if people are looking for fun ideas that are likely to gain traction quickly, these trends from Shopping Spotlights on Pinterest are a great place to start.
Is It Safe to Buy from Pinterest?
When it comes to shopping on Pinterest, it is important to keep in mind that Pinterest is just as safe as most other social media websites. Users still have to sign in and all accounts are protected by passwords. Furthermore, Pinterest does not require anyone to entire their personal or financial information. Therefore, it doesn't take much to sign up; however, given that users are required to share their age and full name, it is possible that this could be stolen and used by unscrupulous individuals.
The biggest risk of Pinterest comes from convincing others to collaborate on boards or tricking people into revealing their personal information through a contest or giveaway. Therefore, those who are shopping on Pinterest need to remember to collaborate on boards only with people they know and be wary of fake accounts. As a good rule to remember, if a pin on a board sounds too good to be true, it probably is.
How Do I Create a Shop on Pinterest?
The world of Pinterest for business is expanding rapidly and many people are discovering the wonders of creating a shop on Pinterest, particularly with the ability to leverage Shopping Spotlights to promote fun, quirky, and unique ideas that people are going to love.
In order to create a shop on Pinterest, there are a few steps that everyone has to follow. First, go to the Catalogs section of Pinterest and upload a data source by clicking on the "get started" button. Make sure that the data source has been prepared appropriately by using a claimed domain (which means URL or website).
Next, filter the products available and create product groups. Remember that the product group name is going to be displayed in the Pinterest shop. Therefore, use a name that is friendly to pins that accurately reflects the product group.
Once the product groups are ready, click the star button to feature certain products. Shops have the ability to feature up to eight product groups using this feature.
Remember that visitors are able to see Pinterest shops across all platforms including computers, iOS platforms, and Android devices. Furthermore, pinners are able to click through the shop to browse all products throughout a featured product group. This is a great addition to Pinterest that allows people to grow their eCommerce businesses!
How Do I Find my Buyable Pins on Pinterest?
Those who have an eCommerce business that uses platforms such as BigCommerce, Shopify, and Salesforce Commerce Cloud will probably have an easier time setting up buyable pins on Pinterest, as the platform is more familiar with these eCommerce sites.
In order to find buyable pins, users have to have a Pinterest business account. It is also possible to convert a personal account into a business account if desired.
Next, review the Buyable Pins guidelines on Pinterest. This includes selling appropriate products, having a proper business profile, and promising to provide exceptional service.
Once someone has been approved to have buyable pins, there is a protected product board that is hidden from public view that has to be accessed next. Pinterest states that it usually takes three to five days for pins to appear as buyable once someone has been approved.
There is a Pinterest Save button for browsers that makes it easy to pin products to the buyable pins section. On a product's individual page, look for the extension icon which will reveal a popup, allowing it to be pinned directly to the profile. Usually, any new pinned products show up in around one to two days.
The Numerous Benefits of Buyable Pins Along With Now Pinterest Shopping Spotlights
Buyable pins work flawlessly on both mobile and desktop devices. This means that it is possible to make a sale as soon as someone is ready to buy. If a customer orders a product using a credit card or Apple Pay, all information is sent directly to the store owner for processing. This allows customers to discover and boy products right from the interest which increases the conversion of leads into paying customers. This contributes to a seamless eCommerce experience.