DISCLOSURE: This post may contain affiliate links, meaning I get a commission if you decide to make a purchase through my links, at no cost to you. Please read my disclosure for more info.
Looking to make more money as a mama-preneur without sacrificing more time? Building streams of passive income means getting paid over and over again, for a job that you did once.
Here are 25 passive income ideas that will make you money while you sleep. My hope is that you will find something on this list that fits your skillset, experience, and passion: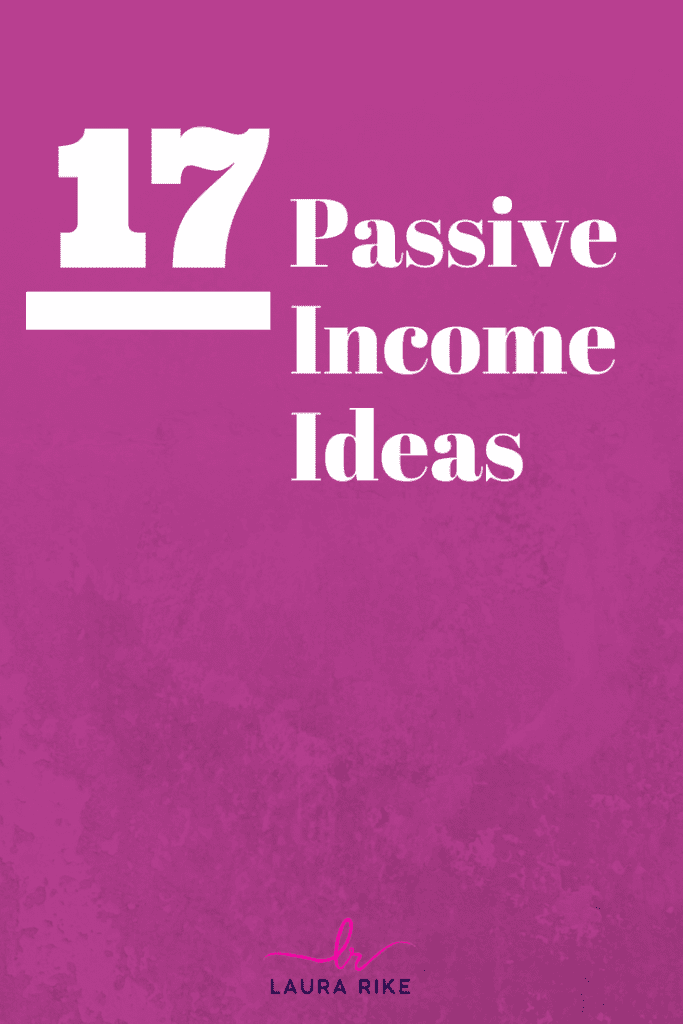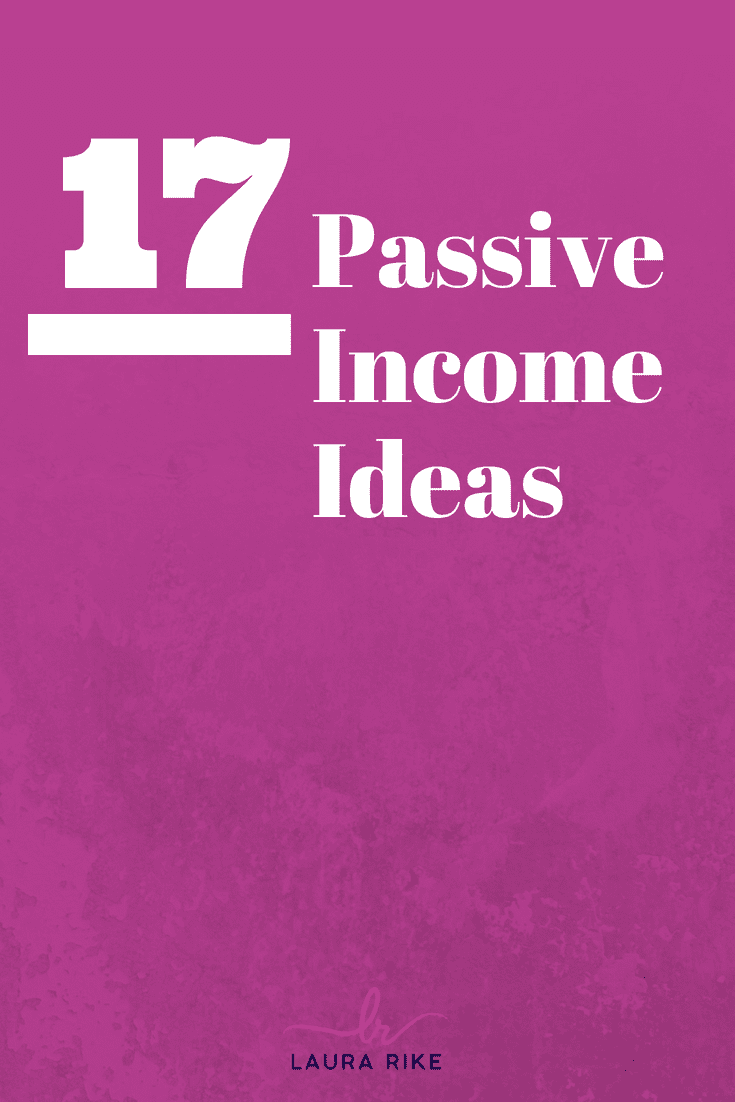 Writing Blogs
Blogging can be a great way of making money from the comfort of your home. Find a niche and use affiliate links to drive traffic to your blog. Alternatively, you can purchase an active blog site and begin to make money.

Create YouTube Videos
Anybody can now make money on YouTube every day. The secret is to create informative or entertaining videos that will command a huge viewership. Every time someone watches your video, you earn some coins, which can add up to thousands of dollars over time.

Become a Social Influencer
Do you live in the US or Canada and have a following of at least 2,500 people on your social media sites? Do you post on your most active account at least once a month? If you answered yes to these questions check out how to become a social influencer now here to see if you meet the other guidelines:

http://laurarike.com/linqia

Another great website to think about if you are interested in making money by sharing quality content with your network would be Webfluential. Take a peek at my link here:

http://laurarike.com/webfluential



Affiliate Marketing
Affiliate marketing is a great way of earning passive income from your website. This should be a non-brainer if you already run a website. All you need is to choose a niche and create affiliate links on your site. When users click on the links and make a purchase, you'll receive commissions at no extra cost to the buyer.If you are looking for an affiliate marketing opportunity and you are a lover of all things social media – feel free to shoot me a note here: Send Laura An FB Message as I am looking for brand ambassadors for my Inner Circle!

Website Ads
If you have a website with a decent following, you can make money through adverts that pop on your page. MediaVine and Google Adsense are platforms that will pay you for views and clicks on the ads they place on your website pages.

Join a Network Marketing business
Joining a network marketing business can be a great way to build a small stream of extra cash. My suggestion would be to find a company that resonates with you and that you believe in 100%. You need to stand behind their mission, their products, and their people if you are going to be truly successful. For me, I have found a love and a passion for Young Living Essential Oils. It has helped my family learn to live in a less toxic home! Check it out here:

http://laurarike.com/distributor



Write a book
If you're a great writer, consider writing a book and effectively marketing it. You can earn from a single book for several years to come, with most sites paying about 10 percent royalty for every copy that is sold.Some of my current favorite books if you need some inspiration are:
Unleash Your Lady Boss by: Stefanie Peters
A Woman's Guide for Making Money Doing What She Loves by: Christy Wright
Love Your Life Not Theirs

Cash Back on Shopping You Already Do
Every one of us shops quite often, so why not take advantage of some cash back on the things we normally shop for? If you check out ebates using my link you'll automatically earn $10 toward your first purchase… plus it is FREE to sign up! http://laurarike.com/cashback

With their double cash back specials, you can double your passive income earnings if the right items go on sale.The key with shopping sites like this is to commit to buying only what you normally would purchase and not buy things just because they are on sale.

Create your Online Store using Drop Shipping
E-commerce is quickly evolving, and drop shipping is becoming more popular by the day. It works by creating an online store that features products from particular manufacturers. When people visit your site and order for products, your system will send the order to the specific manufacturer who completes the order and ships the product to the customer while you earn your profits.

Design an Online Course
Many people in this day and age prefer learning online. When you create a value-packed online course that helps to fill a need or solve a problem, you can earn passive income from customers who sign up for the course. You can provide materials like e-books, videos, emails, and so on. The good news is that system automation will do the heavy lifting for you – you simply earn from the price of the course you create.If you are not sure where to start when it comes to creating an online course you should check out Teachable's free webinar: Learn how to create content for videos, slides, interviews & more to build your own online course!

Begin a Membership Community
You can start a membership community website where people sign up for a small fee to get access to various services or extras. This is a great way to add value to your online course while earning some extra cash without breaking a sweat. I have a membership community that provides simple, sustainable systems and support for busy mamas ready to rock it online – without tantrums over tech and trading sleep for success! Check it out here: Rockstar Inner Circle

Take Online Surveys
Another great way to add some additional money to your bank is to take online surveys in your spare time. Sites like Survey Junkie will pay you instantly via PayPal, others build up credits over time that you can cash out for prizes or money.

License Your Photos
Well, if you're a photography enthusiast, why not make some extra cash from your fabulous pictures? Sites like Shutterstock can pay you a royalty for every photo that their clients download.

Create a Mobile App
Today's generation thrives on technology. If you're tech savvy, you can make some passive income by developing a mobile app or by making improvements on an existing app to make life better for the users.

Purchase an Online Business
Online businesses allow you to work remotely from anywhere in the world. Since starting one from scratch can be daunting, it's a good idea to purchase one that is already established. Visit sites like Biz Buy Sell for hundreds of listings based on your budget.

Product Design
If you're into fashion, you can design t-shirts and other stylish products and then market your designs online. Some sites allow users to upload their witty design ideas and generate products like laptop covers, coffee mugs, and much more and share with you the profits whenever your design is sold.I started a product that I found little to no resources for when doing some market research. I created AffirmationForKids.com I create products that help parents wake up each morning with the confidence in knowing their child is fully equipped to handle any situation.My oldest son had a few rough years in school so we researched any ways we could try to help out at home give him the confidence he needed to learn & grow in school. We came across the idea of verbally repeating words of affirmations every morning before he got on the bus. It turned everything around for us!From that came the need for me to give parents the tools they might need to provide that constant reminder of how wonderful our children are & how much they can truly accomplish!

Start an Etsy Shop
In the last couple years, Etsy has grown by leaps and bounds as it works to keep up with changing technology in the world of e-commerce. Selling digital downloads on Etsy is easier than ever before with a simple, automated system that lets you make money in your sleep. I hesitate calling it passive income, because it really does take a lot of behind-the-scenes and upfront work to get to the point where the income becomes passive. But it is a possibility if you create a unique product that customers actually want.Check out my current Etsy shop and what I have available: Laura Rike on Etsy
Hopefully by now, you've seen that there are tons of options to make passive income by working less. Maybe a few of these tips have resonated with you and helped you narrow down on what passive income idea best suits your needs. So, if you're an overworked mama looking to make more money without sacrificing a ton of time, start to implement a few of these strategies and get started making money while you sleep.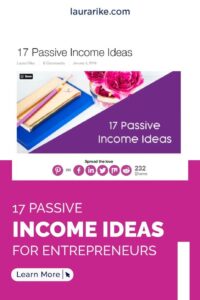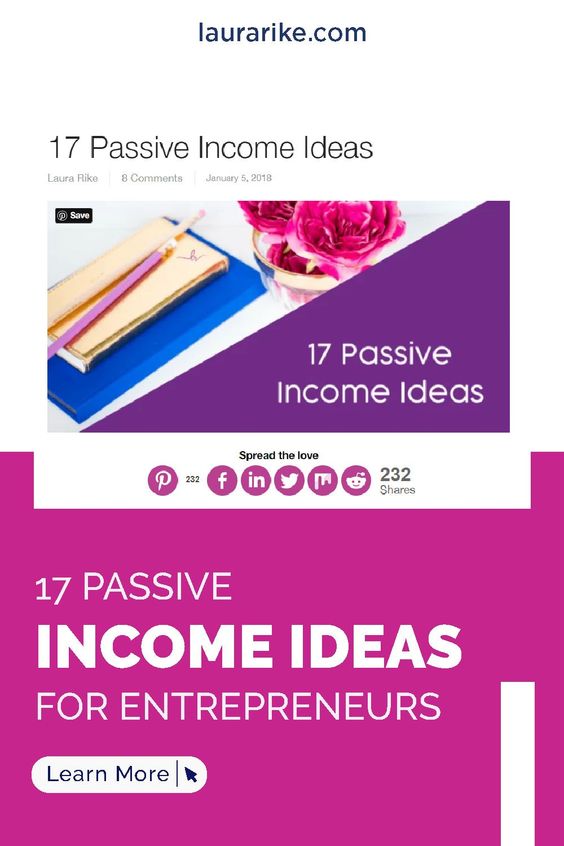 Did this post spark any ideas in you? Or, maybe you are already putting some of these into practice? Or, maybe you have ideas for passive income that aren't on the list?
I would love for you to share your idea's with me in the comments section.