DISCLOSURE: This post may contain affiliate links, meaning I get a commission if you decide to make a purchase through my links, at no cost to you. Please read my disclosure for more info.
What's your favorite local restaurant or cafe? Go on and type that business into Google and, if they've done their SEO right, the first result should be their website and within the first five listings should be their Facebook page. Now, try and type in your city and the type of food that restaurant serves, i.e. "Mexican food in Dallas, TX", and see where your favorite food joint places on the results. How well it does directly correlates to how well its Facebook is optimized (and how well its competitors' are).
Now do the same for your business (but make sure you're in incognito mode because your search history can skew results). If your business Facebook page isn't within the top five listings, then it's time to stop, refocus, and optimize your Facebook page. If you haven't even set-up a page, then you're in luck! The following is a quick look at setting it up right the first time and doing the most with your updates: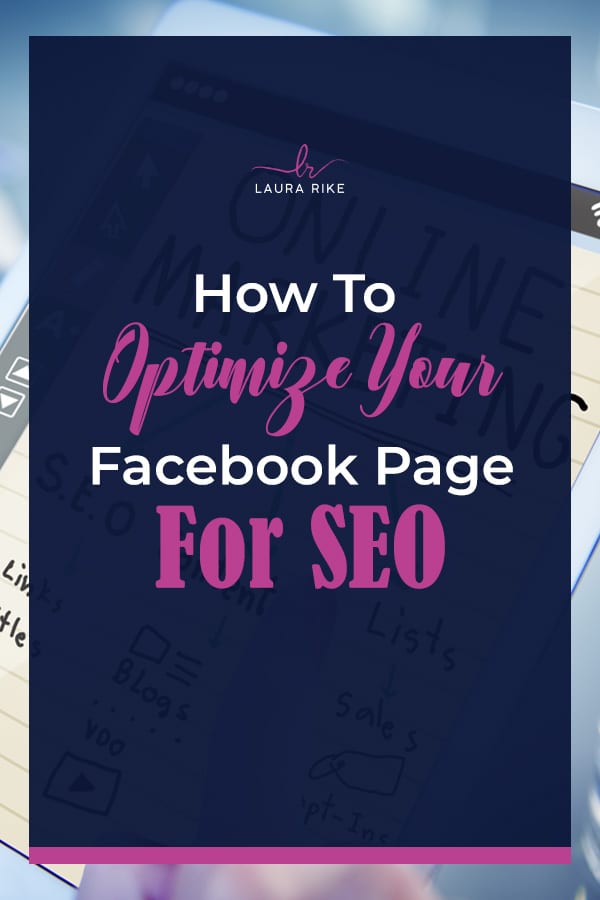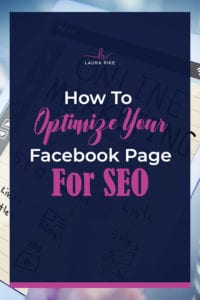 Surefire Tips to Optimize Your Business Facebook Page
Pick a Stellar Facebook Page Name and Know Your Keywords.
Currently, Facebook will only allow users to change a page name if there are less than 100 fans. Anymore, and the name and its distinct URL are set in stone, so it's important to get it right the first time. Pick a name and vanity URL that matches your brand and give a specific clue about your niche. Avoid being overly spammy in either area. While something like Missy's Custom Candles for Sale in the Southeast Craft Markets — Little Rock Arkansas might have gotten good hits ten years ago, Facebook has since cracked down on pages it deems too spammy.
The same goes for Google. Once you have a good name with one or two high-value keywords in it, make a list of twenty other keywords pertinent to your business. Use these keywords appropriately in the About and similar sections, and keep them on hand to use whenever you are posting a status update.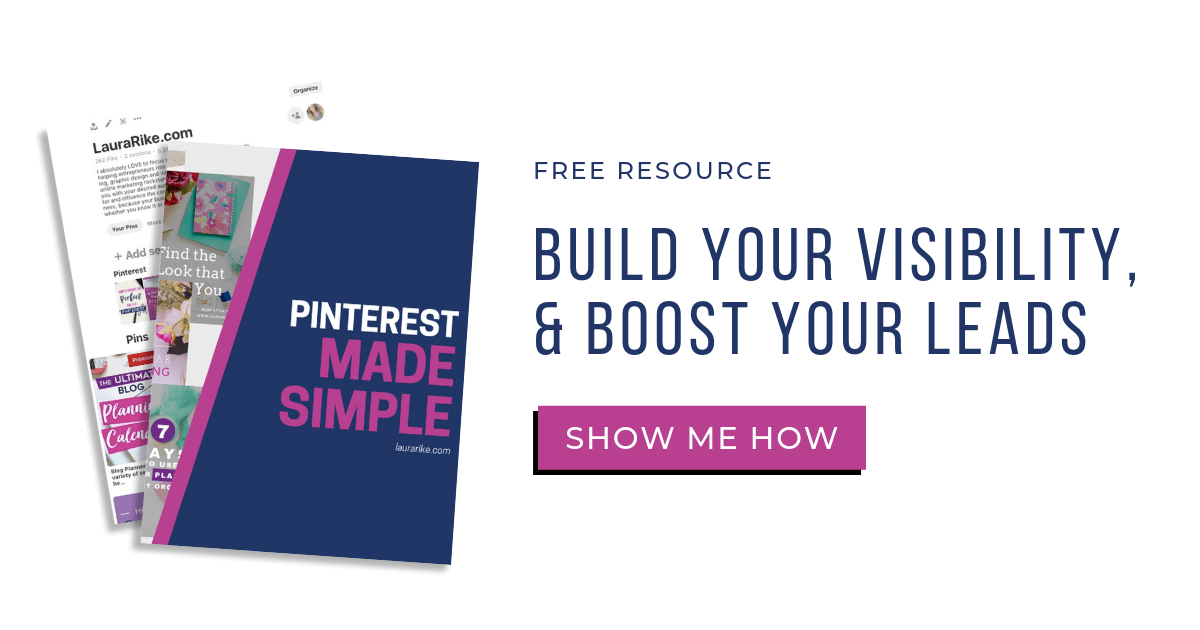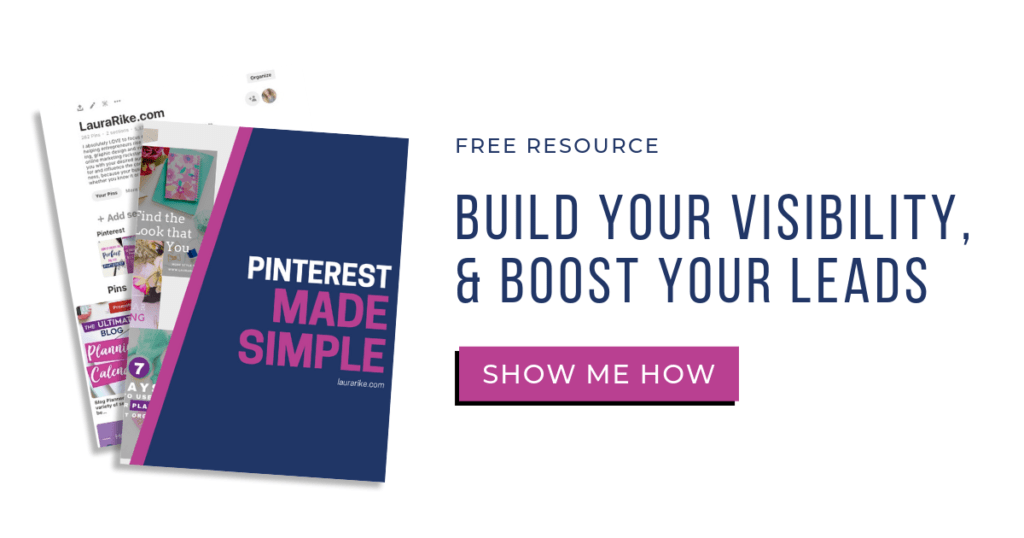 Always Include Contact Information.
Even if you operate out of a garden shed, you want to add a phone number and address to your Facebook page. First, this indexes your brand for local Facebook search results. Secondly, the all-supreme Google algorithms automatically place heavier importance or relevance to pages with specific contact information.
Besides these obvious SEO benefits, you want to be easily reached by past, present, and future clients so be sure to include a number and email as well as mailing address.

Write Your Updates Like Loglines.
Loglines are typically one or two sentences that a director or screenwriter will use to succinctly and interestingly summarize a story or pitch an idea. A multi-million dollar project can hinge on a writer picking a killer logline to hook and engage a producer.
You need to think the same with your Facebook pages because as with your name, Facebook and Google will place rank the importance of your update on the first couple words. In fact, your first 18 characters will be used as a meta description so use keywords here and make them pertinent.

Be Social and Link to Relevant Pages.
When it comes to any type of online marketing, it's important use a multi-faceted approach and think of social networking as a web. In addition to updating about what's happening with your business, it's a very good idea to look outwards and build up connections. Like other pages (but only those that are relevant to your business) and particularly look for influencers in your niche.
In future updates, ask to provide links to relevant content they've made and request backlinks to your own. Additionally, link your page with any other online channels you might have, such as a Twitter profile, website, and YouTube Channel.
The Bottom Line for Facebook Page SEO Optimization
The important thing to remember with your Facebook page, is that optimizing SEO is essentially about adding value to your overall brand and business. Facebook and Google algorithms are tweaked so that they provide their customers with data they think most relevant to them, and so you need to prove to those algorithms that you are the most relevant! So use your keywords, grow your network, backlink, and sell every update like you're selling a movie script!
Inner Circle Membership:
We simply do NOT have the time – or energy – for shiny object syndrome and "systems" that are nothing more than a vague outline of how someone ELSE reached success!
Here's the truth…

EMPTY STRATEGIES WILL ONLY KEEP YOU STALLING OUT IN YOUR BUSINESS!
You'll get a whole lot of NOWHERE chasing flashy promises. The majority of "six-figure-strategies" out there aren't built for a busy mom, and they certainly do not show you how to actually put the system pieces IN to your business.
Get access to my Simple, Sustainable Systems and Support for Busy Mamas Ready to Rock It Online – Without Tantrums Over Tech and Trading Sleep for Success!