DISCLOSURE: This post may contain affiliate links, meaning I get a commission if you decide to make a purchase through my links, at no cost to you. Please read my disclosure for more info.
Welcome to the wonderful world of Pinterest. This is the perfect place to collect pretty pictures. It's pretty easy to get lost down the Pinterest rabbit hole for an afternoon. Pretty soon, you will start to make your own collection on Pinterest. It doesn't take long for your collection to get pretty big. The bigger your collection gets, the harder it is going to be to find the picture you want. Sure you can scroll down until you find the picture you want to see. But really, who has time for that?
You're going to need to keep everything organized. But how are you going to do that? Lucky for you, Pinterest has a little thing called Pinterest sections. Pinterest board sections will make life so much easier. You will not have to deal with headaches anymore because of them. But what are Pinterest sections? Why do you need them? How do you even set them?
In this article, we'll be looking at what Pinterest sections are, how they work and, how you can use them.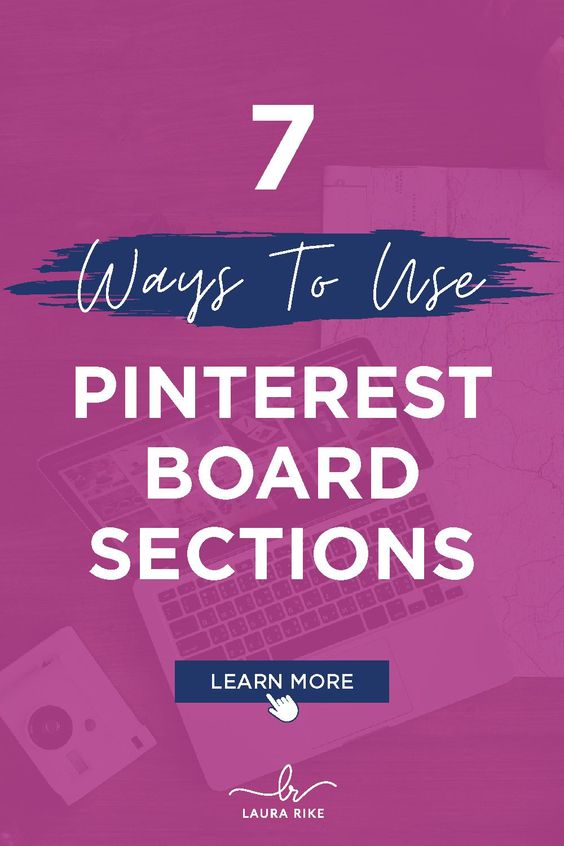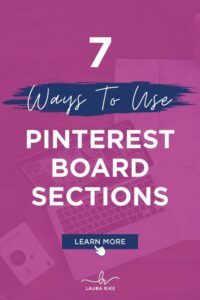 What is a section on a Pinterest board?
The first thing you have to do is know what a section is. What is a section on a Pinterest board, you ask?
Pinterest sections is like a board within a board. Instead of creating new boards for increasingly niche topics, you can subdivide a larger board into sub-categories. For instance, if you interested in fashion you could make one primary board and then use sections to effectively create mini-boards on subjects like certain designers, high fashion, high-street fashion, different fashion houses, etc.
Think of having a large box in front of you. Now take that box and divide the inside up into sections. You can put things into these different sections. And that's it. That's what section is in a nutshell. It's basically like subfolders on your board. You can move your pins to match the section you are trying to put them in. You can make sections based on themes that you desire. Pinterest boards will look more professional this way. Sounds easy, doesn't it? But why do we have these?
What is so important about Pinterest sections? Well, you want to keep your pins separate and need, don't you? You will save yourself so much time when you are looking for the right pin to look at. Your board looks more organized to anyone who comes to visit. This will play into your favor if you are running a business on Pinterest.
Professionalism is needed for you to keep your social media presence looking proper for potential customers. Why not do the same with your Pinterest?
How do I create sections in my Pinterest boards?
Now that you know what a Pinterest section is, how are you going to make one? It's rather simple once you get the hang of it. You can do this procedure on your computer or your mobile device.
Simply go to one of your boards and click on the Add Section option in the drop-down menu, then select which pins you want to move into your new section. I will show you more step-by-step below.
First, you have to make a board. Collect some pins and make a board. Once you have your boards together, you can really get to work. Let's say you want to make a section for homemade masks.
First, select a board. If you are on a computer, click on the plus button on the screen. You will see a menu pop up. Click on "section". Type what you want to name your section and click add. Mouse to a pin and click on the pencil to edit. Click on the drop-down menu for the section and select your new selection. Afterward clicked save. Then you're done.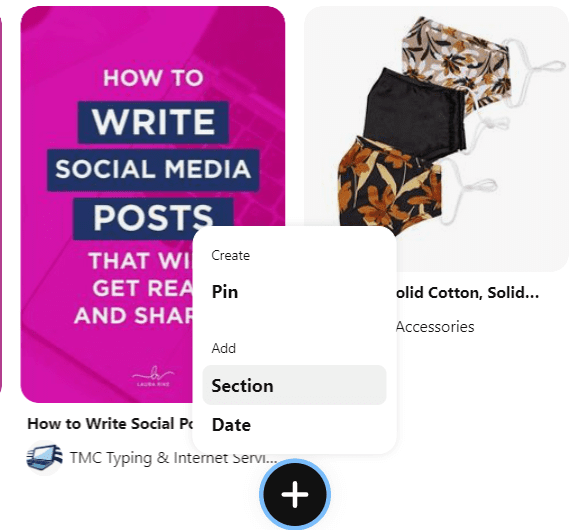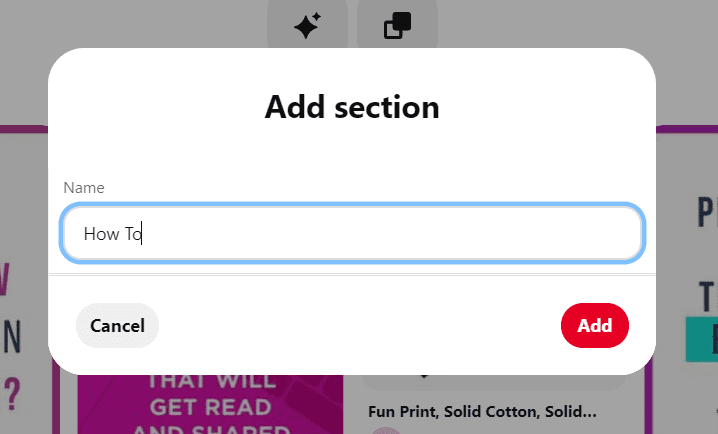 When you want to add more pins to your section, click on the pin, and follow the previous steps given. Your pin is in the new section. For mobile, tap on the plus icon on the screen.
Follow the same directions as before. Tap all of the pins you want to put and tap done. It's easier than you think.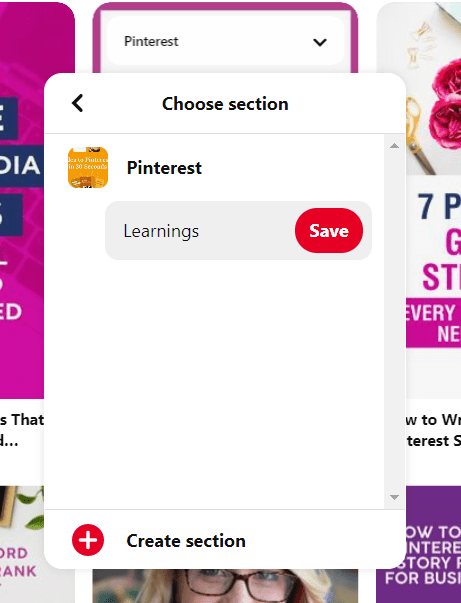 How to organize boards into sections?
There are a few ways users can use sections to optimize your boards, including:
Organizing your ideas – Rather than having one board filled with a jumble of ideas, sections allow you to create sub-categories, making it much easier to navigate through and quicker to search.

Cleaning up your boards – A messy board can make it hard for your audience to find specific pins. You can use sections to make your content easier to find and draw more people to your boards.

Planing for the holidays – Be it your plans for potential holiday destinations, or just how you plan to decorate this Halloween, sections can make planning for the holidays far easier.

Market research – Market research is hugely important for Pinterest-based businesses. Using sections can your research easier to navigate and read, making your efforts more efficient.

Better customer experience – Board split into sections are clearer, easier to understand and navigate, and offer an overall better customer experience.

Increase social influence – A well-organized board is going to drawn more people to your content and, because they can access multiple sections without leaving your board, keep them viewing for longer.

Plan that event or party – Using sections can help you organize your decor ideas, the food and drinks menu, possible venues, and even the guest list.
Saving Pins to Board Sections
When you save a pin, the boards you have with sections in them will have an arrow icon next to them. Clicking on that board will offer you the option to save the pin into a specific section.
Deleting Pinterest Board Sections
To delete a section, simply select the section and then select Edit from the dropdown menu. From there, select the Delete Section optionand click confirm.
Are Pinterest sections searchable?
Unfortunately, Pinterest sections are not searchable and do not impact your search results.
How many sections can you have on a Pinterest board?
Everything has a limit. Does that apply to Pinterest board sections? The answer is no. While you can have a maximum of 500 boards on Pinterest, there is no upper Pinterest sections limit for you to worry about. While you can have multiple sections per board, you can't nest Pinterest sections in sections. You can have as many as you want. There several boards with many sections. That would depend on how many pins you are saving.
If you have many samples and inventory, you can have as many sections as you desire to show off your merchandise. It's all about keeping your board looking as nice and neat as possible. Keep in mind that you are running a business. That first impression is key.
You want to get more customers and have your business spread over social media. If your potential customers have to keep on scrolling to look for a pin that you wanted, they will get bored and click off to another board. That is not good for you or them. A section will make it so much easier for them to find what they are looking for.
What's even better than you can have themes added to your sections. So if your potential customers wanted to look for hats, they can just click on that section labeled "hats" and browse as much as they want to make up their minds for what they want.
---