DISCLOSURE: This post may contain affiliate links, meaning I get a commission if you decide to make a purchase through my links, at no cost to you. Please read my disclosure for more info.
If you're an avid Pinterest user, you may remember manually assigning categories to organize your pins and your Pinterest boards. That is no longer an option. Instead, Pinterest uses its smart feed to automatically assign a category to your pins. Here's how you can find Pinterest board categories now and why it's essential to understand where your content belongs.
How do I find categories on Pinterest?
There are two ways to find categories on Pinterest.
When editing a board, you'll see an option for "topics."
Most of the topics are the same as they were in categories. If you aren't sure where your board so go, use the category "Everywhere"
You can also go to Pinterest.com/ideas to see a list of categories and topics.
You can review trending topics on Pinterest by using the search bar or by visiting the Pinterest newsroom. If your board is relevant, you can add one of the topics.
However, don't try to force your content to fit into a topic that doesn't make sense; otherwise, it will show up less in the smart feed. And your audience won't be able to find it.
Looking for a complete Pinterest keyword swipe file that makes it easy to get noticed, get re-pinned, and blow up your website traffic (and sale) in MINUTES with highly ranked keywords for your niche?
Check out my
Pintastic Toolkit.
Whether you're just starting out or you're in need of a new approach on Pinterest, I pour my industry experience, expertise, and unique value proposition into the toolkit & you'll be sure to achieve the results you've been looking for.
The most important thing to remember is that the topic needs to be relevant to your audience. It is good to pay attention to the trending topics to see what new content (or updated content) you can create to match those topics.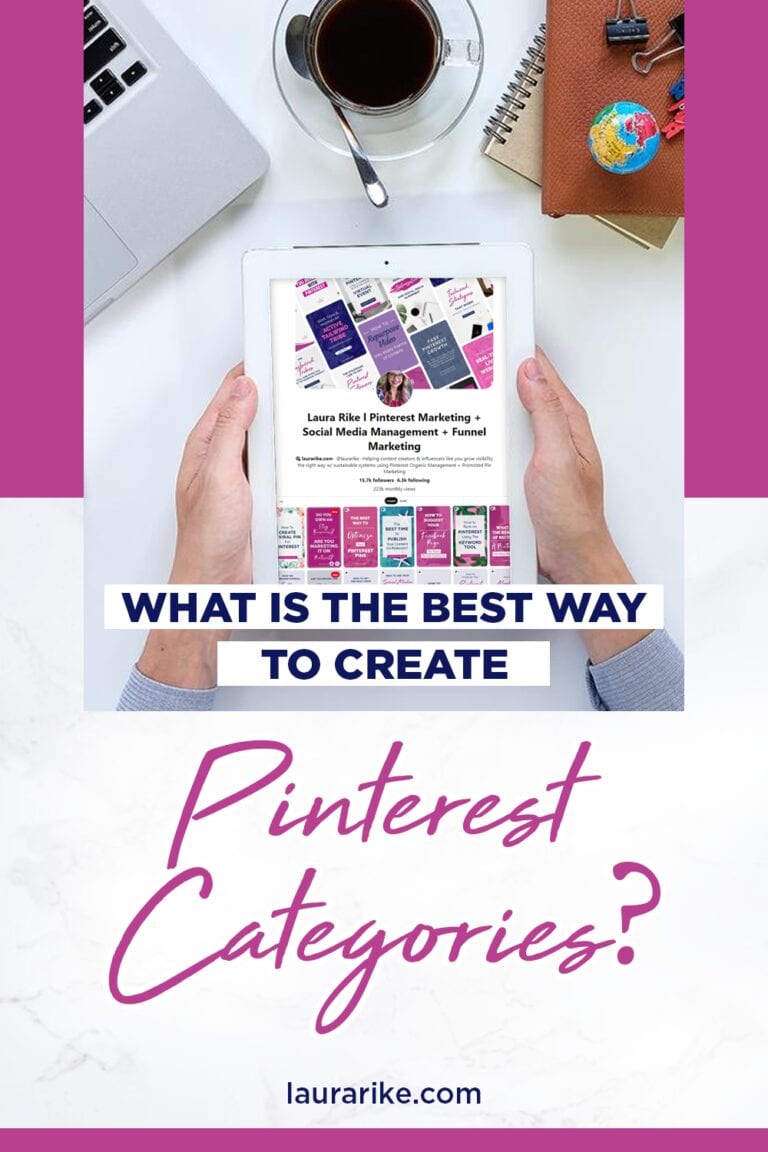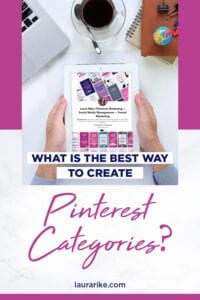 How do you organize pins on Pinterest?
The best way to organize your pins on Pinterest is to use boards and sections.
First, it makes your content easier for your audience to find. Second, it makes it easier for Pinterest to know who should see the content and find it relevant.
When creating a board, make a title using appropriate keywords related to Pinterest search keywords.
Create sections within the board that make sense and make your content easier to find.
Think about how your audience would search through your pins. Then on your profile page, you can create a custom order for your boards.
Take a look at your analytics. Make sure your most popular pins are at the top of each board.
Following these few steps will keep your pins optimized and more likely to be discovered by your ideal client.
What are the most popular Pinterest boards?
Right now, there is no way to know which boards and categories are the most popular.
You can use your analytics and the Pinterest search feature to see what content you should be creating, though. Pinterest also publishes top searches and upcoming trends in their newsroom. You can use these to generate ideas.
But the most important thing is to focus on making your content relevant to your audience, high quality, and fresh. That will ensure your audience keeps coming back for more.
Now that you know everything about Pinterest categories, do you need to improve your Pinterest account and strategy?
With a Pinterest audit, my team will take a closer look at your overall Pinterest strategy and account to give you a clear picture of how you can get more success this quarter.
Every Pinterest audit is tailored to the individual content creator or brand. The finished Pinterest audit can include items such as:
Setting your goals.
PDF breakdown of every board and areas for improvement.
Analysis of your daily pinning strategy.
Individual board optimization, group boards, profile optimization, analysis of the recent few hundred pins.
Analysis of group boards and Tailwind Tribes.
Analysis of what type of content resonates the most with your audience on Pinterest for future content planning.
Suggestions for pin graphics changes based on what your niche engages with, with examples or even layered PSD custom branded templates.
Custom content for descriptions, board titles, keywords, and more to use for your specific niche
List of actions to take immediately.
GET IT TODAY FOR ONLY $197
Originally $297