DISCLOSURE: This post may contain affiliate links, meaning I get a commission if you decide to make a purchase through my links, at no cost to you. Please read my disclosure for more info.
Let's talk about going live on Facebook mama, shall we?
Sometimes as a mom, the thought of going live on Facebook can be a daunting task. Especially for those of us who have young children running around… Who may have BINGO playing in the background right now like I do. I want to teach you, mom to mom, how to utilize Facebook live for your business and when to get it done. I don't want you to worry about having to add yet another thing to your nap time to-do list.
What is Facebook Live?
Facebook Live is a feature that lets you broadcast a video or audio in real time from your iOS or Android device to your followers on Facebook.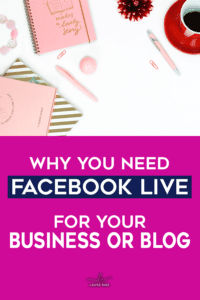 Why should I use it?
As a mom, you get it. You know that making connections is important, but you also understand that we are busy. We don't have time to connect with all of our followers in person, going on coffee dates, or to playgroups.
Using Facebook live gives you the opportunity to add a personal touch to your business.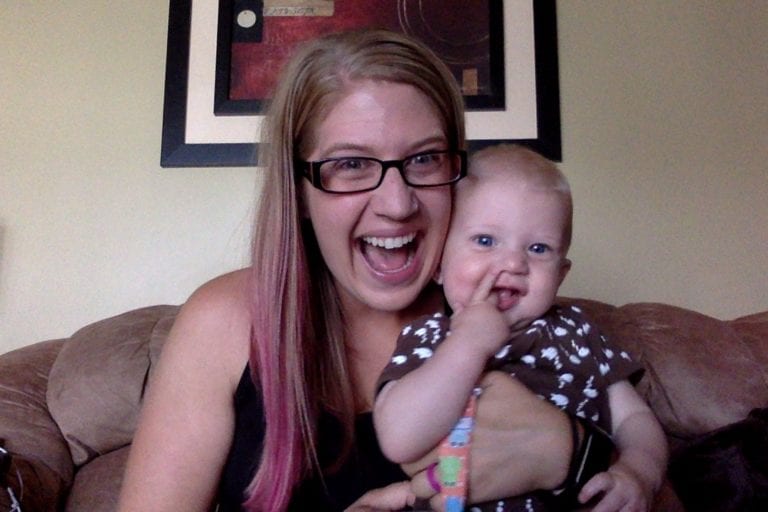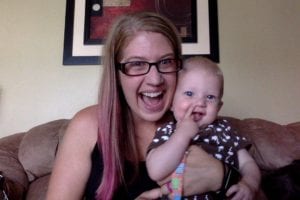 It helps your followers connect to you in a real way. A live video allows YOU the chance to connect with your followers and share who you really are without 17 retakes, the use filters or post-creation editing.
What I love most about using Facebook live is the ability to be totally transparent with my audience and have great content to repurpose for MULTIPLE places online.

As a mom, you may face some special challenges going live. For example, your adolescent son may decide he needs to listen to music at full volume in the room next to you or your toddler may suddenly NEED to tell you something RIGHT NOW. But, the joy of those momentary "distractions" is that it makes you relatable.
I have found that being perfect on Facebook live is not an option, and that's ok! Just be yourself, be willing to roll with the punches, and you will do great.
Now that we have covered what Facebook live is and why you should be using it, here comes the big question…
How do I do it?
The first step of course is to decide why you are going live. Here are some great options of things to do on Facebook live:
Share a new blog idea or respond to blog comments in real time

Do a live tutorial or demonstration of your products

Offer a Q & A session to answer questions about your business

Give a behind the scenes view of your business

Introduce your teammates to your followers

Share valuable tips and tricks on a topic you have knowledge on
Once you choose a topic and are ready to go live be sure to have a general idea of what you plan to say ready. You can write it out on paper or have it written electronically on your computer or tablet.
Remember what I said before… Being perfect is not an option, so be willing to laugh at any distractions and ready to go with the flow if things don't go the way you expect.
The next step is to gather any tools you may need. An IOS or Android device and a tripod for stability (if you have one) is all you really need.
Remember to keep any props or products you will need close by so you don't have to run out of the room to find something in the middle of your video.
Make sure to check that everything is in working order and ready to stream (sound and video on). Then choose a spot in your house that has great lighting and a good connection to your WIFI or mobile data.
Before you go live make sure you set the video to "public" if you are using your personal profile so that people you aren't friends with can see your video as well. Give your video a clear title so that people know what you are going to be talking about.
Once you are live say hello, smile, and introduce yourself. Remind yourself mentally that perfection is not expected and transparency is key.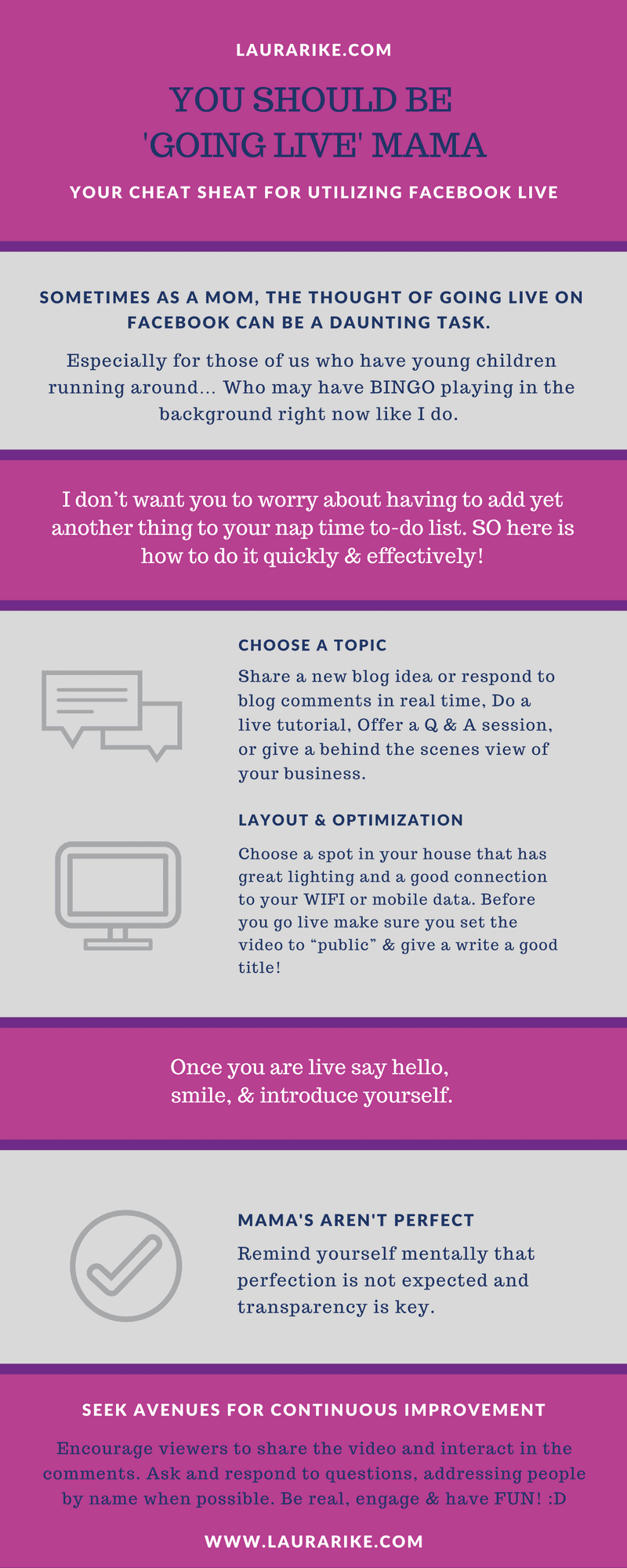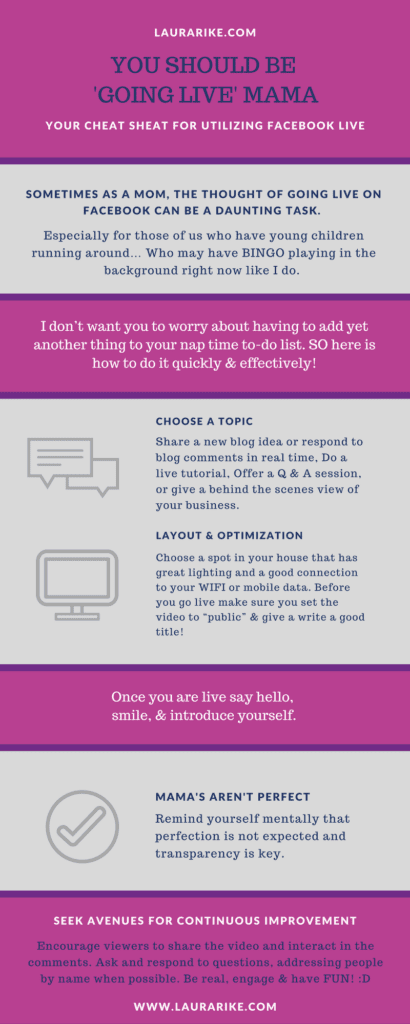 The goal of a Facebook live video is to offer value to your followers and to increase your social media presence. During the broadcast make an effort to engage your audience.
Encourage viewers to share the video and interact in the comments.
Ask and respond to questions, addressing people by name when possible.
When you are getting close to the end be sure to thank everyone for joining you.
End your video with a call to action.
For example, you may ask viewers to subscribe to notifications if they enjoyed your video and want to be notified the next time you are live. At the very end, a great way to end the video in a tactful way is to say you have time to answer a few questions if there are any. When you are done simply tap 'finish'.
Afterward you will be able to download and use the video for other purposes if you so choose.
I would love to see some of the live videos you have done in the past.
Drop a link to one of your past live streams in the comments below.