DISCLOSURE: This post may contain affiliate links, meaning I get a commission if you decide to make a purchase through my links, at no cost to you. Please read my disclosure for more info.
If Pinterest is part of your marketing plan to attract more customers, there's an important feature that you should be using. It's called the Pinterest Verified Merchant Program. In this post, we'll go over what the Pinterest Verified Merchant Program is, who can apply as well as the application process.
What is a Verified Merchant?
Pinterest launched its Verified Merchant Program in March 2020. The program was the company's response to COVID-19's impact on e-commerce and a significant increase in traffic to Pinterest. In order to become a Verified Merchant, you must go through an application process and review. Once approved, Verified Merchants have a blue checkmark on their profiles, similar to verified profiles on Twitter and Instagram.
Benefits of being a Pinterest Verified Merchant
There are several benefits associated with the Verified Merchant Program, including:
Increased distribution through the shopping experience.
Conversion Insights Tool. This provides users with analytics about conversions as well as measurements for organic and paid Pins.
Capabilities for dynamic retargeting. This means you will be able to users that came to your website via a Pinterest Ad but didn't end up buying anything.
A blue checkmark has become associated with credibility. It will provide an additional level of authority and even trust for your brand.
Verified Merchants have access to new features sooner.
More exposure for your website with Pinterest's 'shopping experiences' in the 'shop tab.' This will make recommendations for featured Verified Merchants for users based on the items they are pinning.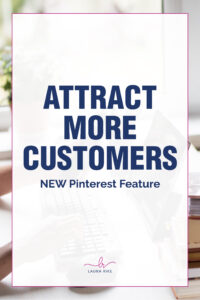 How do you become a Verified Merchant on Pinterest?
In order to apply for the Verified Merchant Program, you must be a US-based business. The website dos plan to expand the program to businesses outside of the U.S. at a later date. As we mentioned, you must apply in order to become part of the Verified Merchant Program. Here are the application requirements:
Connect your product catalog to create Pinterest Product Pins. If you are a Shopify user, you can use the Pinterest for Shopify App to create and connect your catalog automatically. Pinterest says that once everything is connected in the Pinterest for Shopify app, you are ready to start your application.
Install the Pinterest tag on your website in order to receive your analytics. A Pinterest tag will help you track actions that come from Pinterest.
Pass the merchant review by meeting the merchant guidelines in order to get the blue checkmark for your account. Once your application is submitted and reviewed, you will receive an email letting you know whether or not you have been approved.
Requirements to be accepted in the Verified Merchant Program
Pinterest must have up-to-date (within 24 hours) and accurate information about the price and in-stock status of your product.
The Pin must display a specific item, excluding services, that customers can buy.
The Pin image and description must accurately represent the product.
The merchant must have a return policy that is easy-to-find and clear.
The merchant must have contact information displayed that is up-to-date and accurate.
The merchant's shipping policy must be clearly displayed, including expected shipping time and costs.
Merchants must have a digital footprint online and not just a Pinterest account.
Merchants can't be resale or consignment marketplaces.
I was rejected, now what?
Most users who get rejected from the Pinterest Verified Merchant Program report it was from problems with their website's landing page. Pinterest has high standards for the quality of an applicant in the Verified Merchant Program. Common reasons that people get denied from the program include:
Spelling errors, grammatical errors, and typos
Forcing users to go to another page that doesn't belong to you
Images that are not high quality
Multiple pop-ups that can't be closed
Content on your pages or product descriptions that is not original
Stock images
Out of date or season content
Products that are not in stock
Shopping policy, return policy, and terms and conditions not noticeably displayed
Your business name is not consistent across social media
No content posted on social media accounts in the past 30 days
A Pinterest account that has not been active for at least three months
The verified site on your Pinterest profile and your website domain name do not match
You may also have been rejected because your business sells a product that is prohibited by Pinterest. The following items are not allowed:
Alcohol
Financial products such as loans, cryptocurrency, and so on.
Any product that falls under Pinterest's prohibited products and services list, this can be found here:

Pinterest Verified Merchant Guidelines
You can reapply for the Verified Merchant Program in 30 days and once you fix any errors. You can also contact Pinterest if you truly believe that your application denial was an error.
Pinterest is a great tool for marketing, it's unique and extremely aesthetically-pleasing making it a great way to showcase your products in the best light. With the addition of the Pinterest Verified Merchant Program, we expect Pinterest to gain more traction and become an even more popular social media platform for businesses and customers alike.
Looking to step – up your strategy? To learn more please click here.