DISCLOSURE: This post may contain affiliate links, meaning I get a commission if you decide to make a purchase through my links, at no cost to you. Please read my disclosure for more info.
As a popular social media platform, Pinterest has become a go-to destination for people looking for inspiration, ideas, and products. Over the years, Pinterest has refined its tools to help small businesses reach new audiences and generate more sales. Pinterest Trends is one of these useful tools, and there are several ways to access these insights.
The visual nature of Pinterest encourages business owners and bloggers to showcase their products or services visually. With tools such as trend insights, advertising, and analytics, businesses are learning to maximize the opportunity of working with Pinterest.
In particular, being familiar with topics and keywords trending on Pinterest is a useful tool to tap into a captive market and grow your business. By leveraging trends on Pinterest, businesses can create targeted content that resonates with their audience, ultimately driving more traffic and sales.
Let's explore the basics of Pinterest Trends and how to determine them.
What Are Pinterest Trends?
There are different levels to understanding Pinterest trends. First, it's important to understand that Pinterest works as a visual search engine, with users looking for ideas, products, or inspiration based on a keyword (or string of keywords).
A trend on Pinterest refers to a topic or Pinterest search term that has seen a significant increase in popularity or search volume over a period of time. For example, Christmas table settings are keywords that may increase in popularity around the festive season as more people look for inspiration on how to decorate a Christmas dinner table.
Trends may also be related to a particular topic or search time that experiences a high level of interest among users. For example, minimalism became increasingly popular after Netflix released Tidying Up with Marie Kondo. Minimalist interior design and tips likely started trending on Pinterest with the rise in interest.
Pinterest has developed its own tool to study trends. Pinterest Trends allows users to explore what's popular on the platform. It shows users what people are searching for, which keywords are trending, and what content resonates with them.
Understanding trends is an important strategy for businesses that want to identify trends in their industry and create engaging content that encourages action.
How to Determine Pinterest Trends?
Understanding the value of Pinterest trends is a great starting point, but how do you determine phrases trending on Pinterest? There are various ways to uncover which topics and keywords are performing well on the platform — and here are a few of them.
1. Look at the Pinterest Predicts reports
Pinterest Predicts is an annual report published by Pinterest that highlights emerging trends on the platform. The report is based on analyzing user behavior and searches data from the previous year, providing insights into expected trends to gain traction in the following months.
By identifying emerging trends in the Pinterest Predicts report, businesses, and bloggers get a glimpse of possible future trends and can incorporate relevant keywords and topics into their strategies. The report is also useful for understanding consumer behavior and preferences, helping businesses to tweak their marketing strategies as needed.
2. Visit Pinterest Trends
Once logged into your Pinterest account, you can type a keyword or phrase related to your industry or niche in the search bar. Once the search results appear, click on the Trending tab on the left-hand side of the page. The action will take you to the Pinterest Trends page, where you'll find a graph of the search volume for the chosen keyword or phrase, along with related keywords and topics.
The page allows you to filter results by location, date range, and category to refine your search further and find relevant search trends for your strategy. Armed with these insights, you can apply these emerging trends to your Pinterest content strategy and stay ahead of the competition. Pinterest Trends also allows you to experiment with new content ideas and formats that leverage keywords that resonate with your audience.
3. Use the Pinterest search engine
As you start typing keywords in the search bar on Pinterest, the platform will start suggesting related terms in the drop-down space below. If you notice that keywords or phrases are marked with a red upward arrow, you've stumbled across a trending topic. Click on the trending keyword and discover related Pins and boards currently popular on the platform. Scrolling down to the bottom of the search results, you'll see a full list of related keywords and topics.
These insights are helpful to consider with your content strategy, identify popular topics and keywords, and stay up-to-date with the latest trends on the platform. Another way to use Pinterest's guided search is to explore related search terms based on the keywords you enter.
4. Research your competition
As a business or content creator, you can learn a lot about Pinterest trends by studying your competition. The first step is to identify your competitors on Pinterest who are in your niche and have a significant following or engagement on the platform. Once identified, you can analyze their Pinterest boards and Pins, looking for patterns in the type of content that they share, the topics that they cover, and the keywords and hashtags that they use.
Take a look at the follower count and engagement rate, taking note of popular Pins. Identify gaps in your competitor's content strategy and use your insights to flesh out your own Pinterest strategy. By studying your competition and noting its strengths and weaknesses, you can stay ahead of the curve.
5. Assess your analytics in Tailwind
Pinterest business accounts can access useful analytics and insights that should be studied to improve your content strategy. In addition, third-party platforms such as Tailwind also offer valuable insights into which Pins you should re-Pin and mimic in style for future Pins.
If you use Tailwind for scheduling, you also have access to Pinterest Profile Performance under Analytics. Look for the Trends section and take note of the top keywords trending on Pinterest (as well as insight into how your Pins are performing for those keywords). These insights can bolster your content strategy and help you optimize your keywords to maximize trends.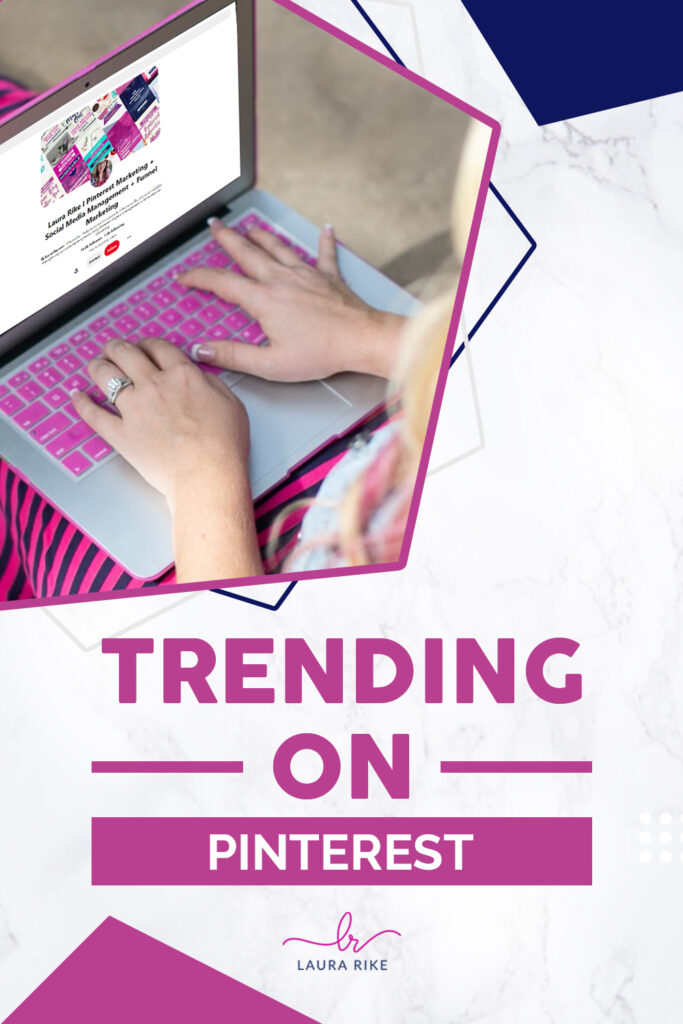 Get Started: Top Pinterest Trends
While there are a few overarching trends on Pinterest, there are also granular trends within specific niches and industries. To help you get started, consider the following top Pinterest trends predicted for 2023.
Front porch ideas
Pinterest is popular among homeowners who look to Pinterest for inspiration. A front porch with high curb appeal is expected to be a major trend in the upcoming year. Focus is placed on the front porch to promote the attractiveness of a property's exterior when viewed from the street, and various factors can influence it. Some of these factors include landscaping, exterior design, architecture, and landscaping.
Interior design
Interior design is one of the most popular niches on Pinterest, and the platform's value is only expected to increase throughout the year. As Pinterest is known for its visual focus, the platform provides a wonderful opportunity for interior designers to share ideas, products, and services. In 2023, the color orange is expected to trend, inspiring users with a sense of optimism and hope. Orange is sophisticated and versatile, but it can also be overwhelming. That's why orange accents are expected to be a trending point for anyone designing a home (or makeover).
Baths and showers
There has been a global shift toward wellness, translating into Pinterest trends as experts predict that showering and spa-like showers will take preference over bathtubs. Wellness and self-care are becoming increasingly important, and Pinterest provides a space to inspire users with bathroom finishes, designs, colors, and accessories — all that prioritize wellness!
Home and decor ideas
Homeowners planning an interior design overhaul, renovation, and DIY projects often turn to Pinterest for inspiration. Different categories such as decor, furniture, accessories, lighting, and color schemes are all popular on Pinterest, providing the perfect opportunity for affiliated companies to get involved. In the coming year, the trend of comfortable, organic, and fluid designs is expected to flourish. These gentle, fluid and gentle shapes indicate a shift away from ultra-modern interiors.
Gardening
Just as Pinterest is popular among homeowners and designers, so does it inspire ideas for gardening, landscaping, and outdoor living. As the year unfolds, naturalistic and drought-tolerant planting compositions are expected to flourish on Pinterest. The aesthetic coincides with the shift toward sustainability and includes the likes of a gravel garden, resilient plants, and splashes of vibrant color to break up the hard landscaping. As people pivot to save water, Pinterest also expects to see a growing trend of rain chains and rock garden ideas.
A Pinterest Content Strategy That Optimizes Trends
Pinterest trends have the power to boost your content strategy when executed well. If you're feeling overwhelmed, you're running out of time, or you need a helping hand, then we've got you covered. Our Pinterest consulting services are focused on conversions, ensuring that your keywords are optimized for the best results.
Are you ready to get started? Book a strategy call with Laura Rike today!