DISCLOSURE: This post may contain affiliate links, meaning I get a commission if you decide to make a purchase through my links, at no cost to you. Please read my disclosure for more info.
As business owners develop a more expansive following, inevitably they are hit with a barrage of repeat questions from potential and existing clients.
Even new start-ups can be hit with a revolving carousel of similar questions.
Where can I find ________? Will this do ________? How do I _________?
Getting questions can be great.
Questions can be an insight into what people want to know.
Questions can also help you sort through what is missing in your material.
And depending on the nature and way a question is framed, questions can help you sort who is a perfect potential client and who isn't.
Answering questions is important. You don't want to leave a potential client wondering … even if you do have the answer in 13 places on your website.
But repeatedly answering the same question can be a time and energy drain. What's worse, repeatedly fielding questions can stop you from focusing on the work you're meant to do.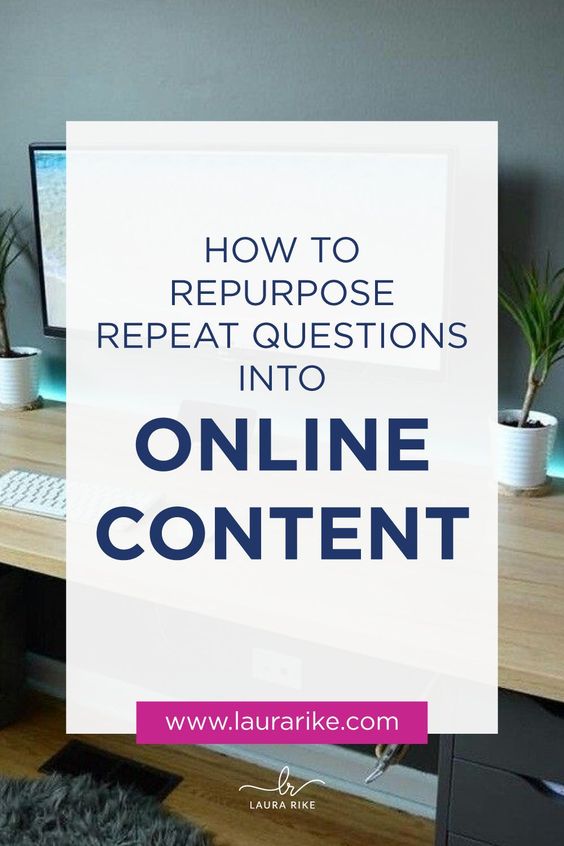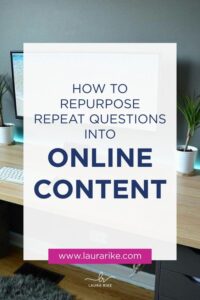 That's because while sometimes it's a simple question, it still takes time to answer. And the more complex the question, the more time the answer commands.
Want to know an effective strategy for what to do with repeat questions?
It's contained in this simple formula:
Q & A = Video ÷ Platforms
Whenever you have several questions that seem to be a rehashing of the same old thing you have been asked before … or they center around a particular theme … consider taking these steps:
Step 1: Make a list of those commonly asked questions and the answers you'd provide.
Step 2: Add to the list some questions that you believe people should be asking but aren't.
Step 3: Organize the questions so that similar topics are placed together. (For instance, put all questions about timing together, all questions about refunds together, etc.)
Step 4: Shoot an engaging video where you pose the questions and then answer them by category.
Step 5: Re-purpose the videos for the platforms you're on and engaging with clients.
Of course, the key is that when you record the video, you must make sure the video (including you) is engaging and consistent with your brand.
And above all else, don't look bored.
People will believe that the way you answer the questions or handle the process is a window into how you will treat them. So be really engaged in the process.
You can make the video fun.
Or do the questions in reverse order of importance (like the countdown done on some famous television programs).
You can make it simple – shooting the video from your phone camera.
Or you can make it more complex – adding props, text overlay, music, or whatever aspect that is brand-consistent and aligns with your message.
Because videos are often first watched with the sound off, it's a great added value to include either the transcription or text in the video.
After you create the video, consider repurposing them for the different online platforms where you engage clients and potential clients – your website, blog, and social media presence.
You can also have the video content re-purposed to include on a page that populates when you are making an offer or for your own Knowledge Center or Resource Hub.
BUT REMEMBER THIS: How you refer people to where they can find the answer needs to be done carefully. If done too flippantly, it can feel like you don't care. So be as thoughtful with how you refer someone to the answer as you are in providing the answer.
The key here is that when you are getting repeat questions, you don't want to let them remain unanswered.
Taking a few minutes to address them will save you tons of time in the long run.
And it will let your clients and prospects know that you take their questions seriously.
So what's next?
We simply do NOT have the time – or energy – for shiny object syndrome and "systems" that are nothing more than a vague outline of how someone ELSE reached success!
Here's the truth…
EMPTY STRATEGIES WILL ONLY KEEP YOU STALLING OUT IN YOUR BUSINESS!
You'll get a whole lot of NOWHERE chasing flashy promises. The majority of "six-figure-strategies" out there aren't built for a busy mom, and they certainly do not show you how to actually put the system pieces (like the ones in this post!) IN to your business.
Get access to my Simple, Sustainable Systems, and Support for Busy Mamas Ready to Rock It Online – Without Tantrums Over Tech and Trading Sleep for Success!