DISCLOSURE: This post may contain affiliate links, meaning I get a commission if you decide to make a purchase through my links, at no cost to you. Please read my disclosure for more info.
As a diligent content creator, it's your job (nay, your duty!) to stay on top of the latest trends on the platform.
Seriously, this is your ticket to getting results!
Continuously experimenting with new tools and tactics ensures your strategy never grows stale. You'll remain ahead of the curve and reap the rewards (think organic reach) that accompany early adoption.
With that in mind, today we're going to talk about one specific Pinterest tool that many creators are yet to leverage to full effect:
Video pins.
By the end of the article, you should feel more confident about using them and excited about the possible rewards! Sound good?
Keep reading to discover the nuts and bolts of Pinterest video pins, alongside a case study that reveals their true potential.
Pinterest Video Pins Strategy
Video Pin Guidelines
Before we dive in, there are certain rules and regulations you need to know about using video pins on Pinterest:
The file type must be either .mov, .m4v, or .mp4
The video duration must be between 4 seconds and 15 minutes
The size should be either 1000x1500px (2:3), 1080x1080px (1:1), or 1080×1920 (9:16)
The encoding should be H.264 of H.265
The title should be up to 100 characters; the description up to 500
The video content must not violate Pinterest's community guidelines
How to Create a Video Pin
Free Tools to Use to Create a Video Pin
Various bits of software on the internet make creating video pins a breeze. Wave Video and Adobe Rush are two premium options, but here are two of the best free tools to try first:
Canva
Canva's a free program that's awesome for all online design work- including video pins. Everything's quick and intuitive to use, with hundreds of sleek, pre-made video templates to choose from; there's even a built-in video maker and editor where you can drag and drop elements into position! As an official creative Pinterest partner, it's the perfect one-stop-shop for this purpose.
InShot
Another first-rate option, InShot's a powerful mobile application that allows you to edit and produce pro-quality videos on your phone. Those videos you snap on your android or iPhone? Upload and edit them right there on InShot before publishing (make sure the size is right for the pin!) to Pinterest.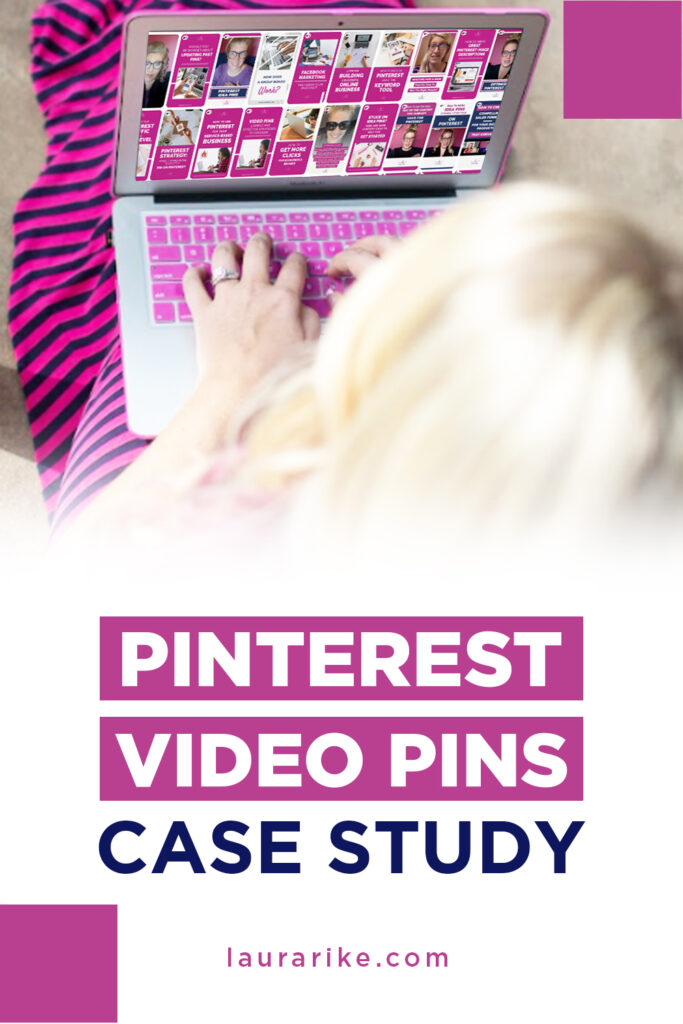 How to Publish a Video Pin
How do I pin a video to Pinterest?
Easy! It's the same process you use to upload a standard static pin.
Once you've logged into your business account, click the "+" icon, and select "Create Pin". From there, drag and drop the file from your device to upload it, then choose an image within the footage to use as a cover photo.
All that's left to do is add a title and description (remember to optimize it around certain keywords), pick a board for it using the drop-down menu, and add a destination link. In this part of the process, you can also add "tags", which tell Pinterest what the pin is about and determine where it'll appear on the platform.
Adding them is as simple as typing words into the box and selecting relevant options from the menu that appears! Top tip: the more you use, the more people you're likely to reach. Finish by hitting Publish.
Want to schedule it to publish later?
Use the native, organic scheduler on Pinterest by selecting "Publish at a later date" and then choose the day and time you have in mind.
How do you make a video pin?
The exact process of making a video pin depends on the platform or tool you're using. However, most creators utilize Canva (mentioned above) for its ease of use and stunning visuals.
If you do the same, then it's as simple as heading to canva.com, creating your free account, and navigating to "Pinterest Video Pin" (under the "video" tab).
From there, you can choose from their video templates and upload your own clip, as well as add text overlay and various other visual elements.
When you're happy with the design, you'd simply download and save it to your device before following the aforementioned steps on publishing video pins on Pinterest itself.
How do you create your own videos on Pinterest?
Yes, although they don't fall into the standard "video pin" category.
To create videos on the platform itself, you have to make an "idea pin" instead.
Similar to Instagram Stories, you'll find the option for this under the same "Create" tab as before. This time, though, you'll be able to record footage then and there via your smartphone camera or upload it from your device.
Take this approach and you'll have up to 20 pages to use for video clips and/or images. You can add text overlay, graphics, and audio files, as well as tag any products that feature in the clip.
The only slight downside is that you can't add a destination link to a webpage other than your Pinterest profile.
How long can a Pinterest video pin be?
As we mentioned above, Pinterest video pins can be as short as 4 seconds long and last up to 15 minutes (assuming they don't exceed the 2GB maximum file size).
However, because peoples' attention spans are shorter than ever, fleeting clips may perform best. Experiment to see what works for your brand, but the general consensus is that video pins ending after 16 to 20 seconds tend to be preferable.
As an aside, if you're paying for video ads, then Pinterest suggests you keep them between 6 and 15 seconds in length.
Pinterest Video Strategy Action Tips
Tip #1: Grab Attention Early
Video content across all digital platforms, including Pinterest, is fantastic at grabbing peoples' attention and boosting engagement.
But there's a catch:
For it to fulfill its potential, you have to grab the viewer's attention ASAP!
So, don't make people wait for a reason to keep watching. Use the first few seconds of your video to hook them somehow. Catchy questions, a buzz of movement and color, or intriguing glimpses into something about to happen, the final product or end result all work.
Tip #2: Add Text Overlay
Overlaying your video footage with text achieves all sorts of positive outcomes.
For one thing, it's different. People have watched thousands of hours of video footage, but only a fraction of it has text over the top. That novelty value can grab and hold someone's attention.
Text overlay will also make your pin stand out though.
It adds to the aesthetic appeal and lifts the general message you're trying to get across. It can also be used to add humor, context, or even subtitles for when the clip's muted (more on this coming up).
Tip #3: Keep it Short and Captivating
We've noted the benefits of brevity already. Yet it's worth re-emphasizing!
Not only are shorter videos more likely to capture someone's attention and produce higher levels of engagement, but they're also more tantalizing. Like a cliff-hanger at the end of a book or TV series, they leave people wanting more!
In essence, shorter clips make people curious. Because you haven't given everything away in a lengthy clip, they'll dig deeper to find out what they want to know. Expect more comments, clicks, and website visits as a result.
Tip #4: Remove the Need for Audio
Imagine the Pinterest feed if every video pin you scrolled past played audio automatically. It'd be chaos!
There'd be a dozen different clips playing at once, making it impossible to hear the one you actually wanted to watch.
That's why most users scroll with the audio turned off.
It's also why you must do whatever it takes to make your videos work with or without the sound on. They shouldn't require audio to attract someone's attention, explain what's happening, or reveal the message. Graphics, captions, and text overlays are perfect for this.
Tip #5: Set Your Video Pins Up for SEO Success
One similarity between video and static pins is the need for SEO-optimized titles, descriptions, and hashtags.
Placing relevant keywords in these places (without overstuffing them) will boost your pins' discoverability in the Smart Feed. In turn, you'll generate more views and clicks.
Tip #6: Stick to the Recommended Video Pin Specs
As you'll recall, the aspect ratio of your Pinterest video pins can either be 1:1, 2:3, or 16:9 (click here to see all of the different dimensions you can use).
Go for vertical pins to gain the most traction though!
Compared to horizontal or square pins, choosing 2:3 (or 9:16) should make your clips stand out more- especially in mobile feeds.
See above for the remaining video specs to abide by.
Tip #7: Make a Mini-Series
Video pins are an amazing way to showcase your products and introduce people to your brand. The only thing better than one video pin?
Lots of them sandwiched together in mini-series form!
That's right, nothing's stopping you from using Pinterest video pins as you might use YouTube or Instagram videos. These mini-series are super effective for detailed storytelling, consistent branding, and building a loyal following.
Give them a try this year, posting each pin of the series into a designated board on your profile!
Pinterest Video Pins – Do They Really Work?
My Pinterest Video Pins Experiment and Early Results
I decided to test out and see how effective video pins were for my own Pinterest account. To make sure we were testing apples to apples we stopped scheduling and posting any other type of content on my pin account to ensure the analytics were not compromised in any way. These are my account analytics prior to the case study and video pins being posted: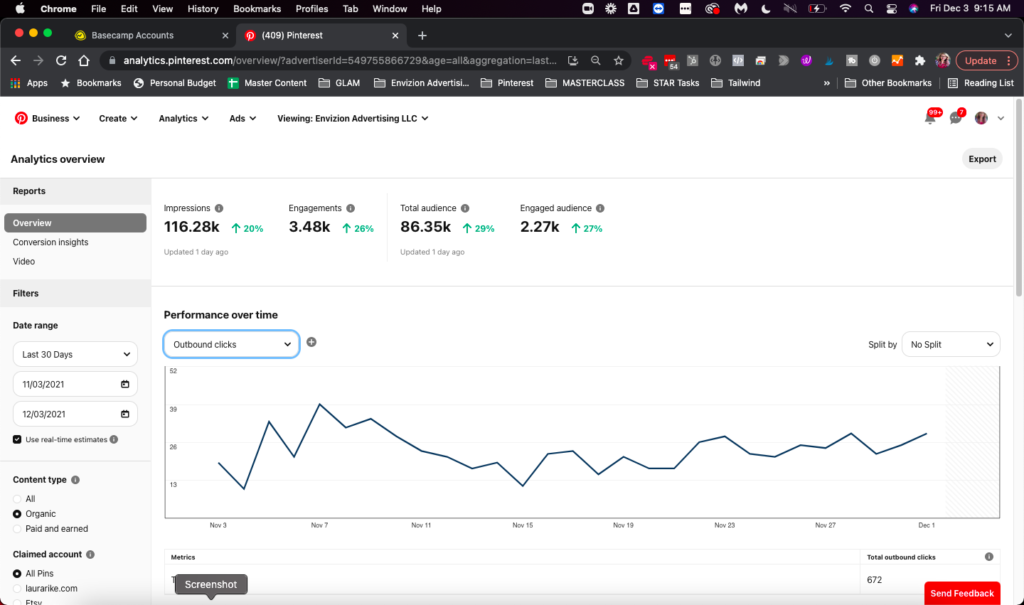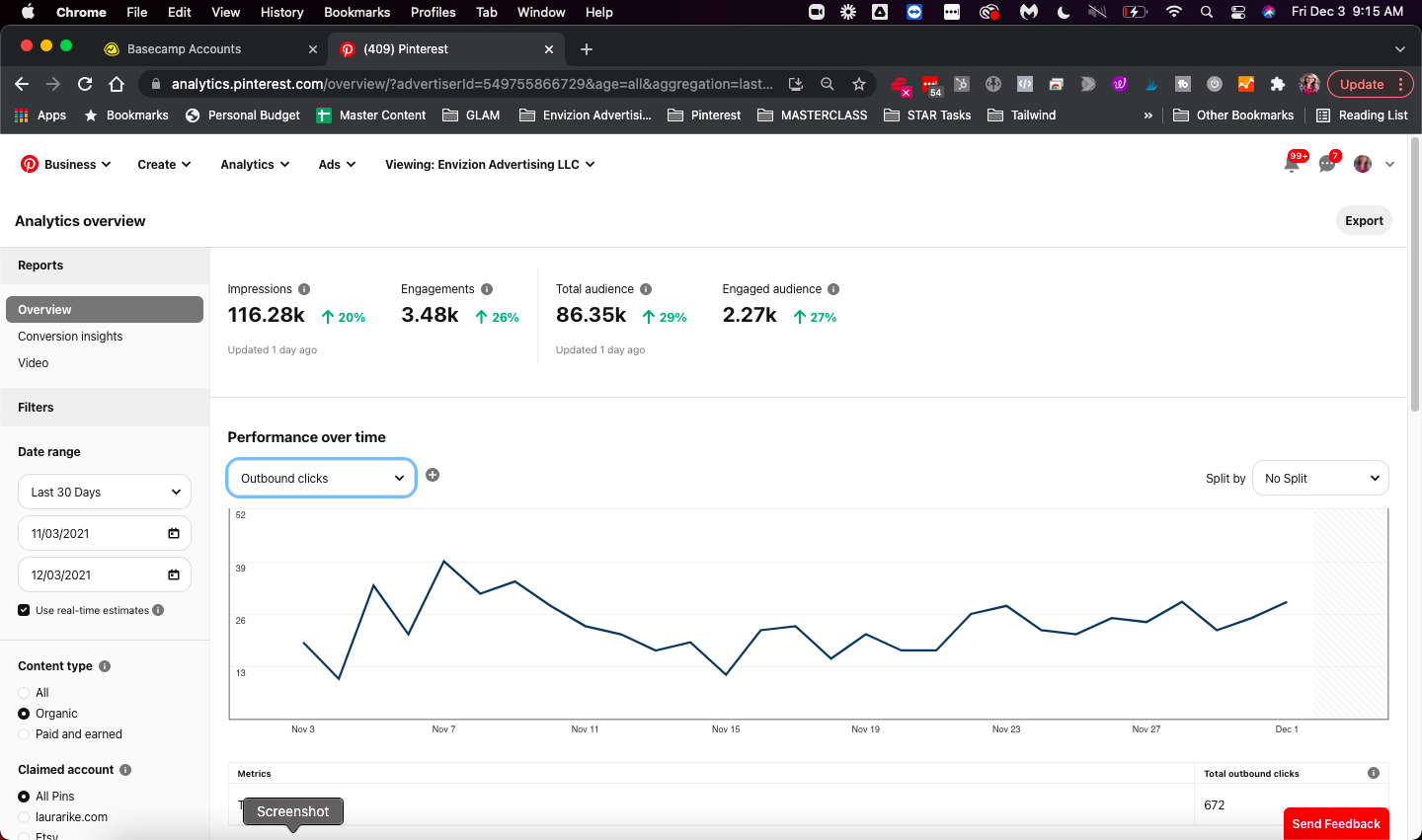 I scheduled one video pin a day at the same time to the same board. The only difference was the links I directed my content to for each video pin.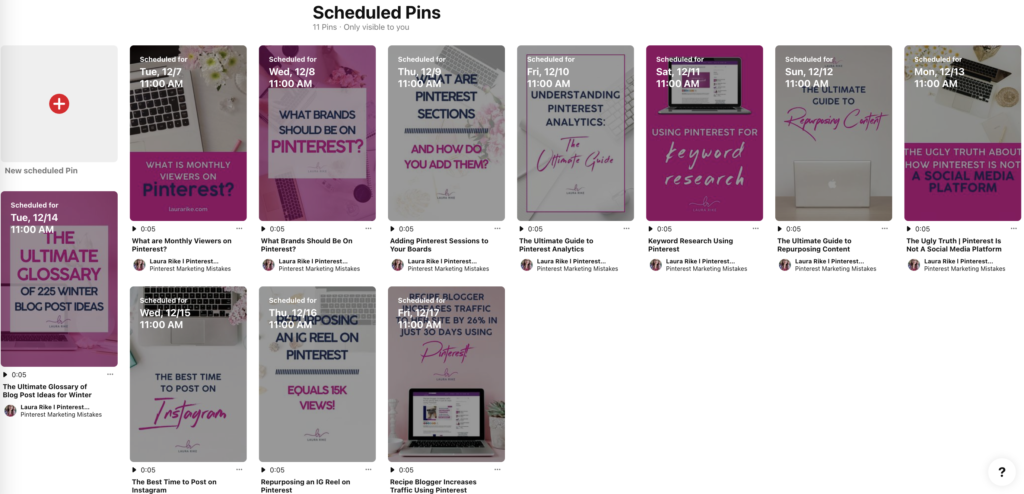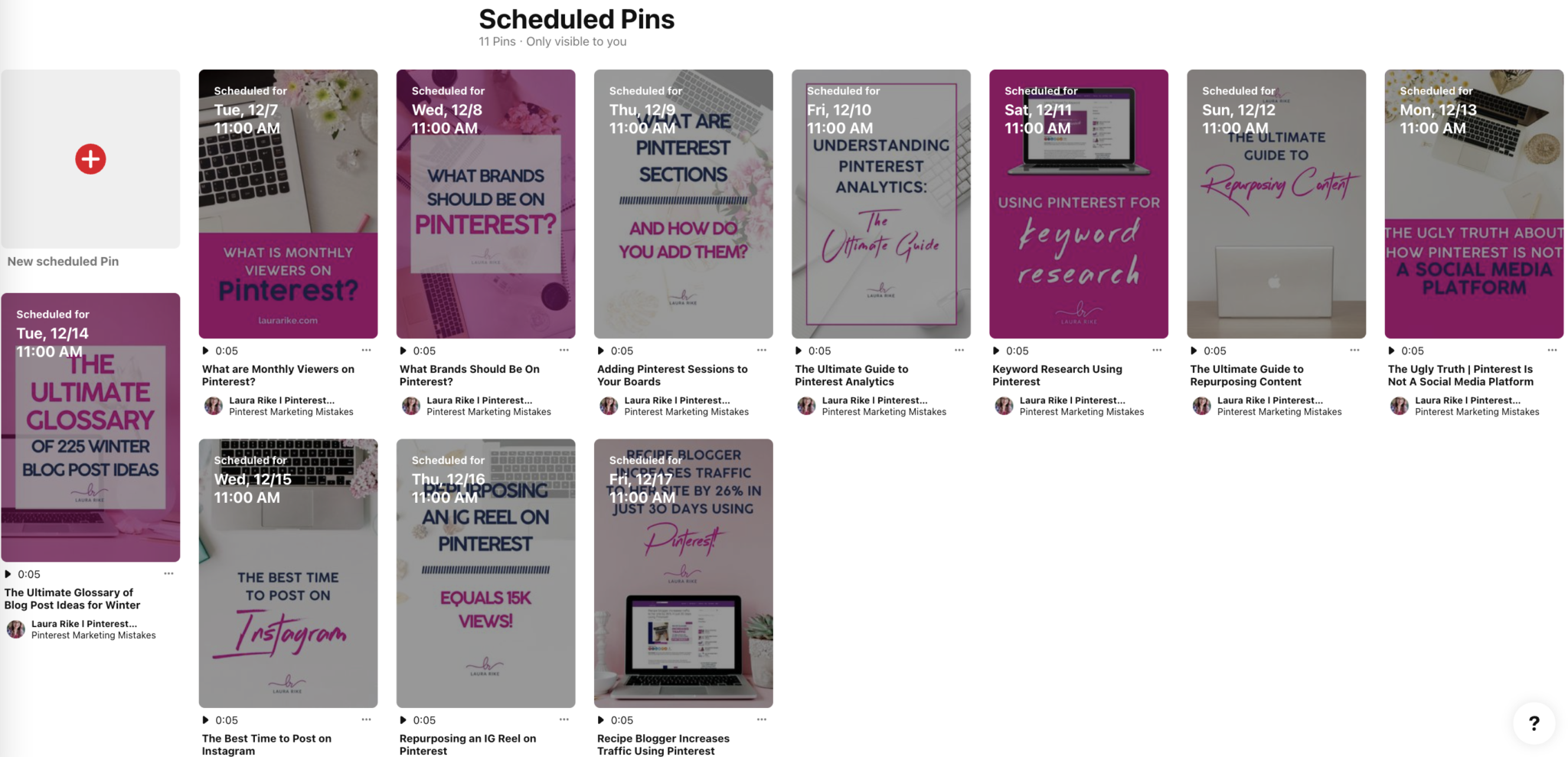 These are the results that I screenshotted every milestone: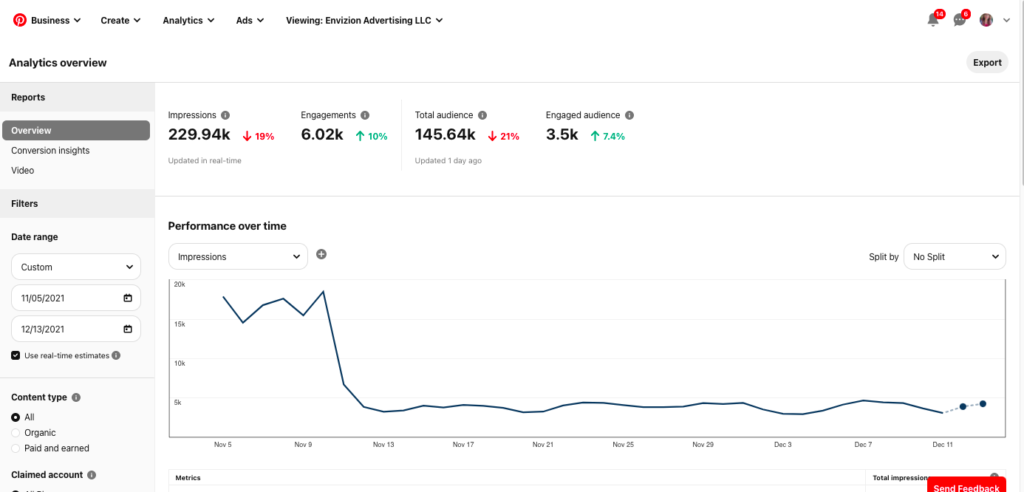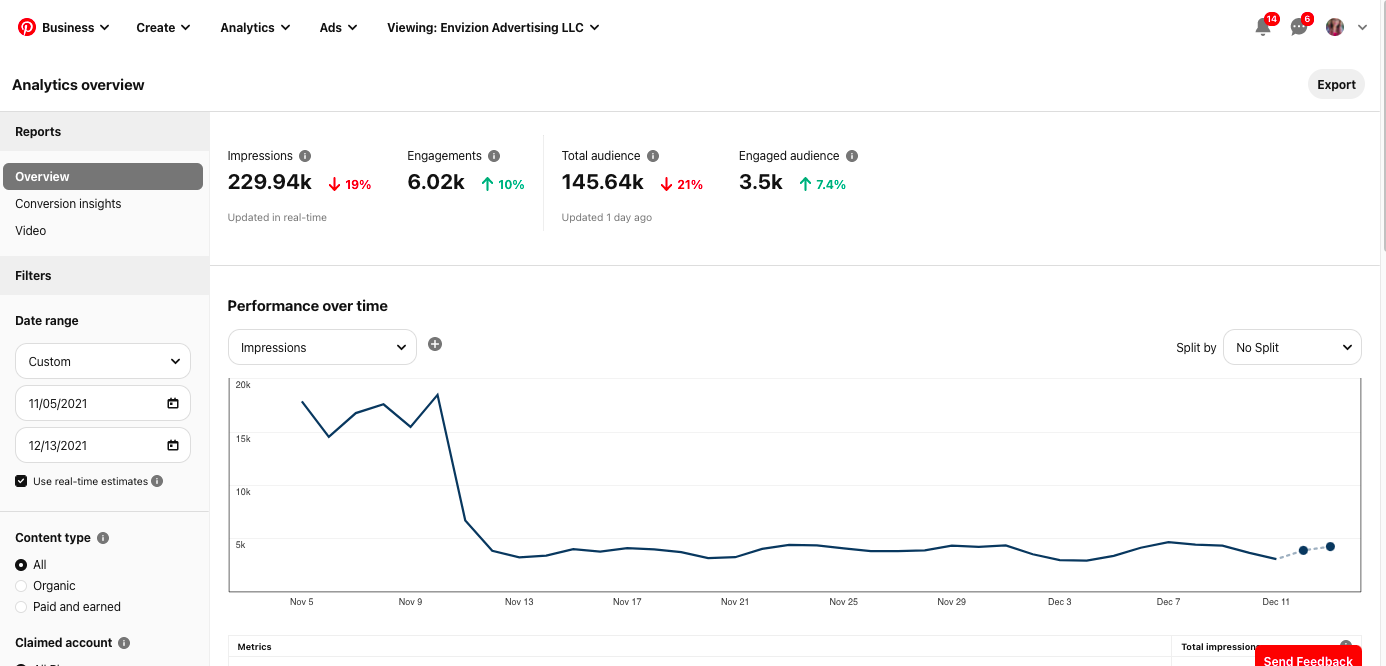 What this tells me is that vide pins is not the end all be all strategy. It is a piece of the puzzle. Don't focus on video only but instead incorporate it into your strategy with other diversity in your content pieces.
How long does it take to start seeing traffic from Pinterest?
There isn't a definitive answer to this question since the amount of time it takes to start seeing traffic from Pinterest depends on a number of factors, including how well your pins are optimized for search and how active your Pinterest account is. That said, you should start seeing some traffic within a few weeks or months of launching your Pinterest account and starting to pin content.
One key thing to keep in mind is that it takes time for Google to index your pins and include them in its search results. So the sooner you start indexing keywords and pinning content, the sooner you'll start seeing traffic from Pinterest.
Leveraging Pinterest Analytics to Improve Your Performance
Experimenting with video pins is all well and good. However, the magic really happens when you start tracking their results to see what works and what doesn't! Accessing this information in Pinterest analytics enables you to iterate accordingly- emulating pins that are successful and ditching any that bomb.
Best Types of Videos on Pinterest
Identify Your Top Pins
Head to "Overview" and scroll down until you see the "Top Pins" section.
This will reveal your best-performing pins over the last 30 days! You can see how many impressions those pins received, alongside the amount of engagement, close-ups, links clicks, and so on.
Try hovering the cursor over each pin you see too. It'll tell you when it was created, giving you a sense of its life cycle.
Identify Your Top Boards
The data on your top-performing boards is in the same "Overview" section, sitting just above the Top Pins table.
This time, you're able to see which of your boards are receiving the most amount of engagement from Pinterest users. That's a big deal! It highlights which boards you should continue pinning to and which types of content are most popular among your audience.
How to Repurpose Videos for Pinterest
Don't let the video content you create for other social channels go to waste! Assuming they're a sensible fit, you can give them a new lease of life by repurposing them on Pinterest. Here's how:
Repurposing Instagram and Facebook Stories as Video Pins
Head to your stories, click the "three dots" symbol, and select "Save" or "Save video". Voila, the clip is now saved to your device as a .mp4 file!
You can then upload it to Pinterest by following the instructions above. If you want to set up an in-depth strategy to help these repurposed videos index on the platform and be used in multiple ways, head over to Repurpose Your Video Content To Pinterest
Repurposing YouTube Videos as Video Pins
Click the "Share" button beneath your YouTube video's title and then select Pinterest from the menu that appears. It's as simple as that – BUT keep in mind this will NOT create a pin image for you. To get the full benefit you should go through the strategy of pinning fresh images that link to your YouTube content instead of just sharing from platform to platform.