DISCLOSURE: This post may contain affiliate links, meaning I get a commission if you decide to make a purchase through my links, at no cost to you. Please read my disclosure for more info.
You have a million things to do, but can never seem to get yourself organized enough to do everything efficiently. If this sounds like you, you may want to acquaint yourself with the art of multitasking.
Multitasking is a delicate art that requires a lot of organizing and balance. If you are not a naturally organized person, you may want a little help.
It's no secret that day to day life can get hectic. Being an entrepreneur and managing 10 things at a time requires a delicate balance that can sometimes get out of control. To keep things running smoothly in your life, here are some ways to multitask more effectively.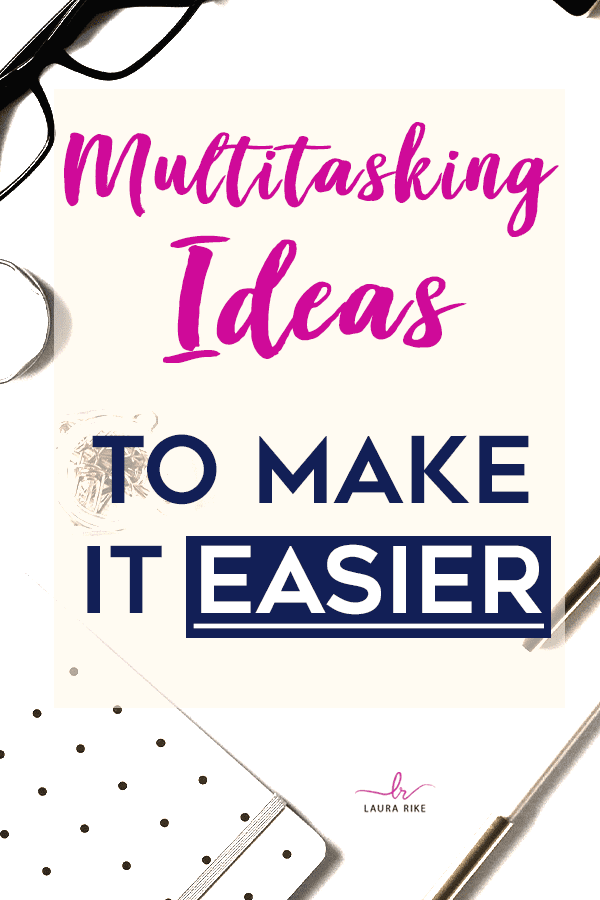 Multitasking is good for stuff that you don't need to put a lot of effort into. I usually do the dishes or answer the phone while watching TV.
However for tasks that need your brain to work a lot: writing, driving etc., multitasking is distracting. And it kills your productivity.
Multitasking: Ideas to Make it Easier
1. Multitasking Doesn't Mean Poorly Organized
Okay, so maybe not a maniac, but at least fanatical. If you need to multitask effectively, then up-to-date scheduling should form a large part of your daily processes. Schedules help you to stay in control by telling you:
what you have to do each day
at what time it needs to be done
how long it will take
who will be involved.
Successful business people have long known the benefits of scheduling. If you are a busy mom or a student, then you too can reap the benefits of such an effective time keeping and organizing method. It will give you a very quick picture of your tasks so you can decide the level of importance of each one.
---
---
2. Priorities Are Everything: Schedule Accordingly!
The key is not to prioritize what's on your schedule, but to schedule your priorities." – Stephen Covey
Be sure to schedule what is important first. If you have family and friends, be sure they are given priority on your calendar. If health is a priority, add that to your calendar. Everything else including work is added around your standard priorities. Another important thing to keep in mind while your scheduling your life, is to train yourself to say "NO".
Steve Jobs says the following:
"People think focus means saying yes to the thing you've got to focus on. But that's not what it means at all. It means saying no to the hundred other good ideas that there are. You have to pick carefully. I'm actually as proud of the things we haven't done as the things I have done. Innovation is saying no to 1,000 things."
3. Not All Tasks Are Good for Multi-Tasking
Philip Turner has added a great point here:
Brainstorming is a successful multi-tasking activity for me, because I cross-pollinate ideas from different projects; but when I am writing, I find that multitasking kills productivity. I prefer to concentrate on one task for 2 hours, then switch tasks.
As a teacher I used to multitask in the classroom – No option!

I used to have a small notebook of plastic pockets with paper inserts. I labelled one pocket "5 minute jobs", another "10 minute jobs", and another "Concentration jobs". I would write "side-tasks" on slips of paper and stick them inside the plastic sleeves and do the jobs as the opportunity arose through the day.
4. Focus on the "NOW"
Many small tasks are involved in completing a bigger task, and many of these small tasks will need to be completed with your fantastic multitasking skills. Focus on what you have to do in the now, and break things down into manageable tasks.
5. Work in Batches to Eliminate Stress
Only break down tasks as small as they need to go. If you break them down too far, you may inadvertently be giving yourself added pressure.
Instead of creating one graphic for a blog post set aside a 25-minute block of time and create a number of images. You can create one for your blog and one for each social network you use. After the 25-minutes take a short break and schedule the images to social media and upload it to your blog.
6. Decide Which Tasks Can Be Combined
Remember, do the most important first!
Kari of Be Happy Tips shares her experience:
I used to work at a busy dog kennel where multitasking was essential because there was a lot to do and not much time.

For example, if you were running down to the laundry, you could take care of tasks that needed to be taken care of between where you were and the laundry instead of putting them off for later.

I've adopted that practice into my online career as well. If I can do two things at one time, I take advantage of it. The beautiful thing is that the more you combine tasks, the easier it gets to spot tasks that can be combined!
In cooking, all of the ingredients are prepared beforehand to make cooking easier. In multitasking, a similar practice should be adhered to for the best results.
7. Make Your Computer Faster
Doyan Wilfred adds a great tip:
I work from and home and use my Acer laptop. The poor thing wheezes by on a 2GB RAM. Sometimes when I am scheduling social media updates, I have multiple tabs open. And the system slows down. It takes forever to complete a task.
Recently I've come across this great tool, that hibernates the non-active tabs. It has this handy option to whitelist any domains you want so that they do not hibernate. I have added Gmail and my blogs to the whitelist.
Try this tool. You can get it in the chrome store – it's called Great suspender.
If your computer is slow consider replacing your hard disk with a solid state hard disk. Tasks complete 20x faster. Boot up takes 10 seconds instead of 5 minutes.
Here's a great tip from David Leonhardt of THGM Ghostwriter Service:
If some of your tasks involve waiting for processes to complete, consider a second computer, so that the rest of your work is not slowed down, too.
8. Prepare the Night Before
Another option is to prepare the night before. Write your top three priorities or commitments for the day on a sheet of paper. Set reminders on your phone for any appointments or calls. Below is an example:
Money Task
Work, at least, 1-hour on something that earns you money via Lynn Terry of ClickNewz.com
Work ON your business
This includes quickly checking email, social media, bookkeeping, blog maintenance, and writing or editing a blog post
Work IN your business
This includes contacting clients, returning emails, communicating with readers/followers, and working on clients work
9. Prepare Your Work Area
Before you begin each day, prep your work area (or yourself) so that you will not have to stop what you are doing because you need to find something.
If you are going to be at a desk all day working on a business project, have everything you think you will need close by. Without this, your multitasking groove may be interrupted and you might lose focus.
Sara Duggan adds:
Just as preparing your work space for the day is important, eliminating clutter by removing things that take up space, aren't used daily, and kill your creativity and focus is key to a more productive work day.
Multitasking can be challenging.
However, with a few simple ideas it can become easy as pie!
What are some ways you tackle multitasking?
Featured images:




License: Creative Commons

image source
Jessy is a stay-at-home mom who blogs DIYGadgets