DISCLOSURE: This post may contain affiliate links, meaning I get a commission if you decide to make a purchase through my links, at no cost to you. Please read my disclosure for more info.
From TikTok and Instagram Stories to YouTube Shorts and Facebook Reels, fleeting video clips have exploded in popularity across social media in recent years.
And Pinterest has taken note!
Hopping aboard the story feature bandwagon, Idea Pins hit the market earlier this year. According to Pinterest, they're a direct evolution from the Story Pins of late 2020 and offer creators an effective new way to build their brand, boost engagement, cultivate a following, and generate sales using Pinterest.
Do you want to learn all about the idea pin feature and tap into its potential in your Pinterest marketing? Well, we've put together an in-depth guide with everything you need to know. Check it out.
What Are Pinterest Idea Pins?
Idea pins are Pinterest's answer to Instagram Stories. Swipe-able pins, they can contain up to 20 different pages and are made on the platform itself.
With images, videos (of up to 60-seconds in length), and text available to use, they offer business account holders another effective way to share engaging visual content on the platform!
You can also tag products (did somebody say 'sales'?), topics, and other Pinterest users, share them outside of the Pinterest platform and add both stickers, backing tracks, and voiceovers.
However, a notable difference from traditional pins is that you can't include links to your blog or website. More on this later.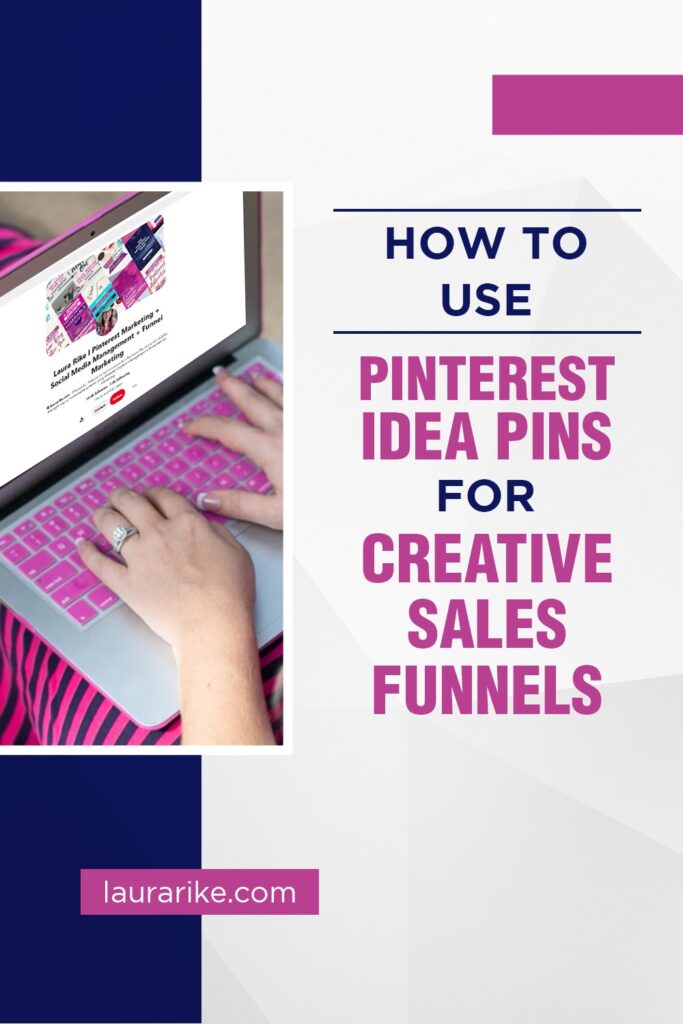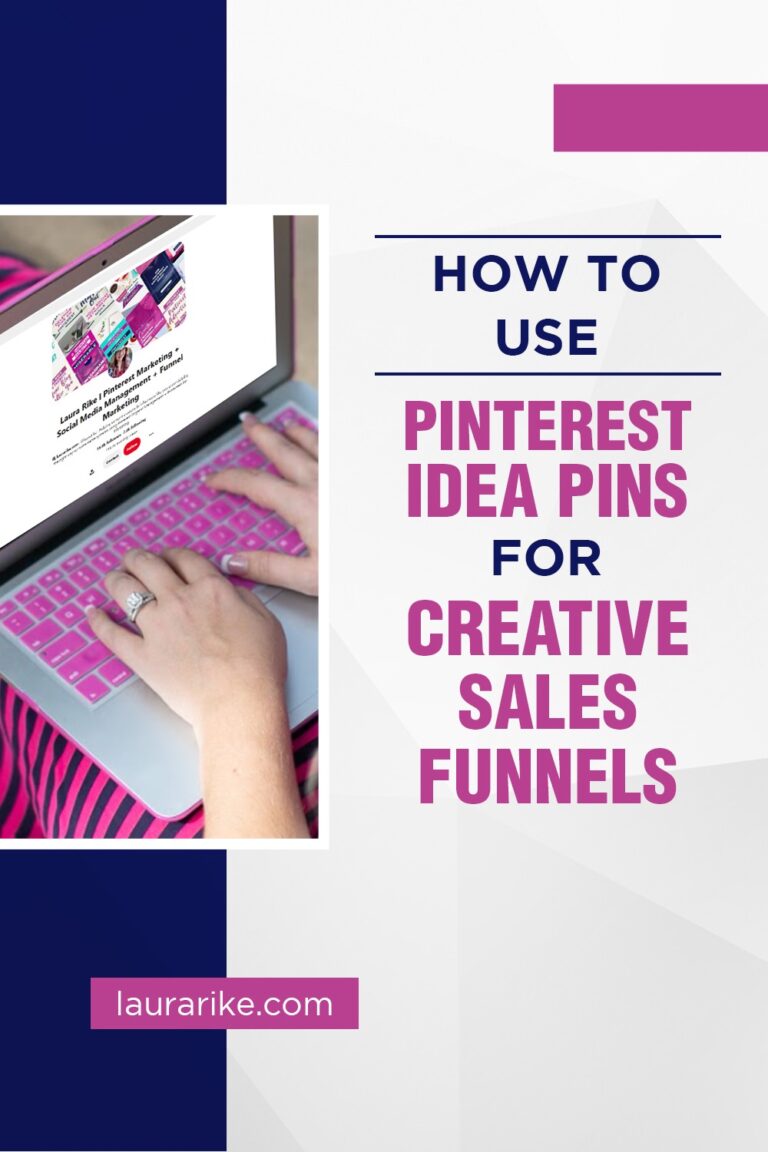 The Anatomy of a Successful Pinterest Idea Pin
1. The First Page
The primary goal of anything you post to Pinterest is to stand out in feeds. That's why we recommend using video on the first page of your idea pins. Whether you add audio or not (note: the default setting on Pinterest is for idea pins to be muted), there's nothing better than video footage at grabbing someone's attention.
2. Subsequent Idea Pin Pages
Idea pins are proof that less isn't always more. For best results, try to incorporate at least 5 pages to every idea pin you create! It'll help you get your ideas across in a clearer and more engaging manner.
Whatever the subject of your subsequent pages, be sure to include high-quality, compelling visuals that draw the eye and deliver as much value to whoever clicks on your idea pin as you can. Entertain, educate, and/or amuse and you'll be onto a winner every time.
3. Last Page
The final page of your idea pin should include a strong, clear call to action. Tell your audience what you want them to do! From instructions to follow your profile or even to check you out on another social media channel, this is your chance to get a response from anyone who clicks your pin.
4. To Link, Or Not To Link?
When idea pins first hit the scene, creators were able to add a link to every page within them. That meant up to 20 different links in a single pin! Unfortunately, this feature was removed and the linking section no longer exists.
You can, however, still put one in the description section. Think twice before doing so though. Pinterest actually recommends you keep your copy entirely link-free in a bid to promote engagement on the platform. We don't yet know if that advice implies the Pinterest algorithm will punish you if its spots any links, but it's definitely a possibility to keep in mind.
How Do I Make an Idea Pin on Pinterest?
Anybody accustomed to posting on TikTok or Instagram Stories will have a head start when it comes to creating idea pins! The process is fairly similar.
The simplest method is via your smartphone.
On the app, click the [+] button and either upload something from your camera roll or record something from scratch. You can add either images or videos, and even combine them if you want to (adding new pages as you go).
From there, you'll have the option to incorporate text, voiceovers, music, filters, and/or stickers, as well as select how long they remain on each page.
With the design sorted, the next key step is to write the idea pin's title, add your tags (you're allowed up to 10 of them) to help people find it, pick a public board to add it to, and then put a relevant list/note/description. Last but not least, hit "publish" and voila, you just created an idea pin!
How to save a draft of an Idea Pin
Not quite ready to hit publish? Don't worry. You can save your idea pin as a draft at any point to pick up again later. Simply tap the "x" in the top-left of the Pages view and hit "store" from the options that appear.
Fun fact: You can save unlimited idea pin drafts on desktops, up to 100MB on Android phones, and up to 3GB of them on iPhones. However, you're unable to edit them across different devices.
How to edit or delete Idea Pins
Both editing and deleting your idea pins are simple as well. Simply click on the idea pin you want to alter, tap the three dots next to it, and select "edit pin" from the dropdown menu.
This will allow you to edit the board, section, comments, or permissions. To delete the idea pin entirely, you use the exact same process, but hit "Delete" instead of "edit"! If you ever need support, visit the Pinterest Help Center for advice.
How Are Idea Pins different from Stories?
There's one major difference between Idea pins and similar social media Stories features:
They don't disappear automatically after 24 hours.
Instead, your idea pins exist in perpetuity! They can be pinned and re-pinned, clicked on and engaged with for as long as you decide to keep them on your profile.
Oh, and idea pins can also be saved by Pinterest users who want to be suitably inspired by them again in the future. Inspiration's a keyword here too. Unlike Facebook or Instagram, for instance, idea pins are intended to inspire people rather than connect with them.
What is Pinterest engagement?
Pinterest engagement generally revolves around saves (i.e. repins), pin opens, and outbound link clicks. For idea pins, though, the focus shifts slightly to engagement with your ideas.
The entire point is to give Pinterest users everything they need to know without having to exit the platform! To encourage creators to use them, the algorithm's currently favoring idea pins – giving them lots of organic exposure compared to other types of pins. Expect more reach, clicks, and comments as a result.
How to Use Pinterest Idea Pins to Grow Your Business
The best way to leverage idea pins to grow your business is to include the "Notes" section for each one you create. By including a link to a relevant product page, users who love your pin may also make a purchase!
Of course, the introduction of product tagging (including Amazon Associates) within each idea pin can instigate sales too.
From there, success is a matter of posting fresh new idea pins on a regular basis to help elicit engagement and boost your following. By pinning each one to a relevant board, and uploading a combination of videos and images, you're guaranteed to see a surge of engagement that'll translate to business growth.
Why would I use Idea Pins on Pinterest?
9 Advantages of Idea Pins
Huge exposure vs other types of pins.
Quick and easy to make via Pinterest.
Pinterest prompts at the end of each idea pin lead to new followers.
They're super engaging and attractive.
You can download them to use elsewhere on the internet.
They send users to your profile, boosting the performance of your other pins.
They send users to your profile, leading to link clicks to your website.
You can tag products to boost sales.
More comments from users deliver useful feedback on your pinning strategy.
4 Disadvantages of Idea Pins
No links mean no direct traffic to your site.
The lack of any link can actually be frustrating for your users.
Far from ideal if you rely on Pinterest for web traffic.
Less room in the home feed for standard pins with clickable links.


Idea Pin Best Practices & FAQ
Can you delete an idea pin on Pinterest?
Yes! See the process described above.
How do you add a link to an idea pin on Pinterest?
You can't do it directly. You can, however, incorporate a link into the description via the "Notes".
Will I lose gained SEO if I delete old Pinterest pins?
Not necessarily. But that doesn't mean you should rush to delete your old pins! You never know when Pinterest might promote them to people, for instance.
Why do my Pinterest pins start out great but quickly lose traction?
There's more to Pinterest success than just posting a beautiful pin. It must be part of a wider strategy to ensure long-term results.
Is there any way to bulk create Idea pins?
Unfortunately not! Your best bet is to create and save multiple idea pins as drafts before publishing at a later date.
Can you schedule Idea Pins?
Not that we're aware of…yet!
Hardly any impressions or engagement, even with Idea Pins
All sorts of issues could come into play here. Posting fresh content on a consistent basis (in line with the latest Pinterest guidelines) should deliver results over time.
How Will Idea Pins Change the Pinterest Experience?
The biggest change involved with idea pins is the shift toward interactive video content they represent.
Remember, until this point, Pinterest has been renowned as a search and discovery platform! But now it's prioritizing these short-form videos in feeds, as well as in search and the Today Tab.
The result? Pinterest may start revolving more around creators and their individual communities, similar to platforms like TikTok.
New Tools Make Idea Pins Easier
Pinterest has invested considerable resources into making its idea pins easier for creators to make. Here are a few of the tools now available:
Voice-over recording capabilities
Video recording/editing for 20 pages of content or less
A choice of background music courtesy of Epidemic Sound
Detail pages ideal for things like ingredients or instructions
The ability to add stickers and tags
"Ghost mode" transition tools to line up shots from one clip to the next
The ability to export your content for use outside Pinterest
Need Some Idea Pin Inspiration?
8 Types of Idea Pins Your Brand Can Make Today
Ironically, one of the hardest parts of getting started with idea pins is coming up with ideas! To help, here are 8 types of idea pins your brand can experiment with right now:
1. The Listicle Idea Pin
A firm favorite among any audience, listicles help explain abstract topics in an easily digestible format. E.g. "5 Great Ways to Market Your Blog". See this one from Domonique Panton for another top example of listicle idea pin.
2. The How-To Idea Pin
Use the different pages of your idea pins to explain how to do a particular task! E.g. "How to Do Your Make-Up Like a Pro".
3. Behind-The-Scenes Idea Pin
These pins are a perfect way to let your audience see what happens behind closed doors at your company. E.g. "This is How We Make Our Best-Selling Product".
4. The Day-In-The-Life Idea Pin
Let your audience get to know you better with video footage of what you've been doing all day! These idea pins are awesome for building trust, rapport, and connection.
5. Answer Your Own Question
For example, page one of your idea pin could read: "Can you still get organic reach on Facebook?" The following pages would provide the answer and go into more detail.
6. The Mental Health Idea Pin
Think about your audience's pain points. If there are particular areas in which you know they struggle, consider creating idea pins with methods you know could help. E.g. "5 Ways to Avoid Burnout as an Entrepreneur".
7. Mantra Idea Pins
Inspirational pins always go down well. Mantra idea pins offer exactly that: specific mantras to evoke motivation! E.g. "7 Mantras to Stop Drifting Through Life".
8. The Journey Idea Pin
Journey idea pins leverage each page to take the Pinterest user on, you guessed it, a journey. E.g. "Here's What Bringing a Business Idea to Life Looks Like".