DISCLOSURE: This post may contain affiliate links, meaning I get a commission if you decide to make a purchase through my links, at no cost to you. Please read my disclosure for more info.
No this is not just your typical "I am meal prepping photo"! I was beat today when I woke up. Call it pregnancy, or just plain being lazy. I did not have the motivation to work on my business today. Soooo instead of giving up on the day at 8 o'clock in the morning, I decided that I was going to find a project to work on well I listened to some of my favorite podcasts to force me to create some new goals for the rest of this month.
This is the product of what I came up with for my project. I decided that while I was going to cook 12 freezer meals that I would come up with three goals that would help me finish out the month strong with motivation to continually improve on my business.
Do you ever have those days where you just decide that you don't want to get work done but you know you need to do something to keep busy?
Have you ever thought about having a "Training Day" to help get you back in the groove?
One of my goals that came to me today while listening to some great live streams and podcasts was to improve my customer service for my clients and course members. I wrote down three things I could improve upon or add so that I know without a doubt I am 1000000% always there when I am needed!
Even though I wasn't sitting at my desk all day, I feel so accomplished and refreshed! Sometimes you need to take time to step back from the day to day and brainstorm new ideas, create new specific goals and just plain learn! We get so caught up in the now we forget all we can do if we take a "break" for a little bit!
How is it you refresh or take a break from your daily projects?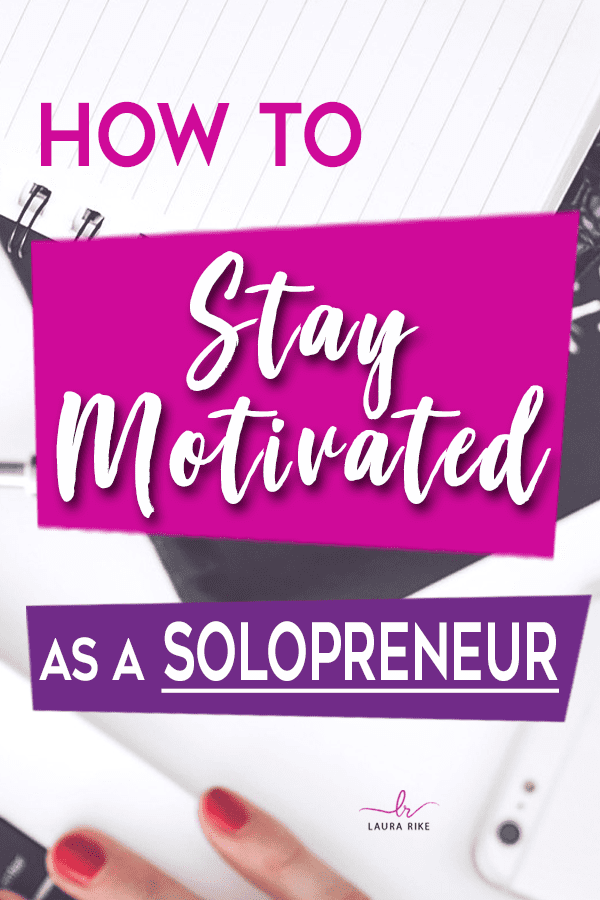 The life of an entrepreneur can be a challenging one. It can be hard to get out of bed in the morning even if there is a tremendous amount of work to be done. Some days, the feet might feel like concrete; however, successful entrepreneurs always find a way to get out of bed in the morning and get their work done. How is this possible? What are some of the tips and tricks that people can follow? There are a few important factors to remember.
How Do Entrepreneurs Keep Themselves Motivated?
There are those who say that motivation is something that is intrinsic and cannot be taught; however, there are still ways that entrepreneurs can keep themselves motivated. Some of these include:
Sleep: Many entrepreneurs brag that they work for 24 hours straight and don't sleep. Sure, people might do this from time to time; however, nobody does this consistently. Without sleep and rest, people are going to end up burning out. After all, what good is it to work constantly if someone is too tired to get things done? It is better to work six to eight hours straight, hard, than to spend 24 hours being anything but productive. In order to make this happen, it is critical to get enough sleep.
Find a Source of Inspiration: Motivation is going to wax and wane. There are going to be days when people feel like they can do anything. Then, there are going to be days where it feels like nothing is getting done. During these times, it is important to find a source of inspiration. Some people like to have motivational quotes sent right to their inbox. Other people might like to reach out to a family member or friend who inspires them. Finding this source of inspiration is important. It will help someone get through those rough times.
Work with Like-Minded People: It is also helpful for someone to surround himself or herself with like-minded people. Undoubtedly, there are those who simply aren't cut out to be entrepreneurs. On the other hand, there are those who are. Finding success as an entrepreneur means being with other people who work and think in a similar manner. Working with others who have the same desire to succeed will push someone to work harder and be better. This can be another important source of motivation for a budding entrepreneur.
These are a few of the ways that someone can find support and motivation from the world around them. On the other hand, it is also important for people to look within for a source of inspiration and motivation as well.
What is Self-Motivated Entrepreneurship?
It is also important for people to think about how they can inspire themselves to work harder as well. Self-motivated entrepreneurship is an important part of this. Self-motivated entrepreneurship is the ability for someone to motivate themselves. This means looking for a reason and finding the strength to make something happen without the influence of someone else. Sure, there are going to be times when someone is going to need to ask for help; however, there are also times when someone can find the motivation from within.
There are lots of ways that someone might find success in this arena. First, it might be a good idea to set some personal rewards. It is easier to do something if there is an incentive on the other side. Therefore, it is a good idea to set performance-based awards and collect them when the milestones are reached. Use a whiteboard to set a visual track record of one's individual performance
It is also important for an entrepreneur to take time for himself or herself on a regular basis. It is hard to focus on work 100 percent of the time. This is not healthy. Therefore, set aside some time to do something else. This might include hiking, meditation, traveling, or any other hobby that allows someone to disconnect from work for a short time.
What are the Types of Entrepreneurial Motivations?
There are a handful of entrepreneurial motvations. Each one is a little different. Some of them include:
Money: This is one of the biggest motivators. There are countless entrepreneurs who are motivated by a drive to make more money and the freedom it provides.
Flexibility: Others might be motivated by flexibility. When someone is an entrepreneur, they are their own boss. They can make their own schedule.
Control: A variation of flexibility is control. Some people cannot take orders from anyone else. They can also work for themselves and like total control.
Legacy: Finally, there are also entrepreneurs who are motivated by what their legacy might be. What are they going to leave behind? There is something special about building a business from the ground up.
No matter where an entrepreneur finds his or her motivation, the end result should be a more successful business.