DISCLOSURE: This post may contain affiliate links, meaning I get a commission if you decide to make a purchase through my links, at no cost to you. Please read my disclosure for more info.
Have you discovered how amazing Instagram can be for your social media marketing efforts?
If you haven't, take this as a sign from the social media experts – NOW is the time to find out more!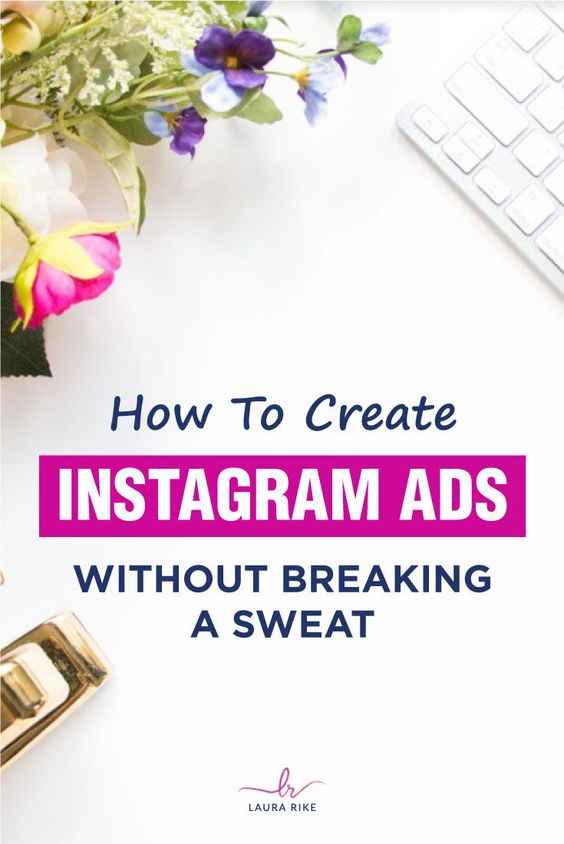 For business owners, Instagram can really be one of the best ways to draw an audience in (a younger generation to be more specific). If you're going to use Instagram to promote your business and services, you should take advantage of the Ad feature that was just recently introduced into the platform.
---
Get all of the training videos you will need to find success in 15 days or less with your online business for FREE!
---
Instagram Ads are a wonderful way to catch the attention of your audience. After all, people who use Instagram are generally more visual people who are looking for anything that catches their eye. That being said, if you're getting the right followers on Instagram, you'll be sure to see a major traffic surge to your website pages because the exciting posts you create. Plus, if your business is something that is specifically helpful to people, your audience will be happy to connect with you on such a creative platform.
How To Create Instagram Ads
So, how do you create these Instagram Ads?
The first step is a simple one: Connect your Instagram account to Facebook.
Why? Well, ultimately you'll be creating these ads through Facebook's Power Editor. You can find this by simply going to your settings and clicking on "Instagram Ads" and "Add Account". By doing all of this, you will have taken the first step in creating Ads for your Instagram account.
Next, you'll need to select the type of Ad you'd like to make. For the Instagram Ads, you have three options to choose from: clicks to your website, mobile app installs, and video views.
[fusion_builder_container hundred_percent="yes" overflow="visible"][fusion_builder_row][fusion_builder_column type="1_1″ background_position="left top" background_color="" border_size="" border_color="" border_style="solid" spacing="yes" background_image="" background_repeat="no-repeat" padding="" margin_top="0px" margin_bottom="0px" class="" id="" animation_type="" animation_speed="0.3″ animation_direction="left" hide_on_mobile="no" center_content="no" min_height="none"]
With these objectives, the three key ad units you have are capitalizing on are image, video and carousel ads. Of course, image ads are the simple images that grab people's attention and video ads are the same but with the moving images/videos. Carousel ads are really interesting as they allow users to scroll through several images which gives them a broader sense of everything you're advertising.
Like any social media platform, you have to know where and how to use your posts. If you aren't marketing these posts to the right audience, you might as well just throw in the towel now. Don't market your funky fashion to middle age men and don't send "Powerful Briefcase" ads to sixteen year old girls. When it comes down to it, your marketing efforts rely heavily on your audience, so make sure you're actually reaching them (because you're wasting your money otherwise)! Use the Instagram targeting options to find your audience!
This probably speaks for itself but if you using a visual platform, such as Instagram, you need to add captivating images! After all, what we're trying to do is grab the attention of these visual people. You'll want to make something funny or lively that speaks to you market and stops them in their tracks while scrolling through their feed. Try and think about what you would stop to look at and make a list of all of those things. Also, check out your competitors. Of course, don't copy their content, but take some notes about what's working for them and what isn't. This is a great first step to knowing what your audience is looking for.
Finally, use hashtags to your advantage! This is another one of those "use it well or don't use it at all" moments. If you're not using hashtags on Instagram, you're doing something wrong. Hashtags are keywords that help your audience actually find and view your content. If you're hoping to market your ads to the people who can actually use your services, then you need to do everything in your power to make sure they are seeing what you're putting out there. Make sure to check which hashtags are trending that are relevant to your posts. Top-hastags.com is another great way to find specific hashtags that you can use!
What Instagram ads have you seen lately?
Comment below and let us know who is using this platform the right way and we'll check them out!
[/fusion_builder_column][/fusion_builder_row][/fusion_builder_container]