DISCLOSURE: This post may contain affiliate links, meaning I get a commission if you decide to make a purchase through my links, at no cost to you. Please read my disclosure for more info.
As we have learned from many of our super-hero friends, with great power, comes great responsibility. Sometimes so much responsibility that we have to start delegating tasks or become partners in fighting crime (or in managing accounts).
Facebook has become a pivotal online marketing tool with its capability of connecting vast amounts of people from all over the world and being true example of "World Wide Web." Businesses can now interact with customers, clients and even interested parties on much more personal level, almost as if being face to face!
Since your business either A) Has more than one person or B) Has just you and so you're very busy actually running the business, having a standard Facebook account can get kind of messy, especially when people start changing things they shouldn't be changing!
Facebook Business Manager is a great way to give multiple people access to multiple pages. It can seem a little intimidating at first, but we'll show you how to get the ball rolling so everybody has controlled access to the pages and advertising they need!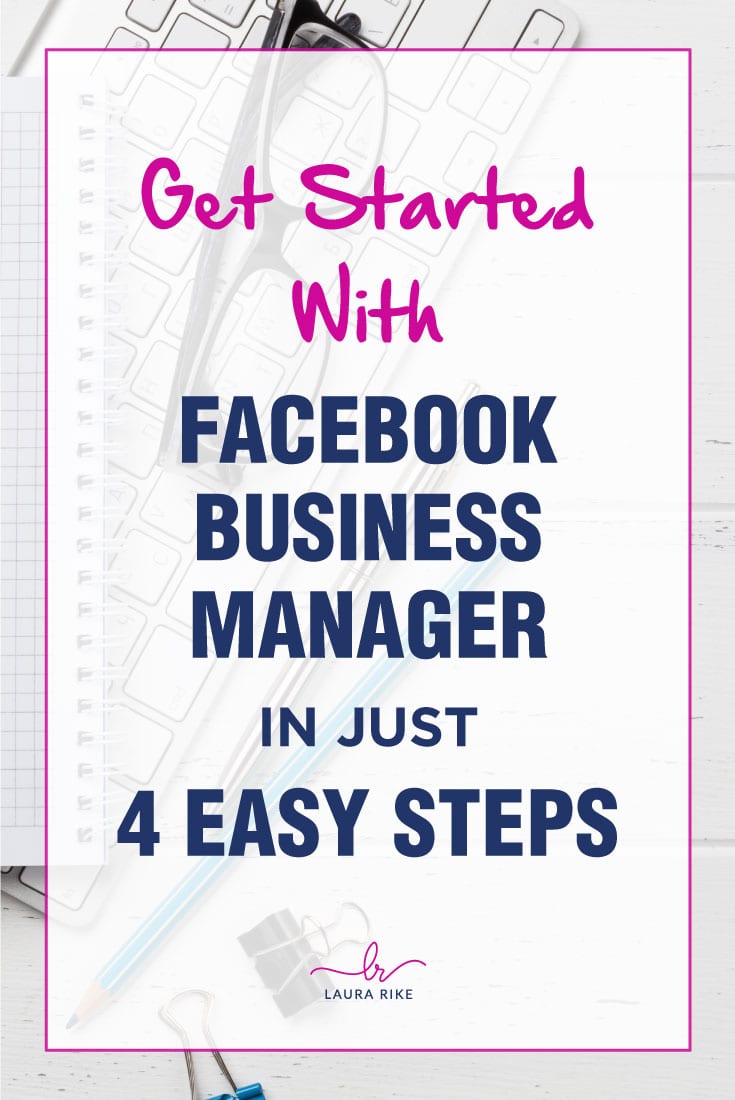 If you haven't done so already, go to business.facebook.com. Here, you can read a little bit about what Facebook Business Manager has to offer, and see if you think it will be the best option for you and your business.
Some of the best advantages are that EVERYBODY gets a unique log-in (that's right, no more sharing a username and password!), and administrators can control what access each user has to each account.
Select one of our tips below to improve your Facebook online business.
STEP 1 – SET UP YOUR BUSINESS MANAGER ACCOUNT
Once you're ready to start, scroll to the bottom of business.facebook.com and click the "Get Started" button and you will be directed to a log-in page. You want to use your business's main Facebook account for this and then simply follow the prompts. Be sure to follow any advice they might have to offer along the way to save time and headaches!
STEP 2 – MAKING CONNECTIONS
The next step is to link any other Facebook accounts that need to be managed to your Business Manager. This can be multiple accounts for your business, or various accounts that another business allows you access to. On the left side of the page is a link to "Business Settings" that will take you to a webpage with many different options. In this case we want to select "Pages," which will allow us to access other Facebook accounts and manipulate as if they are our own.
In the top right corner, there is a button called "Add New Page." Clicking on this will start a new window prompt that will allow you to request access to a page that belongs to somebody else, claim a page that belongs to you, or create a new page that is linked to the Business Manager. Choosing one of these options will allow the Business Manager account to access, use, and assign people to the other account.
Once accounts have been added, they will appear in a list to the left with details to the right. For each account, you can view their history and see and change who has been assigned to that specific account and what their access level is. At this point you haven't added anybody, so let's press on!
STEP 3 – TEAM, ASSEMBLE!
Now that you have all of your clients and other accounts linked, it's time to get your team registered and working! At the Business Settings page, click on "People" in the link menu on the left side of the screen. This page looks remarkably similar to the Pages settings, but it is used for bringing on and granting other people access to those pages.
This is the awesome part that allows each different user to have individualized login credentials, but it does require each person to connect to a personal Facebook account. If your employees aren't particularly fond of that idea, they can create a new Facebook account using their work information that is solely for business purposes.
To get started, click on the button in the top right corner labeled "Add New Person" and follow the prompts to complete a simple 5 step process for adding other administrators and employees. If you have many different people you need to add, you can add all of their emails at once!
After everybody has been added, make sure they accept and finish account verification. Now, everybody should be listed, just like the accounts under the Pages tab, with the names on the left and their information on the right. For each user, you can view their history, "Assign Assets" or other accounts, and change the access level to each account.
STEP 4 – USE IT, OR LOSE IT!
Ok so maybe you won't lose anything if you don't use it (unless you have to use it for your job…), but the next thing to do is to let the people you add start using pages! When employees log in, they can simply log into their personal Facebook (or professional if you go that route) just as they normally would.
In the top right corner is a triangle that opens a dropdown menu. This menu will allows the user to go to their Business Manager overview page and then choose a client's page that they have been given access to by the administrator.
To go to that page, click on "Use Page" in the lower right corner of the client box. From here, you are essentially acting on behalf of that page.
There are a few things to take pay attention to so that you don't do anything as your personal Facebook or even another clients Facebook! Take a look in the top left corner. It tells you what your permissions are (Page Editor), and that posts, comments and likes are under the specified account (ActUP, LLC). This can be corroborated by looking at the status update box and seeing the profile photo to the left of the entry box. To temporarily change who you are posting as, click on the triangle in the top right corner of the comment box and select either your name, or the Business Manager account. In this case, there is a number 9, indicating that there are 9 different pages that you have permission to post under.
Generally speaking, anything you do on this immediate page will be done under the specified account name, ActUp,LLC in this case. If you navigate to any other pages, however, Facebook automatically switches back to using your personal profile. If you want to peruse Facebook as the client, you must click on "Use Facebook as your Page" in the top right corner and confirm that you want to do so. From that point on, anything you do will be under the client's account. So make sure you don't do anything that the client would not appreciate!
To return back to normal, click on the triangle in the top right corner, and click on your personal profile. Always remember to return to your personal profile when you're finished! It doesn't hurt if you don't, unless you forget and start talking to your buddy, Billy Bob Joe as one of your clients!
Hopefully by now you have successfully set up your Facebook Business Manager account and are ready to get going! It can seem like a lot, but it is an amazing and fairly simple tool (albeit with quirks) that can help get your company and clients organized! I hope that you found this helpful in some way, shape or form, but if I can impart just one thing to you, it would be to always double check WHO you are before you post!