DISCLOSURE: This post may contain affiliate links, meaning I get a commission if you decide to make a purchase through my links, at no cost to you. Please read my disclosure for more info.
I have had many people come to me upset that their account was disabled. Some were using their ads improperly, but some were not! How do you know the difference, and better yet how do you get your account enabled again? So let's start with WHY your account might get disabled. Facebook uses an automated system to detect suspicious activity. It's a security measure used to protect you against fraudulent activity. In this case (and other similar cases), it seems to be going a little too far.
If you have been disabled my first suggestion for ANYONE is to move your account to the new Business Manager for Facebook. Business Manager lets you manage all the people, ad accounts, and Pages that you work with in one place.
To sign up for Business Manager go thru the steps below (or see our step by step blog post with images here: Getting Started with Facebook Business Manager):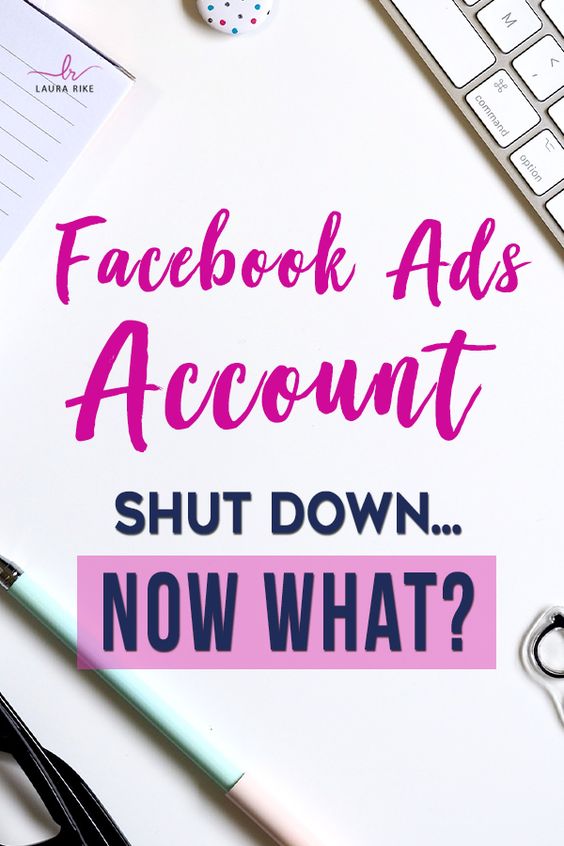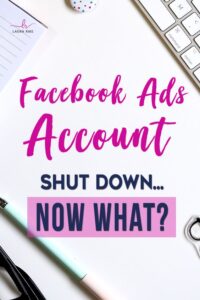 Go to business.facebook.com.
At the bottom of the page, click Get Started.
On the Getting Started page, click Next.
Enter a name for your business, select the primary Page, and enter your name and work email address. If you don't yet have a Page for your business, you can create one in this step. It's required to have a Page for your business.
Click Create Business, and we'll show you a message to welcome you to Business Manager.
Click Add People to add employees to your business and give them access to your ad account and Page. If you skip this step, learn how to add people to Business Manager.
Keep in mind that you'll need to add people to each asset they need to work on, including yourself if you have a Virtual Assistant or Marketing Manager such as myself. Go to Business Settings on the left of the page, click the asset you want access to, such as Pages, click the asset you want, then click Add People to add yourself and others. Then you will want to appeal (in most cases) the disabling of your ad account.
---
Join a FREE support community if you need further support with Facebook. This group believes in educating and empowering entrepreneurs to thrive in the social media / online marketing world.
---
Here are the steps you can take to get your account up and running if it ever happens to you:
Be nice to anyone you speak with. I know it's frustrating but being rude and jumping all over the person on the other end of the line isn't going to get you anywhere.
Fill out this Appeal Form

You'll have to wait 10 days or so to get a response. If you're lucky you won't have to go any further and FB will re-activate your account. If you're not so lucky, you'll get an automated email saying your account is permanently disabled and this decision is final. Yikes.
I've also heard you should only submit this form once. Filling it out multiple times drops you to the back of the line and your wait will be longer.
If you get that dreaded email, try calling this number: 1-800-601-0077. This is where being really nice comes into play. And you might have to call a few times to get the right person, but it will be worth it. Explain the type of campaign you were running, what page you linked to, and who you were targeting. Did I mention to be really, really nice?
Apparently, it's impossible to actually reach someone in the department that handles activating/de-activating accounts. So you have to go around and try to find someone that takes pity on you and decides to help out. I know it's frustrating, especially if you've done nothing wrong. In the meantime, let's hope Facebook updates their current review process.
Depending on how appeals go you will either get your ad account back and need to transfer it over to business manager now also, or you will need to set up a new ad account within business manager. If you are unable to get your account reinstated, now that you are on business manager for Facebook you will be able to set up a new ad account. I DO NOT suggest doing this before hearing your appeal judgement because when appealing if they see that you have set up a new account they will think you are trying to call them or spam them. Obviously I want to also states that there are no guarantees with Facebook for anything… But with that being said I have helped the number of people either get their accounts reinstated or start a new account so that they can continue to advertise on Facebook. I hope this is also the case for you! Find more in detail information from Facebook here: Advertiser Help Center
Have you had your account disabled? What did you do to get it re-activated? Let me know in the comments!