DISCLOSURE: This post may contain affiliate links, meaning I get a commission if you decide to make a purchase through my links, at no cost to you. Please read my disclosure for more info.
Joining and participating in Pinterest groups boards can be beneficial but at the same time, there is a chance joining one can actually hurt your business if you join the wrong one.
To find the correct boards to benefit you and your situation, you will need to learn more about group boards. We will begin with the basics about Pinterest groups boards such as, what are they and how do they work?
What Is A Group Board On Pinterest?
There are two types of boards on Pinterest, including regular boards and Pinterest group boards. While both types of Pinterest boards are very similar, the one major difference is that group boards allow many people to contribute to a specific board, adding pins of their own that the entire group can see, react to, and comment upon.
Recent changes that may make some people argue the fact that the Pinterest group boards are now a complete waste of time if you use the correct Pinterest SEO (Search Engine Optimization) keywords with your pins, joining group boards can still be extremely beneficial to you and your business. They are still important to allow new users to grow their reach with consumers and drive traffic to your blog or website. They can also be beneficial when you are planning an event with other Pinterest users who are also part of the group board.
Each user on Pinterest can create a group board and can add other Pinners who can also post pins to that board. In other words, it's a collaborative forward that people can join that share common interests.
Are Pinterest group boards dead?
While the powers that be at Pinterest have made multiple changes in the past year that has some users frustrated, Pinterest group boards are not dead and neither is the social media site in general.
In 2019, Pinterest rolled out what is known as Smart Feed to prioritize content based on engagement on the boards. This allows users to find group boards easier based on people's reactions and interactions with them. The more interaction on a board, the more traffic it will draw which means more exposure for you and your website or blog.
With the new sorting feature, you can organize pins according to reactions and comments on each pin so you can prioritize the most popular ideas, hence moving your project forward.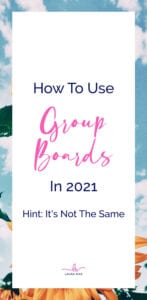 How do I make my boards private on Pinterest?
While you cannot make your Pinterest profile private, you can create boards that are private by making them a "secret" pin. This allows you to make certain group boards and pins private while allowing the ones you still want to be public to be seen and searchable.
Creating a secret group board can be beneficial if you and your friends are, for example, creating a surprise birthday party and do not want the recipient of the party to find out about it ahead of time.
What Alternatives Are There To Pinterest Group Boards?
If you are not enjoying the whole group board experience on Pinterest and do not think it is working best for you, there is an alternative to joining Pinterest group boards which is Tailwind Tribes.
Tailwind Tribes is a service you can sign up for that will allow you to schedule a week of pins in advance in less than a half an hour, saving you time that can be spent on another aspect of your business. It offers a browser extension and board lists so you can create up to ten pins in one click instead of creating each one individually.
One feature of Tailwind is that it offers the Pin Inspector and Board Insights in its own dashboard so you can view at a glance what is working for you on Pinterest and what is not. This means if you join a board that is now drawing traffic to your pins, you can stop participating on that group board or change up your pins to draw more people in.
Tailwind Tribes allows you to find and join "tribes" in over 4,000 niches to reach people you otherwise would not have been able to connect with. It also allows you to find and interact with other consistent pinners who may have group boards you can join.
Tailwind Tribes also provides you with the opportunity to meet influencers in the Pinterest world and team up with them to further draw traffic to your blog or website. While joining Tailwind Tribes will cost you a little bit of money for the full service, you can join the free plan that allows you to join five tribes and contribute 30 pins each month to the group boards you join.
How Do I Tell If A Pinterest Group Board Will Be Beneficial To Me?
After joining a Pinterest group board, it is beneficial to allow two to four weeks to see if that particular group board will be beneficial to you and your business or not. You will be able to determine this through the number of notifications you receive on Pinterest that people are reading and reacting to your pins within each particular group.
Before joining a group board, do a little research to determine the range of contributors and the number of followers that specific board has before beginning to create and post your own pins.
Overall, Pinterest is still a great way to interact with others who can become loyal followers of your blog or customers of the products and services you offer, pushing your business to higher levels in the future.