DISCLOSURE: This post may contain affiliate links, meaning I get a commission if you decide to make a purchase through my links, at no cost to you. Please read my disclosure for more info.
Creating powerful Pins is only half of the work. You must also group your Pins to relevant boards to help organize your content and catch your audience's attention. However, boring boards will blend into the background.
Instead, you must create catchy, creative, and informative names that make your boards stand out. Whether you're a blogger, business owner, or new to Pinterest marketing, having well-named boards will significantly impact gaining followers and increasing engagement.
To help you get started, we've put together a helpful guide on choosing the best Pinterest board names for your account — and share a few practical tips as inspiration!
What Are Pinterest Boards?
First things first, what are Pinterest boards? A Pinterest board acts as a virtual bulletin board that users create to collect and organize various Pins related to a particular theme or topic.
As a business owner, Pinterest boards offer additional value. Boards make it easy for followers to find content related to a specific topic, hobby, or project and follow the link to your website or eCommerce store.
Benefits of Pinterest Boards
Pinterest boards offer different benefits for business owners and general Pinners, with a slight overlap.
Why are Pinterest boards important for the general audience?
General Pinners can expect the following benefits from using Pinterest boards.
Helps to organize content according to specific interests or topics, such as recipes or kitchen renovation inspiration
Provides an easy way to save and access content for future reference
Enables users to discover new content and ideas from others with similar interests
Inspires and presents an opportunity for sharing ideas and interests
Why are Pinterest boards important for businesses?
Business owners and bloggers can expect the following benefits from using Pinterest boards.
It helps to keep track of sources and credits for images and other content
Increases visibility of content, allowing users to gain more followers and reach a wider audience
Serves as a useful marketing tool by driving traffic to websites and blogs
Offers a way to curate and showcase a personal or brand aesthetic through carefully selected images and themes
Provides an opportunity to showcase products, services, or content to a broader audience
Enables businesses to target specific niches and demographics based on board content and keywords
Improves SEO, as Pinterest boards and Pins can be indexed by search engines and show up in search results
Enables businesses to analyze and measure engagement, reach, and click-through rates through Pinterest Analytics
What Makes a Viral Pinterest Board?
So, what's the secret to success? Consider the following six features of a viral Pinterest board.
1. Optimized Pin sizes
One of the first steps in creating a viral Pinterest board involves adding Pins that fit a vertical aspect ratio of 2:3 or 1:2.1. Pinterest prefers these dimensions, and Pins that fit this size tend to perform better than others. Not only do they take up more space in the Pinterest feed, but they are also eye-catching.
From a design perspective, optimized Pins use text overlays and branding to make the content more distinctive and memorable. By creating visually appealing and optimized Pins, businesses and bloggers can capture the attention of their target audience with a neat and uniform Pinterest board.
2. High-quality images
Pinterest is a visual platform, so your Pins must be well-designed and informative. Users are drawn to beautiful and high-quality images that capture attention and imagination. The more your Pins stand out, the more likely they will be re-pinned or saved to a board.
Use clear and sharp images that match your brand aesthetic. Not only do quality images look great, but they also help establish credibility and trust with your audience by demonstrating professionalism and attention to detail.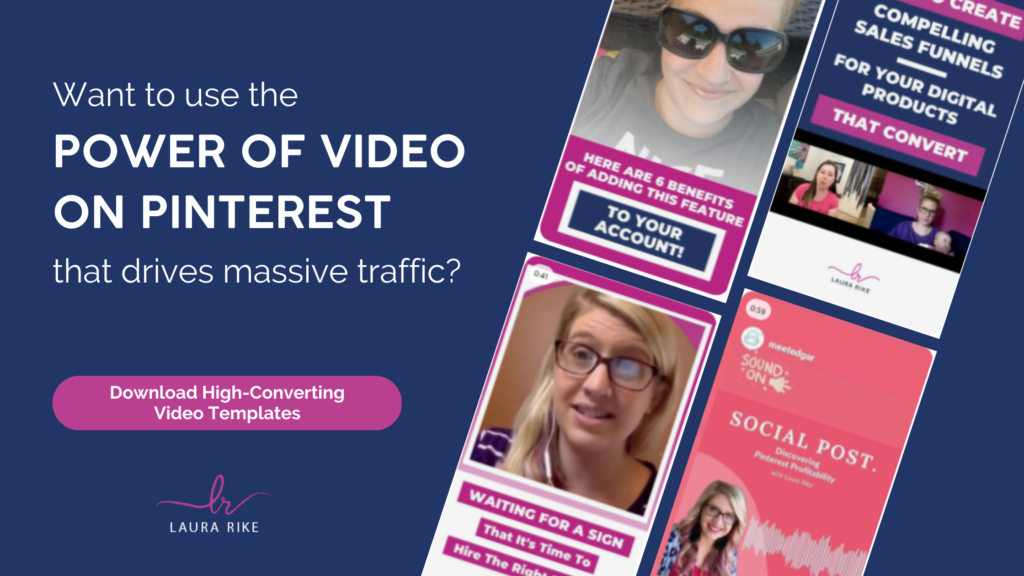 3. Pinterest embedded on a website
Embedding Pinterest content on your website or blog can contribute to a viral Pinterest board by increasing your content's visibility and reach. The process allows you to showcase your content to your website audience, making it easier for them to discover your Pinterest content (and engage on the platform).
As a bonus, embedding Pinterest content on your website can help with SEO as it provides more backlinks while increasing the time a visitor spends on your website.
4. Large and clear fonts
By incorporating large and clear fonts, you can make your Pinterest content more engaging and memorable. Text overlay becomes more legible, and you can catch the audience's attention with a glance.
When you draw attention to your Pinterest feed, it's more likely that your content will be clicked on and re-pinned by other users. Try to use the same large and clear fonts to create a cohesive and recognizable brand image.
5. Keyword-optimized board names and descriptions
Many people use Pinterest as a source of visual inspiration and product discovery without realizing that it is also a powerful search engine. If you want to increase the chances of your boards showing up in search results, then you need to incorporate relevant keywords in your board names and descriptions.
Optimizing your board names and descriptions also makes it effortless for users to identify the purpose and themes of your boards, making it easier for them to understand and engage with your content.
6. Amazing content
Saving the best for last, amazing content is the foundation of a viral Pinterest board. High-quality, interesting, and inspiring content drives engagement, re-pins, and success on Pinterest. Whether it's beautiful images, informative infographics, or engaging videos, amazing content captures the attention of users and encourages them to engage with your boards.
Begin by creating content that is valuable and relevant to your target audience so that you can build a loyal following and increase your reach and engagement on Pinterest. Maintaining quality content will help establish your authority and expertise in your niche or industry, leading to increased credibility and trust with your audience.
Creative Pinterest Board Ideas and Themes
If you want to stand out, consider the following unique ideas for Pinterest boards in various niches.
Recipes
If recipes are your niche, then there are several ideas to share on Pinterest that will help your content succeed.
Meal planning: Create a board with meal planning ideas, including weekly meal plans, grocery lists, and recipe ideas for breakfast, lunch, and dinner.
Cooking techniques: Create boards that focus on specific cooking techniques, such as slow-cooker recipes, air fryer recipes, or one-pot meals.
Healthy recipes: Create boards that focus on healthy recipes, such as smoothie bowls or keto recipes.
Holiday recipes: Create boards for holiday-specific recipes, such as Thanksgiving or Christmas.
Quick and easy recipes: Create boards that focus on quick and easy recipes for busy weeknights, such as 30-minute meals, one-pan dinners, or sheet pan recipes.
Fashion
Pinterest is a fantastic platform for fashion bloggers and businesses. Consider the following creative board ideas.
Seasonal trends: Create boards based on seasonal trends, such as fall fashion, winter coats, or summer dresses.
Fashion icons: Create boards that feature fashion icons or celebrities, such as Audrey Hepburn or Rihanna, and include outfit inspirations and style tips.
Color themes: Create boards based on specific color themes, such as all-black outfits, pastel colors, or bright neon colors.
Sustainable fashion: Create boards that focus on sustainable and eco-friendly fashion, featuring brands and outfits that promote sustainable practices.
Body-positive fashion: Create boards that feature body-positive fashion, showcasing outfits and styles for all body types and sizes.
Business Tips
As an inspirational platform, Pinterest offers great insight into business ideas, tips, and plans. Consider the following creative business-orientated Pinterest boards.
Entrepreneurship: Create boards that focus on entrepreneurship, featuring business tips, motivational quotes, and success stories from other entrepreneurs.
Social media marketing: Create boards that feature social media marketing tips and strategies, including content creation, engagement, and advertising.
Productivity tips: Create boards focusing on productivity tips and time management strategies for business owners and professionals.
Business finance: Create boards that feature tips and resources for managing business finances, including budgeting, taxes, and bookkeeping.
E-commerce tips: Create boards that feature eCommerce tips and strategies, including website design, product listings, and online advertising.
Hair and makeup tips
With so much beauty on the platform, it's no surprise that hair and makeup is a popular niche on Pinterest. Here are five creative Pinterest board ideas for the theme.
Beauty tutorials: Create boards that feature makeup tutorials, including step-by-step instructions and product recommendations for specific looks.
Hair care: Create boards focusing on hair care tips and product recommendations for different hair types.
Skincare: Create boards with tips and routines, including product recommendations, natural skincare remedies, and anti-aging techniques.
DIY beauty: Create boards that feature DIY beauty tips and tutorials, including homemade face masks, hair treatments, and natural beauty remedies.
Celebrity beauty: Create boards that feature celebrity beauty looks and styles, including red-carpet looks, makeup tutorials, and hairstyle inspirations.
Travel
If travel is your niche, then consider the following creative Pinterest board themes to test.
Destination-specific: Create boards for destinations featuring tips on where to stay, what to do, and where to eat.
Budget travel: Create boards focusing on budget travel tips and strategies, including cheap flights, affordable accommodations, and free activities.
Adventure travel: Create boards that feature adventure travel ideas, including hiking trails, extreme sports, and outdoor activities.
Solo travel: Create boards that focus on solo travel tips, including safety tips, solo travel destinations, and ways to meet other travelers.
Travel photography: Create boards that feature tips and inspiration, including photo editing tips, how to take better travel photos, and inspiration for unique shots.
Boost Your Pinterest Success
Are you ready to boost your Pinterest results to the next level? Begin with a Pinterest audit to discover the areas that best deserve your interest, or book a consulting call to set up a streamline your monthly conversion strategy!