DISCLOSURE: This post may contain affiliate links, meaning I get a commission if you decide to make a purchase through my links, at no cost to you. Please read my disclosure for more info.
If you want your podcast to reach as many ears as possible, then you need to take the time to market it. Podcasts have limited discoverability by themselves but, through the use of other platforms, you can make sure your podcast is more visible with a much stronger brand than others out there. All it takes is having a good understanding and implementation of what podcast marketing strategy is all about.
High-Quality Is the Name of the Game
Ensuring that your podcast is high quality is crucial for standing out in the modern podcast landscape. Not many are willing to listen to low-quality audio. Because of this, it's vital that you offer sound quality that listeners want to hear. If you have a podcast with low-quality sound, it doesn't matter how great the content is – you'll quickly lose listeners.
However, it's also important to make sure that the content you produce fits your high standards. Take the time to research your chosen topic well and be prepared to dig in. Tangents and off-shoot conversations can be fun to listen to (so long as they don't meander too far), but you don't want too much dead air while you're trying to remember the next point you meant to talk about.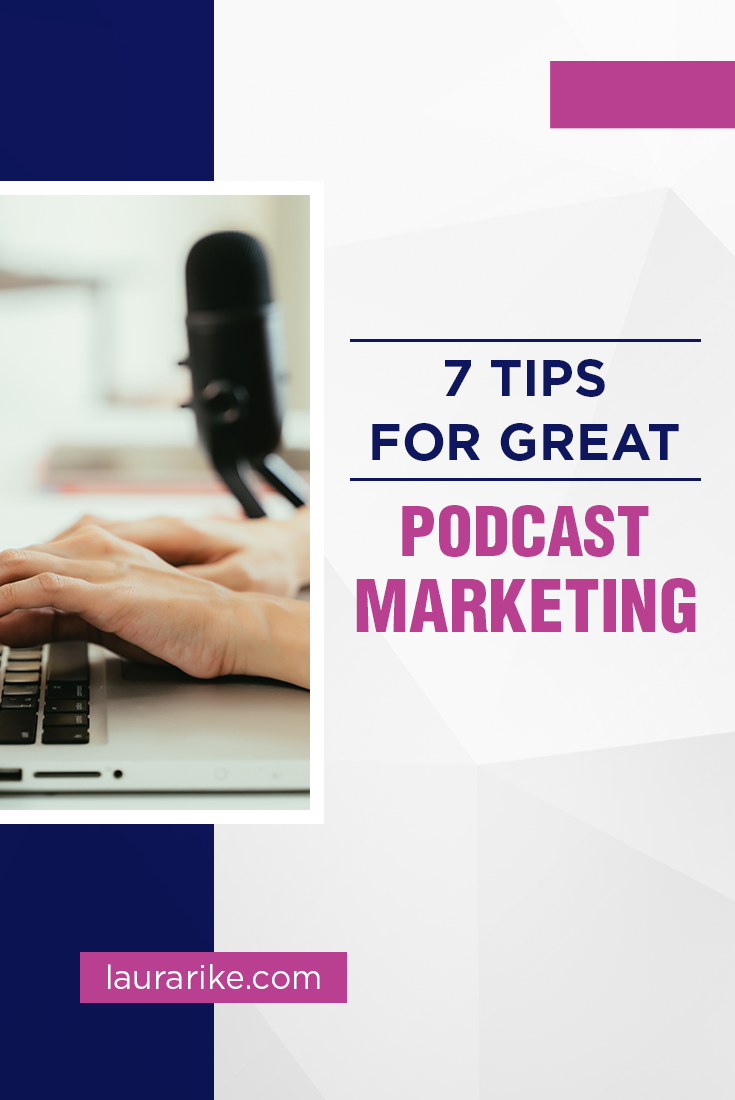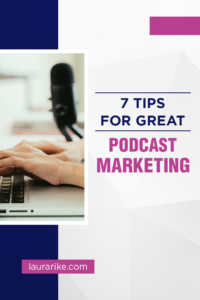 The best podcasts are those that combine high-quality sound and content. You can do all the marketing in the world, but without these two pieces, your podcast is going to struggle.
Make Sure That You're On iTunes (And Other Podcast Directories)
Podcast directories and aggregators have always played a huge role in helping podcasts get more visible. These directories, including iTunes, are the places where people go to listen to podcasts. While it's a great idea to have the episodes available for download on your site, limiting yourself to exclusively offering the podcast here severely limits your discoverability.
When it comes to which directories or aggregators you use, Apple is still the king. iTunes is thought to account for up to 80% of all podcast listener traffic. This makes a significant impact on your podcast marketing strategy. If you aren't on iTunes, you're losing a lot of listeners. Other platforms to consider marketing your podcast on include Spotify, YouTube, SoundCloud, and more. Mix and match your approach to get the most benefit.
Leverage Pinterest
Once you have your podcast on the different listening platforms, it's time to start thinking about how it will be shared. One of the easiest and most effective ways for users to share your podcast is through Pinterest. Keep in mind, the more a listener enjoys your podcast, the more likely they are to share it with others. Word of mouth (or, in this case, sharing of pins) is still one of the most effective marketing tools out there, and can significantly impact your podcast marketing strategy.
Podcast Pinterest marketing is a hugely effective way to get your podcast out there. Pins are evergreen and can directly link to your content. This makes it easy for people to explore your boards and find podcast topics that interest them. Since you can use your pins to directly link to your podcast on listening platforms, marketing your podcast on Pinterest is not only beneficial, it's crucial.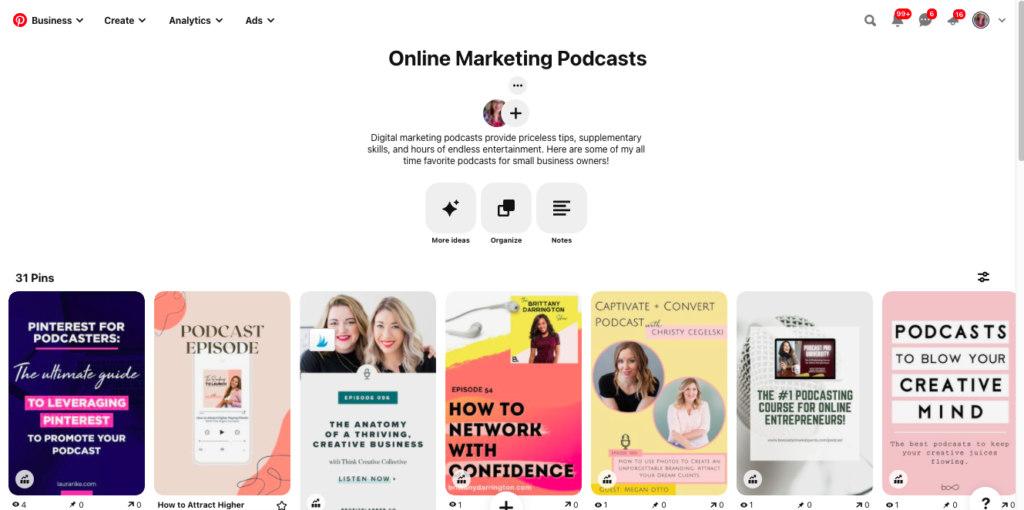 Use Data To Target Your Audience More Effectively
Each platform you use, from iTunes to Pinterest, offers a variety of analytics data that can help you better understand your audience. For instance, Pinterest can give you analytics on your users based on the information that they provide on their account. This way, you can learn more about the demographics that are more likely to listen to you. This type of information is available across the platforms you use, giving you different insights to your audience on each.
Not only does this information help you better market your podcast, it can also help you craft the content you produce. Once you have an idea of who your audience is, their interest, and the variety of demographic information available, you're able to better choose the topics that will interest those already listening.
Publish At More Strategic Times
One of the good things about learning the demographics of your listeners is that you can get a good idea of where most of them come from and, as such, what timezone they are likely to live in. Furthermore, based on their age, you might be able to get an idea of when they are most available and likely to listen. Some sites and platforms even track this stat looking at when your traffic is at its peak.
This information allows you to publish your podcasts at times when your listeners are more likely to be active. Plus, you can adjust your podcast Pinterest marketing strategy to match the timeframes. Even when you don't have a new podcast to share, you can schedule content to be published at the times that people are most likely to engage with it.
Publish Often (Especially In Your Early Days)
A strong launch can be a big help in a podcast's success. Your early podcast marketing strategy should rely on getting plenty of content out there so that when someone discovers your podcast and falls in love with it, they have plenty to get started on. It's usually recommended that you don't launch your podcast until you have at least three episodes that you're ready to publish immediately.
After the initial launch, make sure that you're keeping a consistent schedule. Loyal listeners can forgive the occasional break in the schedule, but new listeners want to know that they're going to be able to reliably have your content to consume. Keeping to a regular schedule is the thing that will keep your listeners coming back regularly.
Repurpose Your Podcast Content
One important piece of any podcast marketing strategy is to find the best way to keep interest in your podcast high, even when you don't have a new episode to share. One of the best ways to do that is to repurpose content you have previously produced to help generate interest and bring in new listeners.
If you're not sure how to do this, there are several ways. One option is to take clips of your podcast and turn them into pins on Pinterest, with links leading to the full episode. You can also repurpose parts of the podcast into other kinds of content entirely, such as turning stats or news that you covered into an infographic.
Establish Podcast Marketing Strategy With The Help Of Pinterest Management Services
Podcast Pinterest marketing can be amongst the most highly effective ways of generating traffic for your podcast and getting new listeners. Working with a professional Pinterest manager can help you ensure that you're leveraging the platform to the best effect for your podcast marketing strategy.