DISCLOSURE: This post may contain affiliate links, meaning I get a commission if you decide to make a purchase through my links, at no cost to you. Please read my disclosure for more info.
Social media all boils down to the magic question of, "Will you be my friend?" Just as our kids solicit friendships on the play yard, we as adults ask people online to be a part of our space.
In many ways, asking the simple question of "Will you be my friend?" is the best way to garner support for your company on Twitter. These are some of my favorite tips to include in your twitter strategy to increase your followers on the social media platform with purpose and ease.
Follow more people using a strategy plan
Research shows that following more people is one of the most effective ways to quickly gain friends on Twitter. You don't even have to beg them to follow you back. Just simply go through your list of recommendations brought to you by the lovely people working behind the scenes to make Twitter great, and choose the accounts that you believe are more closely aligned with your brand.
It may also be a good idea to create a follow strategy. By definition, a follow strategy is a plan that encourages you to be meticulous about who you follow . There is nothing wrong with following a random person online. The aim of such strategizing is to tweet valuable information that people will want to share. That retweet could be the open door to some of their followers who think like you and are searching for the product or service that you are offering. The bottom line is that if you want more notoriety, you've got to get out there.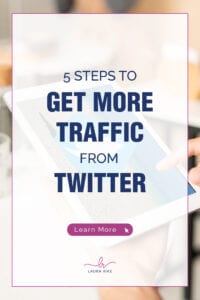 Use Hootsuite or SproutSocial to tweet more often
You need to tweet several times per day to rank on the recommendations page of potential followers. The messages do not have to be long. In fact, a one-word tweet every few hours may be just the thing that you need to intrigue the followers that you already have and garner new friends right before a big blowout sale.
"How am supposed to tweet every few hours, though," you may ask. "I have a life, you know." The technology works when you work it.
Hootsuite and SproutSocial are great tools to use for scheduling tweets. You can make the most of these tools by carving out an hour of your time to devote to anywhere from five to ten wholesome yet catchy Twitter messages. Then, use Hootsuite or SproutSocial to schedule the tweets that you have written to post every two or three hours. Your followers will think that you have them on your mind throughout the day and love you all the more for such consideration.
Take full advantage of your Twitter Bio with short and sweet phrases
Your Twitter bio is the best way to give your followers and potential fans a chance to understand what your business is all about. Don't worry, though. You do not have to write much to give Twitter users an overview of your company's values. In fact, it is best to make the section short and sweet. If your company is about health and wellness, for instance, then you may consider a bio that reads, "Get fit. Eat right. Stay well. Repeat." The punchy phrases tell the viewer that tweets coming from your page will be about exercise, nutrition, and living a more healthy life. You do not have to spell everything out for Twitter users.
Hashtag, hashtag, hashtag!
Did you know that a #hashtag is for more than looking spunky? When you use the feature on Twitter, you are essentially tagging a trending topic. Just think of the hashtag as your way of sending a carbon copy of your message to thousands of users who are interested in the cause that's hashed and tagged.
Hashtags are one of the best ways to get immediate exposure so you want to use them wisely. Never abuse the feature by using a hashtag that has nothing to do with your message. We've all seen those #MichaelJordan or #KobeBryant hashtags that were attached to messages about oil changes. How desperate do you want to appear?
If you want to capitalize on the latest trending hashtags, then you should consider tailoring your message to fit the tag. For example, "#MichaelJordan and #KobeBryant are the GOATs. So are we! Get a #FreeOilChange on us!" Do you see how the tweet integrated Kobe and Michael in a way that didn't seem so desperate? Also, there was an opportunity to use another hashtag so that those looking for free oil changes can also be exposed to the tweet.
Hashtags are your friend only if you use them wisely.
Take advantage of images and GIFs
As with Facebook, Twitter users also love the imagery. Research shows that subscribers are more likely to stay intrigued with your page if you use a picture now and again. GIF images are especially keen since they can work with your written words to convey the message that you want to get across in your tweet. The more effective tweets have images that accompany words. A message about kindness, for instance, could also feature a picture that shows a little boy sharing his snack with a little girl at school.
Pin This!