DISCLOSURE: This post may contain affiliate links, meaning I get a commission if you decide to make a purchase through my links, at no cost to you. Please read my disclosure for more info.
Nowadays, the need to outsource work is increasingly gaining popularity among businesses worldwide, and business owners are leveraging the global talent pool.
As a business owner, you are no longer limited to working with people within your locality; you can seek to outsource work from a virtual assistance from all over the world, to help you with some of the tedious work, which gives you more time to concentrate on some other aspects of your business.
If you're a perfectionist, however, you just don't feel like you're ready to let someone into your business and take some of the load off of your shoulders; the only way you see viable to ensure work is done right is either by doing it yourself or closely supervising someone.
But, why on earth would you want to undergo all that stress by trying to do it all by yourself? Working with a virtual assistant can actually be very pleasant and more productive for your business. Here are three ways to outsource work even when you're a perfectionist.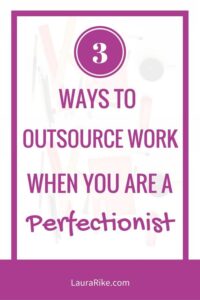 Assess the virtual team performance
Start small by only outsourcing tasks that you aren't good at or don't enjoy doing. This helps you assess the quality of work you can get from outsourcing, as well as helping you get the most suitable virtual assistant based on the level of experience and areas he or she excelled in. After a couple of small projects and you see they're a good fit, gradually increase the amount of workload you assign them until it's consistent.
Additionally, to ensure you get the most out of your newly hired virtual assistant, consider finding people that have passion for the work they will be doing for you. By hiring people that you share similar values and work ethics makes it much easier for you to work with them since you're all on the same page.
---
---
Set your goals and instructions clear
To prevent potential misunderstandings and miscommunications with your virtual assistant down the line, it is vital to have all their tasks clearly defined and outlined. This ensures that everything is well understood and above board, which make it much easier to clarify any miscommunication that may arise.
Learn more outsourcing work tips on the blogs below.
Unclear tasks and guidelines may end up costing you more time and money. Thus, you need first to document all your daily and weekly activities to evaluate the outsource work that you want to delegate. Then you need to create detailed instructions on how you would want your virtual assistant to accomplish the assigned tasks.
Lastly, you need to come up with a stellar Job Description, which explains in detail your specific requirements, and defines the potential person for the job.
Doing this in advance helps in:
Setting expectations in advance.
Demonstrating a bit of your personality to applicants.
Preparing both of you hire up for success.
After you have outlined all tasks, give them a deadline to go through the documents and be prepared to clarify anything they feel isn't clear to them to ensure your work is done right the first time.
Also, let them know exactly how all the processes work; from how projects will be assigned, to paying them to ensure everything is communicated properly up front.
Exercise Patience
When you outsource work to a virtual assistant it means that you have the right person to help you in taking your business to the next level together. However, during the early stages of working together, you need to be patient enough with your newly hired virtual team since it may take more time for them to get used to things and be able to meet your expectations fully. Thus, don't allow your perfectionism hold you back, you need to exercise patience, stay optimistic and focused on achieving your goals.