DISCLOSURE: This post may contain affiliate links, meaning I get a commission if you decide to make a purchase through my links, at no cost to you. Please read my disclosure for more info.
Are you getting results from Pinterest?
Pinterest is one of the most effective tools in driving traffic to your site and introducing your brand to new influencers and consumers. If you are not getting these results from Pinterest, perhaps you need to do some fine-tuning in how you use the platform. Use these 27 Pinterest tips for business and bloggers to tweak your strategy so you can start seeing growth in your blog and online business.
1. Treat Pinterest as a search engine
On Pinterest, users are able to search pins according to topics or boards. For example, if they search for "Wedding Photography", they will get boards based on these keywords. Make sure that the content of your pins match the boards that they are in. This Pinterest tips for business and bloggers is the most critical because so many use this platform as a social media account and are not seeing the results they hoped for. If you take time to utilize the right text, key terms and phrases then you can be found above someone who is posting about the same topic with a weaker strategy.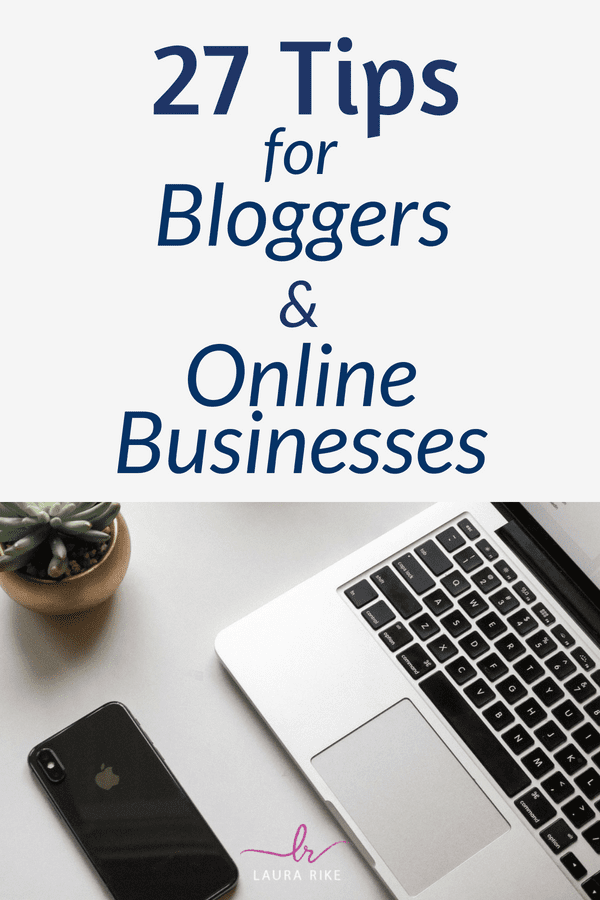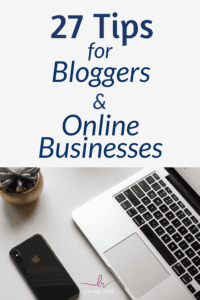 2. Use keywords to your advantage
The keywords that you want to be found for should be present in your name, your pins, and descriptions. This is how your audience, old and new, will find you. Make sure you spend some time with this an do it right. You do NOT want to 'cheat' the system by adding multiple niches and terms to 'cast a wide net' so to speak. You want to be specific and strategic with keywords.
For example since I offer specific services to Pinterest, I want to specifically target people interested in Pinterest management.
3. Use Hashtags
Your audience can type hashtags into the search bar and it will return with the freshest pins that contain that hashtag. They can also click on a hashtag on the pin description for them to find related content.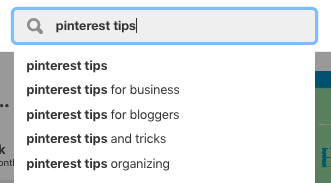 4. Build an optimized profile
Your profile helps you build trust with your audience. It also helps them find you on Pinterest. Optimize your profile with the right keywords according to the content that you are posting about. Make sure that you set your profile picture and your Pinterest boards correctly.
5. Use the same profile picture as all your other social media pages
Being consistent is the best way to build trust with your audience. If your focus is personal branding, use a clear headshot. If you are promoting a brand, use your company logo.
6. Organize your boards
Categorize your pins according to the boards that they belong in. Create your Pinterest boards with your audience in mind. Make sure your board names are not too broad or vague. Your audience should already have an idea what each board's content is about.
7. Add a Pinterest follow button on your website
Let your audience know that you have an active Pinterest page and make it easy for them to follow you. The follow button lets Pinners easily follow your business's Pinterest page. Followers will see your added Pins, giving you more visibility.
If you are comfortable editing code on your website this will be a breeze for you – if not and you still want to include a follow button on your website without the headache of code or installing anything – check out MiloTree.
8. Engage with influencers in your niche
Making connections and networking is an important component of social media and content marketing. Engage with others in your niche by following, commenting, and re-pinning their content. This will help you get noticed and reach new audiences.
9. Create branded board covers


Board covers are simply pins that are chosen as such. Make sure your board covers look like they belong together with the use of your brand colors, fonts, and logo. Below is an example of a brand I helped create cover photos for that pulled their entire profile together after implementing this Pinterest tip. We used clear concise fonts, their brand colors and included their logo on each one.
10. Schedule pins in advance
Tailwind and other API approved scheduling tools are game changers! If you are using Pinterest for your business, you want to be active in terms of pinning a lot of content throughout the day, posting on multiple boards, and looping your existing content so new followers can see it. All of these tasks take time and using a scheduling tool will help you streamline it.
If you do not have a Tailwind account yet set one up here with my affiliate link and get $30 FREE CREDIT to your account to try it out!

11. Pin regularly
Successful brands on Pinterest pin up to 30 to 100 pins a day. Use scheduling tools to automate some of your pins. This ensures that your pins will be seen in the Pinterest feed throughout the day.
12. Pin other people's content
You don't always have to post your own pins. Include other people's content that is related to yours. This helps you create dynamic Pinterest boards as well as engage with other influencers in your niche.
13. Prioritize quality over quantity
Even if you have to pin regularly, it doesn't mean that you should pin content that has no relevance to your target audience. The Pinterest Smart Feed takes the quality of your pins into consideration when determining which pins to show first in the feed. It also looks at the quality of the source – your linked blog or website.
14. Be human
Whether you are promoting your personal brand or a business, make sure that your human side shines through. What this means is that your pins should include your personal touch in how you curate boards, choose images, and deliver your message.
15. Schedule your pins all throughout the day
This serves two purposes. First, it helps you reach different types of audience who access Pinterest at different times of the day. Second, since you are pinning a lot of content, scheduling them throughout the day will help you avoid overwhelming your followers.

16. Install popup on your website
Grab a free month of MiloTree here. When logged into your account, you'll notice there are now two feeds: the smart feed and your following feed. The following feed is exactly what it sounds like, a feed of pins only from people you follow.
If you've been trying to grow your Pinterest following, you've probably realized it's hard to do. My recommendation is to reach out to your existing followers on other social media platforms and your email list and ask them to follow you on Pinterest.
MiloTree takes advantage of the traffic you've already built, and automatically converts it into new followers & subscribers. Fast configuration. No technical or design skills necessary. Snappy site installation with our WordPress plugin or one line of code. CLICK HERE to get a 30 day trial and test it out for yourself!
17. Include at least one pinnable image on your blogs
Help your audience share your content easily by including at least one pinnable image that they can click and automatically share.
18. Pin from inside affiliate platforms
If you are using ShopSense, RewardStyle or similar platforms, make sure to pin from inside the tool to create affiliate links and monetize your pins.
I personally use sites like ShareASale. They have been in business for 18 years, exclusively as an Affiliate Marketing Network. Their technology receives accolades for speed, efficiency, and accuracy – and their reputation as a fair and honest business is well known within the industry.

19. Don't be afraid to mix it up
Make sure that your Pinterest page is diverse and dynamic to keep your audience engaged.
20. Group boards
If you want to grow your audience through Pinterest, joining group boards in your niche used to be an effective way to do it. By joining group boards, you are able to introduce yourself to new audiences and get more re-pins. Pinterest is starting in 2019 to lessen the 'weight' that group boards carry with your strategy and reach – so my Pinterest tips for business and bloggers now is the time to go through each one and determine if it is worth keeping or if they should be archived.
If you rely heavily on group boards right now and 'loosing' them in 2019 scares you – send me a message here so that I can give you my quick trick strategy to start to set your account up to be safe proofed when Pinterest decides to make this massive change.
21. All your boards should appeal to your target audience
When using Pinterest for your business, always stay in your niche. This helps your audience understand and remember your brand. If you have boards that are not relevant to your audience, delete or hide them.
22. Remember that Pinterest is a visual platform
Your images are what will first draw your follower's attention to your pins. Make sure they are of good quality and are following your branding guidelines.
23. Write compelling titles and headlines
You already have your follower's attention with a great image. Make sure that your title or headline is compelling enough to make them click through.
24. Don't go overboard on Pinterest boards
You can create up to 500 boards on Pinterest. But, you don't have to use all of them. Having too many boards may make it harder for your followers to find the content that they are looking for.
25. Engage commenters
Always respond to comments and questions on your pins promptly. Your followers will take notice. Making this a habit will put your brand in a positive light.
26. Create your own tribe
With the news of group boards phasing out soon, tribes are the place to be focusing in on for your Pinterest strategy. With tribes you can reach new, highly-receptive audiences and get valuable exposure when Tribemates choose to share your content with their fans.
With over 4,000 Tailwind Tribes to choose from, it's easy to meet new influencers and work together to activate your community. Meet new influencers in your space and deepen your existing connections. Chat, collaborate, share tips and learn from each other.
27. Use analytics to improve your results
Pinterest analytics will give you useful insight about which types of content your target audience engage with the most. Use this data to enrich your Pinterest strategy.
Want more Pinterest action?
I want to share more Pinterest best practices like these that will help you get more results while spending less time on Pinterest. I will also be sharing the step-by-step process that I use to get 213.8K monthly viewers consistently.
Join my Pintastic Rockstars Course that I have put together exclusively for entrepreneurs who want to grow their business using Pinterest.